Skip to main content

Language of Flowers
25 May 2020
In conjunction with our online exhibition Celebrating Chelsea Flowers and the now virtual RHS Chelsea Flower Show, the Richard Green Gallery's research department has selected some of our favourite blooms from works featured in the exhibition. With each floral species that we admire we have included a brief history, a selection of quotes that we believe elaborate on the rarity of their beauty and the Chelsea Flower Show exhibitors you can expect to be presenting these much beloved flowers.
The language of flowers is one that is universally spoken, and yet a flower can mean something unique to each of us. As represented in art, flowers can hold a vast multitude of meaning, as either the grand subject or a decorative background detail, they are both rich symbolism and the eternal muse that provides solace to many an artist, across an expanse of time periods.
We hope you enjoy our selection and Richard Green's online Celebrating Chelsea Flowers exhibition!
"I must have flowers, always and always" – Claude Monet
Chrysanthemums by Rachel Boyd Hall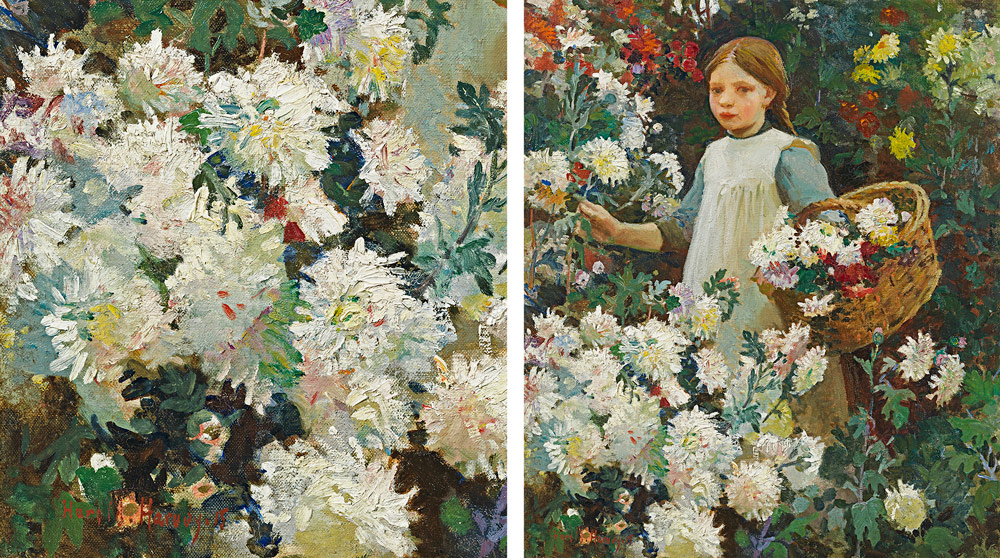 Harold Harvey, Picking chrysanthemums
For chrysanthemums
there is a season of splendor
other than autumn:
they but increase in beauty
after their colour changes.
— Taira Sadafun. Composed when His Majesty [Emperor Uda] commanded him to provide a poem to accompany a floral offering at the Ninnaji
From Kokin Wakashu: The First Imperial Anthology of Japanese Poetry, translated and annotated by Helen Craig McCullough, Stanford University Press, 1985
Named after the Greek words chrysos, meaning gold, and anthemon, meaning flower, Chrysanthemums were first cultivated in China and continue to have a strong association with Eastern culture. Pottery from the 15th century BC depicts the flower as we know it today. The flower was so highly respected (partly due to its medicinal use in pain relief) that it became one of the Four Gentlemen, a prestigious group of plants signifying the changing seasons. A city, Chu-Hsien, was also named after it.
The Chrysanthemum was equally popular in Japan when it arrived in the 8th century AD, particularly during the Edo period. The emperor adopted a chrysanthemum as the Imperial Seal of Japan and the monarchy itself is referred to as the Chrysanthemum Throne. Chrysanthemum Day, on 9th September, is one of the country's five sacred festivals celebrated since 910 AD. As Japan opened to western visitors from the 1860s, its flowers gained new prominence for gardeners and artists, in particular Impressionists including Monet, Renoir and Caillebotte.
Pierre Loti's 'Madame Chrysanthème', 1887 (the story of a western sailor entering a temporary marriage with a Japanese girl), inspired Puccini's Madame Butterfly, one of the most celebrated stories in the history of opera.
Cheshire based Master Growers, Chrysanthemums Direct, grow more than 420 cultivars of Chrysanthemum for gardens and exhibitions and have been awarded 59 RHS Gold Medals at the Chelsea Flower Show up to 2018. Despite the cancellation of this year's show, you can still find their 2020 special Chelsea collections online.
Chrysanthemums Direct
http://chrysanthemumsdirect.co.uk/
https://www.ft.com/content/c19d6dec-bf07-11e7-9836-b25f8adaa111
Daffodils by Rachel Boyd Hall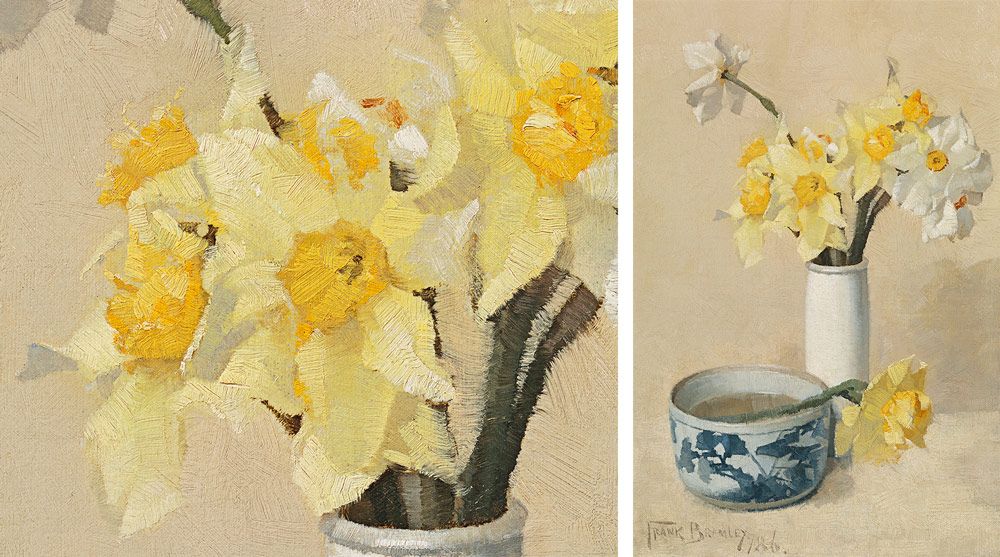 Frank Bramley, Daffodils and narcissi
For oft, when on my couch I lie
In vacant or in pensive mood,
They flash upon that inward eye
Which is the bliss of solitude;
And then my heart with pleasure fills
And dances with the daffodils.
— William Wordsworth, I wandered lonely as a cloud (1804)
Daffodils were introduced into gardens c.300BC and recorded by the Greek botanist and philosopher, Theophrastus in his 'Enquiry into Plants.' Pliny the Elder later introduced the Latin form narcissus. They were brought to Britain by the Romans who thought their sap had healing powers.
Now cultivated into dozens of varieties, these glorious golden flowers symbolize spring. In the 1880s the Isles of Scilly and Cornwall began to export daffodils to the London markets; this area of Britain, where spring comes first, today grows 80% of the world's commercially-produced daffodils.
The winner of 68 gold medals at Chelsea Flower Show from 1948 to 2019, Bloms Bulbs was founded by Walter Blom, who began his apprenticeship in the bulb industry in Holland. Today the family owned business has nurseries in England, Holland and the USA. They are exhibiting online at Virtual Chelsea this year.
Bloms Bulbs
http://blomsbulbs.com/
Peonies by Susan Morris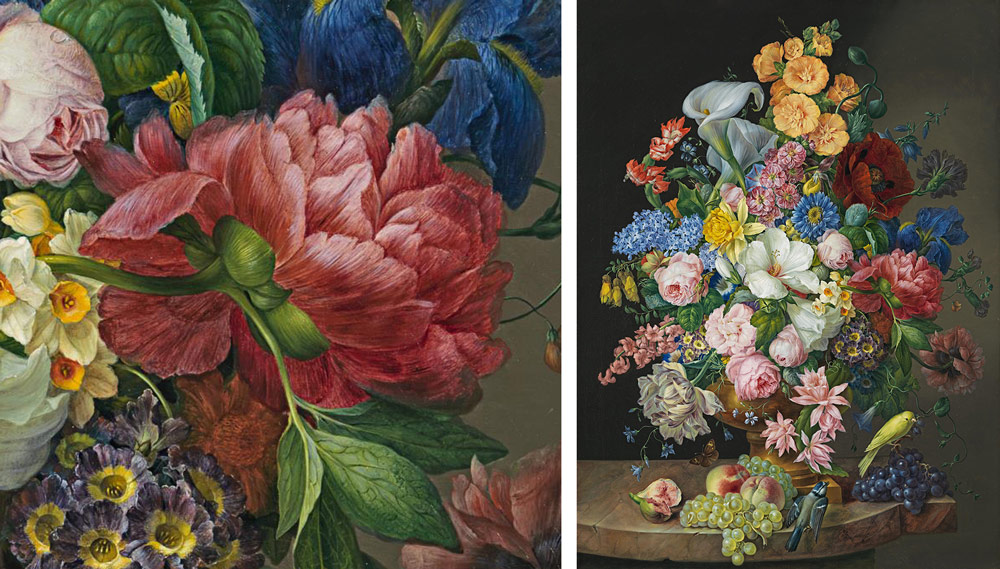 Franz Xaver Petter, Still life of roses, arum lilies, a peony, lilac, hollyhocks and other flowers in an urn, with a bluetit, a canary and a Meadow Brown butterfly (Maniola jurtina) and fruit on a marble ledge
Spring River Flowers Moon Night
The river is smooth and calm this evening,
The peony flowers bloom.
The moon floats on the current.
The tide carries the stars.
— Qian Qi (710-782 AD, Tang Dynasty)
Peonies are regarded as the national flower of China, celebrated in poetry since ancient times, although Confucius (551-479BC) preferred to eat them in a sauce. They are recorded in Europe from the fifteenth century, initially for medicinal use. With their vivid colours and richly complex, ruffled petals, they appealed to the flamboyant taste in European flower painting of the late eighteenth and early nineteenth centuries. Many new peony varieties were raised during the nineteenth century, especially in the Netherlands and England.
Chelsea Gold Medal winner Primrose Hall Peonies will be exhibiting at Chelsea online this year. The Bedfordshire nursery holds the Plant Heritage National Collection of Itoh peonies, a beautiful hybrid between herbaceous peonies and the famed tree peonies of China.
Primrose Hall
http://primrosehallpeonies.co.uk/
Irises by Susan Morris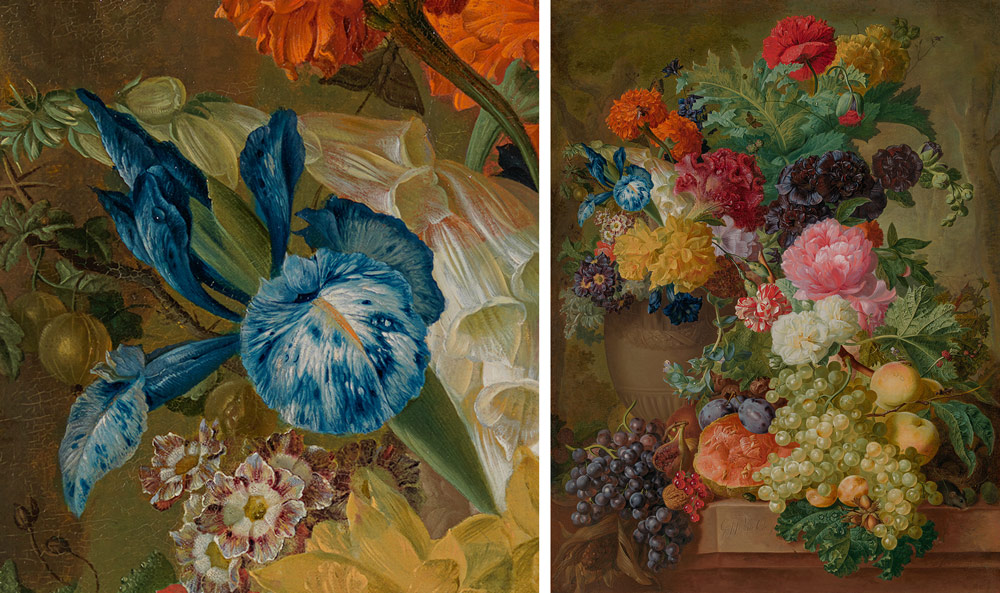 Georgius Jacobus Johannes van Os, Still life of a peony, poppies, an iris, a carnation, hollyhocks and other flowers in a vase, with fruit on a marble ledge
What in your life is calling you,
When all the noise is silenced,
The meetings adjourned...
The lists laid aside,
And the Wild Iris blooms
By itself In the dark forest...
What still pulls on your soul?
— Mevlana Rumi (1207-1273 AD)
Irises are named after the Greek word for rainbow, a reflection on the rich palette of hues found in a single flower. Stylized as the fleur-de-lis, they were associated with the Virgin Mary and are often paired with the rose in medieval paintings of her. Irises feature in flower painting from its birth as an independent genre at the beginning of the seventeenth century in the Netherlands. Complex in structure, they provided the ideal challenge for artists to display their virtuosity.
Iris Cayeux, based in Gien, France, have been breeding bearded iris since the nineteenth century and feature in the online Chelsea show. The modern bearded iris is truly rainbow-coloured and magnificent.
Iris Cayeux
http://iris-cayeux.com/
Roses by Frances Crossley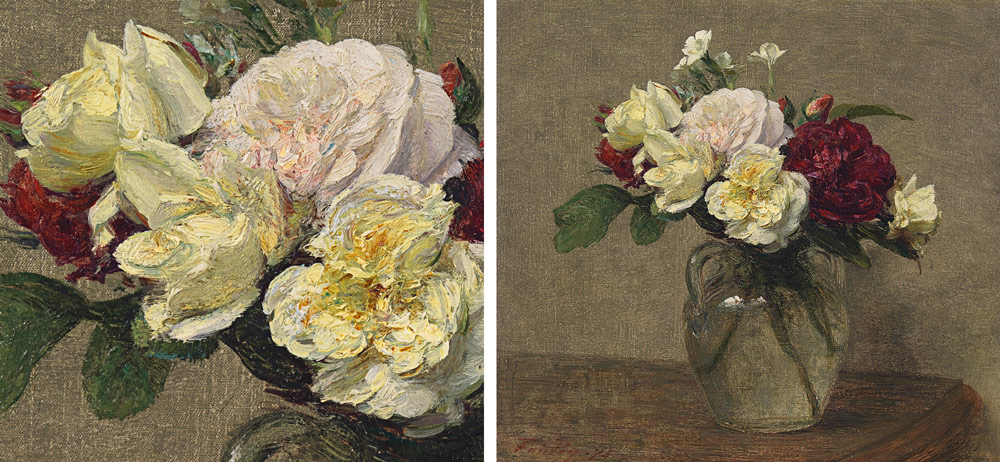 Henri Fantin-Latour, Bouquet de roses variées et oeillets
"Wild roses are fairest, and nature a better gardener than art"
— Louisa May Alcott, A Long Fatal Love Chase
By the nineteenth-century, in which Fantin-Latour was painting the rose's multitude of pillowy textures, France had produced over five-thousand varieties of roses, endlessly hybridising and popularising the bloom. The historic French rose, Rosa gallica or the apothecary's rose, is the oldest known garden grown species, formerly flowered by the ancient Greeks and Romans.
"Summer of roses! O empress of flowers! You are all I care to know: you and your many sisters."
— Francis Jammes, "Summer of Roses"
Since the early 1950s, rose breeder David Austin has endeavoured to create a more beautiful rose. Now a world-leading breeder of English roses, with over sixty-years of experience, this simple objective remains a constant. His love of this historic bloom was first articulated as a hobby, explored in his teenage years with David Austin releasing his first rose 'Constance Spry' in 1961. David Austin Roses has gone on to introduce over two-hundred new roses and like Richard Green Gallery remains a family business, with David being joined by his son David and grandson, Richard.
"When love came first to earth, the Spring Spread rose-beds to receive him."
— Thomas Campbell, "When Love Came First to Earth"
David Austin
http://davidaustinroses.com/
Tulips by Frances Crossley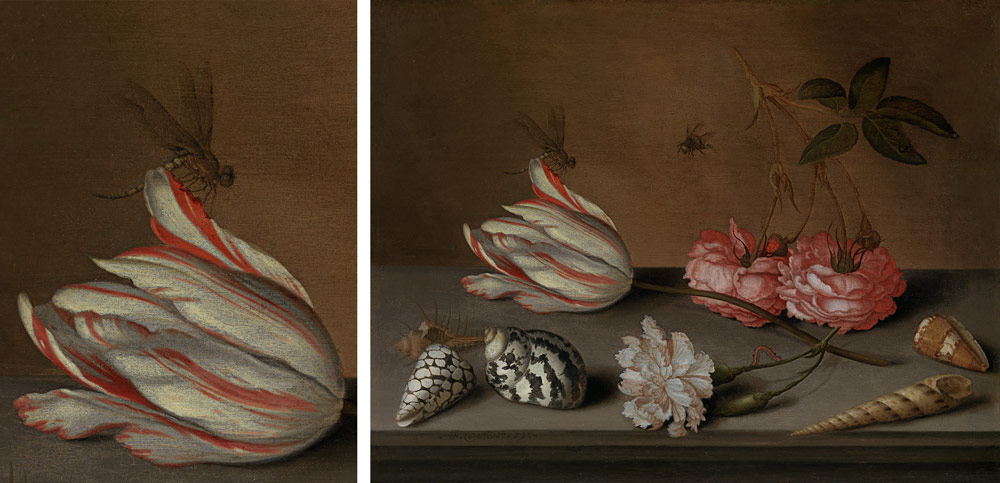 Balthasar van der Ast, A tulip, a carnation and roses, with shells and insects, on a ledge
"And tulips, children love to stretch
Their fingers down, to feel in each
Its beauty's secret nearer."
— Elizabeth Barrett Browning, A Flower in a Letter
Our collective love affair with the tulip stretches across continents and centuries, from the ornately decorated headpieces of Ottoman sultans to the infamous "tulipmania" that rapidly engulfed early seventeenth-century Holland. It is a bloom that delights and intrigues, it was greatly admired by the Victorians, who placed them in parterre bedding schemes and produced spectacular spring displays. It is still regarded a prized cut-flower, it is a flower that rarely goes out of fashion.
"I love tulips better than any other spring flower; they are the embodiment of alert cheerfulness and tidy grace … Their faint, delicate scent is refinement itself; and is there anything in the world more charming than the sprightly way they hold up their little faces to the sun. I have heard them called bold and flaunting, but to me they seem modest grace itself, only always on the alert to enjoy life as much as they can and not be afraid of looking the sun or anything else above them in the face."
– Elizabeth von Arnim, Elizabeth and Her German Garden
Bloms Bulbs describe tulips as 'among the most versatile of all Spring bulbs.' The winner of 68 gold medals at Chelsea Flower Show from 1948 to 2019, Bloms Bulbs was founded by Walter Blom, who began his apprenticeship in the bulb industry in Holland. In 1980, Bloms Bulbs began supplying Chenies Manor and they describe how the high point of the spring season at Chenies is when over 7,000 tulips come into bloom to present a truly breathtaking display: white and pale yellows in the White Garden, vivid reds and oranges across the South Border. Bloms Blums have also shown tulips at Pashley Manor, in Sussex; one of the finest, quintessential English gardens. Today the family owned business has nurseries in England, Holland and the USA. They are exhibiting online at Virtual Chelsea this year.
Bloms Bulbs
http://blomsbulbs.com/