Skip to main content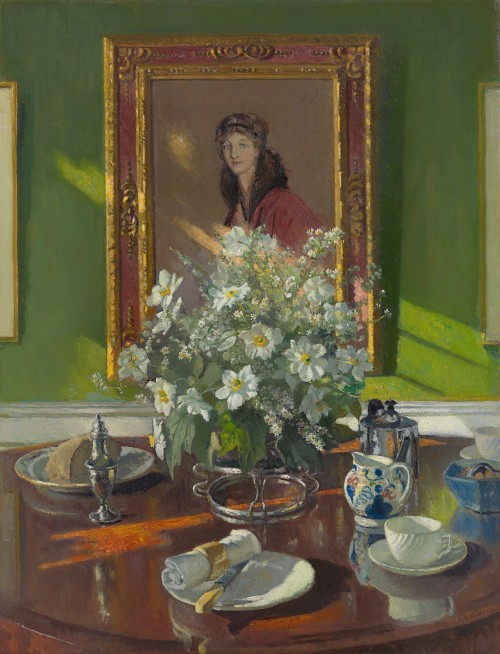 Patrick William Adam The breakfast table
Oil on canvas: 40.7(h) x 31.3(w) in / 103.5(h) x 79.4(w) cm
Signed lower right: P W Adam
This artwork is for sale.
Please contact us on: +44 (0)20 7493 3939.
Email us
BS 317
PATRICK WILLIAM ADAM RSA
Edinburgh 1854 - 1929 North Berwick
The Breakfast Table
Signed lower right: P W Adam
Oil on canvas: 41 × 31 1/2 in / 104.1 × 80 cm
Frame size: 47 × 37 ½ in / 119.4 × 95.2 cm
Painted circa 1920
Provenance:
The collection of the artist, then by descent
In a rust-red Spanish-style frame, Sir John Lavery's portrait of Bea Wingate Gray (fig. 1) presides over Patrick William Adam's The Breakfast Table. The painting within the painting, representing Adam's only daughter, had been executed in 1916, not long after her marriage to Walter Stuart Wingate Gray, a Lieutenant Colonel in the Royal Horse Artillery. Now it hung in a sunlit room over a circular table with a glorious centrepiece of Japanese anemones. The formal placing of this still-life typifies Adam's approach to the genre upon which his reputation rested. Corridors, views through doorways into private drawing rooms were his forte. Although their owners are elsewhere, these empty rooms reflect the refined personalities who inhabit them. The notion that the spaces we inhabit are unique expressions of character and taste was not new at the turn of the twentieth century, but with the possible exception of the American, Walter Gay, no one understood it quite so well as Adam.
A contemporary of the Glasgow Boys, Adam was the son of a prominent Edinburgh solicitor and Writer to the Signet.[1] He began exhibiting at the Royal Scottish Academy (RSA) in 1872,
two years before joining its school in Edinburgh. A precocious student, he was fast-tracked to an Associateship in 1883 and became a full member of the Scottish Academy in 1897. He spent
much of the late 1880s travelling in Italy, where he copied the works of Tintoretto, Veronese, Bassano, Moroni and others.[2] In Florence, in 1889, he met Alice d'Olier, a young woman of Irish Huguenot descent, who became his wife. In the following year at the time of their marriage, they were painted by Lavery (private collection) at St Agnes Studios in Edinburgh. Since Arthur Melville also used these studios it is possible that he made the introduction. Soon after, Adam returned to Venice where he produced a series of impressive views of St Mark's Basin, most of which found their way to subsequent RSA exhibitions. Landscapes and occasional interiors painted in the homes of patrons followed and 1902 the Adams left Edinburgh for Ardilea, a villa in Dirleton Road, North Berwick. Here in the wealthy coastal resort renowned for its golf links, some twenty-five miles east of Scottish capital, his career flourished as he depicted the stylish retreats of the Haddingtonshire set – such that by 1909 he
was practicing exclusively as a painter of interiors.
Adam was socially, intellectually and aesthetically influential in these years, partly because of his association with Patrick Ford who after the construction of Westerdunes, his sumptuous weekend home on the outskirts of the town, became his most important patron.[3] With the wealthy solicitor's backing, Adam became a prominent member of the Society of Eight, a group
of artists formed in 1913 with the specific purpose of bringing the artistic enclaves of Glasgow and Edinburgh together.[4] For a time he mentored the young FCB Cadell, and his interiors had a
direct and often overlooked impact on the latter's work.[5] Around 1920, when the present picture was painted, Adam was at the height of his fame. A lavish monograph had just been published by Ford, and for it portraits were commissioned from both Sir John Lavery and Sir James Guthrie.[6]
However, more than any single work, the present picture celebrates the enduring friendship between Adam and Lavery.[7] It is, of course, entirely fitting that it should represent a table set for
breakfast, with its suggestion of conviviality. Adam had already produced a number of such subjects – The Dinner Table painted at Ardilea for the RSA in 1914, being one of the most celebrated. Here too the backdrop is a painting – Adam's early copy after Carpaccio's St George – with the focal point, a splendid floral display. However, the dark tones of the picture contrast with the bright morning sunshine of the present work. As Ford describes them, Adam's pictures of rooms contained 'a wonderful rightness and appropriateness and charm of line and colour': 'His work shows not so much the brilliance of the diamond as the lustre of the pearl, and this is particularly true of the delicate, almost Whistlerian quality of his colour ... A room, which beyond its permanent furnishings contains at most a book, or a bowl of flowers, seems subtly to suggest the human presence which has just left it, and is about to return, and returning infuse it with all the vital interest of human personality'.[8] In The Breakfast Table, 'human presence' is already installed in a splendid rust-red Spanish-style frame.
Kenneth McConkey
Fig. 1 Sir John Lavery, Portrait of Beatrix,
Mrs R.B. Wingate Gray, c. 1936, Private collection.
Domestic interiors of all kinds were popular subjects for artists from the later nineteenth century, and Adam may have been inspired by John Singer Sargent's The Breakfast Table (fig. 2).
Instead of the young woman in Sargent's painting peeling fruit while at the same time reading a book, a living presence is replaced in Adam's painting by a portrait on the wall, that of the artist's daughter Rose Beatrix by Lavery. A similar colour scheme is evident in the dress of both women, Sargent's model (his younger sister Violet) in a black dress with a red ribbon in her hair, and Adam's copy of Lavery's unfinished study of Bea in a red velvet evening cloak with a
dark fur collar, a slender black velvet band keeping her hair in place.
Aileen Ribeiro
Fig. 2 John Singer Sargent, The Breakfast Table, 1883–84. Harvard
Art Museums/Fogg Museum, Bequest of Grenville L Winthrop.
PATRICK WILLIAM ADAM RSA
Edinburgh 1854 - 1929 North Berwick
Born in Edinburgh, the son of a well-known lawyer, Adam trained at the Royal Scottish Academy under George Paul Chalmers and William McTaggart, and won the Maclaine Watters medal in 1878. He exhibited at the Royal Scottish Academy from 1872-1916, of which he became an Associate in 1878 and a full member in 1897, at the Royal Academy from 1878-1928, and with the Society of Eight, of which he was a founder member, in 1912.
Adam began his career as a portraitist but renounced this profession in order to pursue his love for landscape painting and genre. Between 1896-1897 he painted a series of winter landscapes recording the variegated effects of snow with subtlety and freshness. He visited Italy in 1889 and was charmed by Venice where he painted several works, including The Ducal Palace, now in the Aberdeen Art Gallery.
In 1908, Adam moved to Ardilea in North Berwick and was greatly inspired by the surrounding scenery. There he conceived the idea of painting interiors, a theme on which he concentrated for the rest of his life. These included domestic interiors of his own home and of neighbouring houses of historic and artistic interest; he also painted civic interiors such as The Signet Library, Edinburgh, of which there is a version in the Glasgow Art Gallery and Museum.
[1] Although most sources follow Patrick J Ford, Interior Paintings by Patrick W Adam, Glasgow, 1920, p.15, in giving Adam's birth date as 1854, some have recently claimed it as 1852.
[2] These are housed at John Muir House, Haddington. See https://artuk.org/discover/artists/adam-patrick-william-18541929
[3] Ford, later MP for Edinburgh North, built Westerdunes in 1908, and along with Hyndford, the home of Frank Tennant, brother of Margot, later Countess of Oxford and Asquith, it soon became a hub of political and cultural life. For Ford see Michael Clarke ed., The Art of Golf, 2014 (exhibition catalogue, National Galleries of  Scotland), pp.45–48.
[4] The Society of Eight comprised Adam, David Alison, FCB Cadell, James Cadenhead, Lavery, Harrington Mann, James Paterson and AG Sinclair. Samuel J Peploe, who lived for a time in Dirleton Road, North Berwick, was an associate of the group, and Ford, its backer.
[5] Ford 1920, p.30. Adam's interior of Cadell's studio in Edinburgh (unlocated) was lent by Patrick Ford to the RSA in 1913 (no.74).
[6] Lavery also painted a studio interior and a view of the garden at Ardilea.
[7] Adam continued to exhibit regularly in Edinburgh and Glasgow, and at the Royal Academy in London, until his death in 1929.
[8] Ford, 1920, pp.12–14.