Skip to main content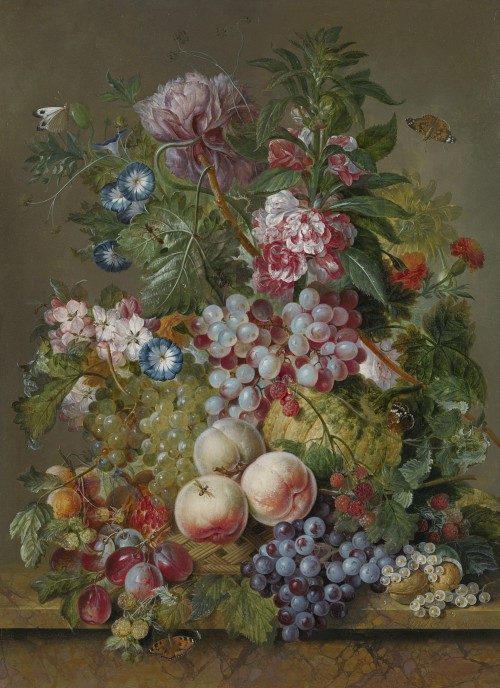 Jacobus Linthorst A still life of fruit and flowers
Oil on panel: 28.7(h) x 21(w) in / 73(h) x 53.3(w) cm
Signed and dated 1809
This artwork is for sale.
Please contact us on: +44 (0)20 7493 3939.
Email us
SP 5463
JACOBUS LINTHORST
1754 - Amsterdam - 1815
Still life of fruit and flowers on a stone ledge
Signed and dated lower right: J. Linthorst 1809
Oil on panel: 28 ¾ x 21 in / 73 x 53.3 cm
Frame size: 36 ½ x 28 ¾ in / 92.7 x 73 cm
Provenance:
Private collection, UK
Richard Green, London, 1986
Private collection, UK
Jacobus Linthorst was born in Amsterdam and spent all his life in his native town, where he died in 1815. In June of 1789, he was registered as a citizen and painter and during the same month he joined the Amsterdam guild of St Luke. Nothing is known about Linthorst's artistic training. He may have chosen a career as a painter somewhat later in life, since his earliest known works stem from 1780, when he was already thirty-five years old. Like most still-life painters of his day, he was inspired by the work of Jan van Huijsum (1682-1749) and his style is clearly related to that of his contemporaries Jan van Os (1744-1808) and Paul Theodoor van Brussel (1754-1795). Linthorst himself was the teacher of the still-life painter Jan Evert Morel (1769-1808).