Skip to main content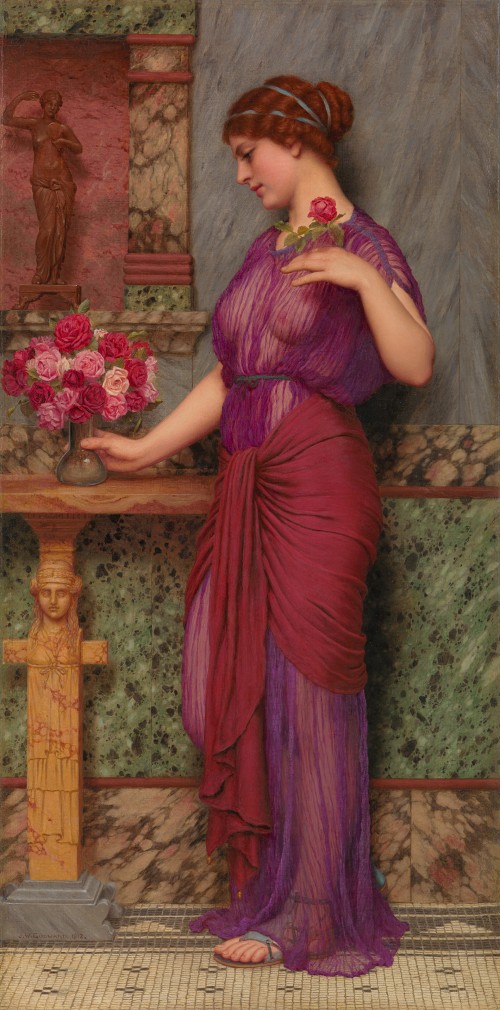 John William Godward An offering to Venus
Oil on canvas: 30.7(h) x 15.5(w) in / 78.1(h) x 39.4(w) cm
Signed and dated lower left: J. W. Godward 1912; signed, dated and inscribed 'An Offering to Venus, J.W. Godward Rome. 1912' on the reverse
This artwork is for sale.
Please contact us on: +44 (0)20 7493 3939.
Email us
BS 227
JOHN WILLIAM GODWARD RBA
1861 - London - 1922
An offering to Venus
Signed and dated lower left: J. W. Godward 1912; signed, dated and inscribed 'An Offering to Venus, J.W. Godward Rome. 1912' on the reverse
Oil on canvas: 30 ¾ x 15 ½ in / 78.1 x 39.4 cm
Frame size: 43 ½ x 29 in / 110.5 x 73.7 cm
Provenance:
Acquired directly from the artist by Messrs.Eugène Cremetti, London, 5th May 1912
Private collection, India
Richard Green, London
Mr Ian Fry, London, 1993
Literature:
Letter from Cremetti to Godward, 5th May 1912, Milo-Turner Collection
Vern Grosvenor Swanson, John William Godward: The Eclipse of Classicism, Antique Collectors' Club, Woodbridge, 1988, pp. 93, 94, 230, no. 1912.8, pl. 74
Godward's homage to the Roman goddess of love, beauty and fertility is one of the first works painted in Rome following his move to Italy in 1912. The Olympian master invokes a pensive priestess in the cult of Venus, her voluptuous form accentuated by a meticulously painted diaphanous Coa vestis tunic, offering a vase of pink and red roses to a bronze statue of the Venus of Arles.[1] Mirroring the sculpture's pose, the idol incarnate superbly contrasts the cool variegated grey/green marble, her warm colouring echoed in the deep crimson stolla, roses and bronze. Godward's sophisticated classical scene abounds in opulent materials, textures and rich colours, his highly refined style rendering a sensual delight of superlative quality. The artist's exceptional skill in painting the lavish, multifaceted interior, stemmed from his early training and study with the renowned architect, designer and renderer, William Hoff Wontner (1814-1881). As Vern Swanson reveals: 'His painting ability to vein and grain porphyry, variegated granites and translucent marble certainly stems from this relationship. Marble is always painted diagonally amid swirling freedom of paint and sometimes painted with the help of a feather. Godward would become the acknowledged master of faux marble.'[2]   
In addition to his study of architectural elements and materials, Godward collected and surrounded his home with marbles and reproductions of ancient antiquities, evoking the ambience of a Graeco-Roman chamber to reflect in his paintings. Following the artist's death, The Connoisseur recounted: 'The Fulham Road Studio in which were painted so many of his carefully drawn and highly finished classical figure subjects, formed an epitome of his love for the antique. Internally decorated so as almost to render it a reconstruction of an ancient Roman building, it was set in a garden replete with pergolas and splashing fountains, while even the shouts proceeding from an adjacent football ground might almost be construed into the roars of the crowd in some classical amphitheatre.'[3]
A visit to the Italian capital was also a prerequisite for the student of Classical Greece and Roman Antiquity, as Vern Swanson relates, 'At one point or another almost every important classicist studied or worked in Rome including; Frederic, Lord Leighton, Sir Lawrence Alma-Tadema, Sir Edward John Poynter, William Adolphe Bouguereau and Jean-Léon Gérôme, to name a few of the more eminent.'[4] Drawings in a sketchbook belonging to Godward, several of artefacts from the Museo Nazionale in Naples, suggest he first visited Italy circa 1904-5,[5] staying in the south (his sister thought Capri). Swanson suggests that the artist's return in 1912 for an extended stay of eleven years was a combination of his love for Italy and 'Godward's 'slow burn' relationship with his Italian model…'[6]
According to Ivy Godward, his niece by marriage, the artist left the country simply because he 'liked Rome very much'[7]; while another family member suggests 'He left in a rush, running off with his Italian model…'[8] The artist Sir William Russell Flint records meeting the model, Dolcissima, during his visit to Rome in 1912, the year the present work was painted: 'I had an introduction from Lee Hankey to J.W. Godward in Rome…Godward was exceedingly kind and helpful. He knew all the ropes and didn't mind showing us how to use them. He worked steadily at his Greek maidens in Liberty silks from a Roman model whose name in English meant 'Sweetest Castaway'. This heavy-jowled beauty was a star among the models…but she aimed at being taken for something better…Good, kind Godward, what a difference he made to our Roman sojourn!'[9] The artist stayed at No. 2 Villa Strohl-Fern on Monti Parioli near the entrance to the gardens of Villa Borghese, and would no doubt have appreciated Strohl-Fern's collection of Roman sculpture and ancient marbles which he displayed in the large gardens surrounding the Villa.
Producing works of superlative quality at the height of his fame, Godward was awarded the gold medal at the Rome Internationale exhibition for his painting The Belvedere in 1913, which Swanson describes as the 'apogee of his artistic recognition'.[10]
JOHN WILLIAM GODWARD RBA
1861 - London - 1922
John William Godward was a painter of classical genre scenes.  His works can perhaps best be understood in terms of the aesthetics of the circle of artists around Alma-Tadema, often described as the 'Greco-West Kensington' School, who saw the world of Ancient Greece as a Golden Age of poetic beauties and graceful languor. 
Godward is perhaps best known for his portrayals of pretty girls attired in classical robes. The diaphanous fabrics of their Grecian tunics highlight their pearly flesh.  These elegant ladies are typically set in marble surroundings amidst abundant flowers.  Godward was often praised for his archaeologically exact rendering of the surfaces of marble and the flowing movement of classical costume.  These girls reminded one critic of 'true English roses,' as much as Hellenic goddesses, and it is this gentle beauty which is Godward's greatest charm.
Godward exhibited regularly at the Royal Academy between 1887 and 1905 and at the Royal Society of British Artists, Suffolk Street, of which he became a member in 1889.
A catalogue raisonne of the work of John William Godward RBA, is currently being prepared by Dr Vern Swanson, Director of the Springville Museum of Art, Utah, U.S.A in which this painting will be included.
[1] Vern Swanson, op. cit., p.230, no. 1912.8. For further information on the sculpture see Brunilde Sismondo Ridgway, 'The Aphrodite of Arles', American Journal of Archaeology, Vol. 80, No. 2 (Spring, 1976), pp. 147-154.
[2] Ibid.., p. 22.
[3] The Connoisseur, London 1923, p. 108, cited in Vern Swanson, op.cit., p. 120.
[4] Vern Swanson, op.cit., p. 96.
[5] Ibid., pp. 80-83.
[6] Ibid., p. 92.
[7] Ibid., p. 94 and note 193, p. 261, during an interview with the author. This suggests that Godward had visited the Eternal city before, in 1905 and c.1910
[8] Dr Gilbert Milo-Turner, cited in ibid., p. 96.
[9] Vern Swanson, op.cit., p. 96.
[10] Vern Swanson, op.cit., p. 101.