Skip to main content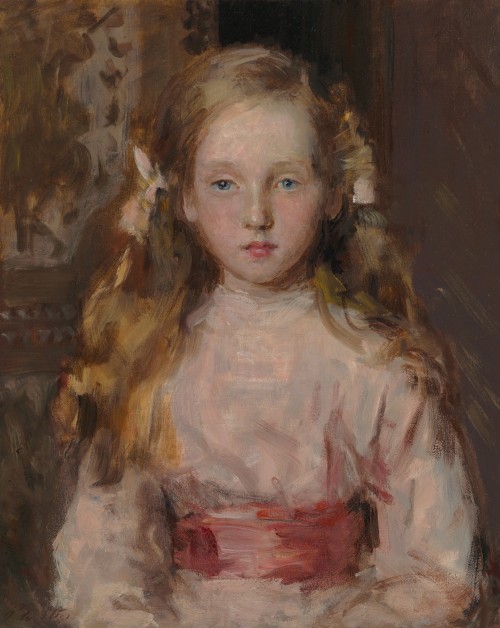 Philip Wilson Steer Betty, portrait of Miss Elizabeth Cary Elwes (1912-2005)
Oil on canvas: 20(h) x 16(w) in / 50.8(h) x 40.6(w) cm
Signed lower left: PW Steer
This artwork is for sale.
Please contact us on: +44 (0)20 7493 3939.
Email us
BS 233
PHILIP WILSON STEER OM NEAC
Birkenhead 1860 - 1942 London
Betty, portrait of Miss Elizabeth Cary Elwes (1912-2005)
Signed lower left: PW Steer
Oil on canvas: 20 x 16 in / 50.8 x 40.6 cm
Frame size: 27 x 23 in / 68.6 x 58.4 cm
Painted circa 1917
Provenance:
Painted for the parents of the sitter c.1917, then by descent
Exhibited:
London, New English Art Club, winter 1917-18, no.108 as Betty
Literature:
DS MacColl, Life, Work and Setting of Philip Wilson Steer, 1945, Faber and Faber, p.217
Bruce Laughton, Phillip Wilson Steer 1860-1942, 1971, p. 152, cat. no.529
In 1929 Philip Wilson Steer sat by the fire in his dining room at 109 Cheyne Walk. He was entertaining the young John Rothenstein, aspiring critic and future director of the Tate Gallery. 'I have a studio upstairs', he confessed, 'but I always prefer to work here'. His paintings leaning against the walls, the young writer noted, were 'completely in harmony with the eighteenth century furniture, the pieces of china, enamel and bronze', that adorned the room, and which had been collected with 'the most subtle discernment'.[1] It was as if, now approaching seventy, the great pioneer of British Impressionism was permanently sunk in reverie. For years Steer had been on a path of his own making and his work had explored the expressive roots of landscape painting in Constable's sketches and Turner's Liber Studiorum, he had revisited the rococo decorators in commissions for the houses of clients such as Cyril Butler, and quoted from Gainsborough in portraits such as that of Mrs Geoffrey Blackwell (Richard Green). He was nevertheless, no pasticheur. His erudition was ever complemented by a depth of understanding that made each new foray, uniquely personal.
In his fifties, during the years of the Great War, when a small sketch of the five-year-old daughter of an army officer was required, there were however other profound recollections that crowded his palette. Back in 1892 he had received a similar request for the portrait of A Young Girl in a White Dress, (fig 1).[2]
Fig 1 Philip Wilson Steer, A Young Girl in a White Dress, 1892
46 x 38.2, Manchester City Art Galleries
This chimed with the current project in several important ways. The girl, in both cases had light auburn hair held with ribbons, and after the fashion of the day, she wore a broad sash tied at the waist. She was to be simply presented in half-length, and what the earlier, smaller picture lacked in characterisation, was compensated here by closer observation of the girl's face. This child had a strong personality that would carry her to great responsibilities as an ATS girl in the Second World War.
The daughter of an officer in the Royal Horse Artillery and his Irish wife Elisabeth Cary Elwes (1912-2005, aka 'Betty') spent the years of the Great War with relatives while her father served on the Western Front and her mother worked as a cook in a military hospital. [3] The present portrait was commissioned in 1917 by members of the family at the time when her father was invalided out of the army. After the war Lieutenant-Colonel Elwes and his wife intended to run a stud farm in Ireland, but because of the mounting unrest leading up to the Civil War, opted for Oakdale Farm, near Dorking in Surrey, where 'Betty' lived until her death.
During the Second World War, like her mother, she served in the Auxiliary Territorial Service (ATS) as a cook, before moving up the ranks to command an anti-aircraft gun emplacement protecting the Rolls Royce aero-engine works in Derby. It was while in Derby that she met her future husband, Cyril George Eason, a farmer's son. Following the re-conquest of northern France and the Low Countries, Betty was posted to Brussels to help shore up its air defences. Thereafter she moved to Germany with the rank of Colonel in charge of all ATS personnel. Mentioned in dispatches on three occasions, she was awarded an MBE for her war service.
Betty was demobbed in August 1946, married Eason, and they had three children. After a short period in Derbyshire however, she returned to Oakdale to look after her ailing father. Her husband then sold his farm, moved south and the family were re-united. The decline in British agriculture during the 1980s brought hard times for the Easons, although Betty heroically hung on to Oakdale after her husband's death in 1992. She outlived him by a further thirteen years.   
Sadly, Betty's childhood memories of the tall, grey, overweight artist remain unrecorded. Even in his fifties, Steer remained shy, silent and save for a few close friends and patrons, solitary. The Slade School of Fine Art provided all of the society he required. In Betty, however, there was ample excuse for flights of fancy – for echoes of Joshua Reynolds', Penelope Boothby aged 4, 1788 (Private Collection) or Thomas Lawrence's Miss Murray 1824-6 (Kenwood), both of which were commonly available as engravings. Wisely, he resisted these temptations to indulge in sentiment. As in A Young Girl in a White Dress, there was one more austere master who remained Steer's exemplar. This was Velázquez. Back in the 1890s new works by the Spanish master were being added to the national collection and the new critics – George Moore, DS MacColl and RAM Stevenson – who supported Steer, were all admirers. Stevenson went so far as to hail Velázquez as the forerunner of all modern tendencies in painting. As a regular visitor to the Wallace Collection, Steer would of course, have been familiar with what Stevenson hailed as the 'dignity' of the master's technique and in Betty he nudges towards his own Infanta. MacColl, in the first draft of his monograph on Steer was moved to quote Reynolds on the Spanish master – 'What we are all trying to do, he does at once'.[4] The same, he claimed, could be said of Steer by any of the young tyros who were emerging from the Slade. 
Kenneth McConkey
The artist perfectly catches the personality of the six year old Betty, slightly wary but composed, in a high-necked, long-sleeved dress of pale pink silk, a sash of darker pink round her waist. Her stillness and dignity, as well as her long waving hair tied at the sides with ribbons of the same
colour and fabric of the dress, remind us of a small Infanta by Velázquez, possibly the Louvre Infanta Margarita Teresa of about the same age as our sitter, and a source of inspiration to such artists as Whistler, Millais and Degas.'[5] Betty Elwes is depicted in what is probably her best dress, for young girls wore cotton for everyday, with pinafores to keep clothes clean. In fact, even on special occasions many girls were dressed, not in silk, but in white muslin (as Edith Nesbit recorded in her famous 1906 novel The Railway Children). Lavery's Velázquez-influenced portrait Mrs McEwen of Marchmont and Bardrochat with her daughters (fig. 2) shows how in order to hold its shape and flare out over petticoats, the muslin had to be fiercely starched, which
gave it a shine, especially visible in the dress of Elizabeth who holds her mother's right hand. Lavery's expert touch with regard to fabrics (without the slavish detail of, say, Dicksee) can be seen in the contrast between the crispness of the daughters' dresses and the soft, drifting, cobweb-like silk chiffon in greys and lavender, worn by Mrs McEwen.
Aileen Ribeiro
Fig. 2 Sir John Lavery, Mrs McEwen of Marchmont and Bardrochat, with her daughters, Katharine and Elizabeth, 1907. Private collection.
PHILIP WILSON STEER OM NEAC
Birkenhead 1860 - 1942 London
Philip Wilson Steer was one of the leading London Impressionists who was able to enjoy an almost legendary reputation during his own lifetime.   His initial training was at the Gloucester School of Art under John Kemp.  Then, failing admission to the Royal Academy Schools, he went to Paris in 1882 and studied at the Academie Julian under Bouguereau and the Ecole des Beaux-Arts under Cabanel, returning to London two years later.   After a short period of Whistlerian influence, Steer emerged between 1887 and 1894 as England's fines Impressionist painter.
A founder of the New English Art Club in 1886, he continued to exhibit there throughout his life and in 1889 was included in their London Impressionists' exhibition at the Goupil Gallery.   A surprising reversion of style took place circa 1895 when Steer consciously cultivated an anachronistic quality in his work, making reference to Manet in his figure painting and nudes and experimenting with Gainsborough and Fragonard's handling of paint.   After 1900 he resumed his interest in landscape painting but expressed it in an essentially English vein, reminiscent of Turner and Constable.   His works of the 1920s and 1930s especially the watercolours, illustrate his remarkable sensitivity to tone and light, for which Steer possessed an intuitive and natural gift.
[1] John KM Rothenstein, A Pot of Paint, Artists of the 1890s, 1929 (Books for Libraries Reprint, New York 1970), p. 140.
[2] Laughton, 1971, p. 51, regards this as 'frankly sentimental', and Whistlerian, a point elaborated by Jane Munro in Philip Wilson Steer, 1860-1942, Paintings and Watercolours, 1986 (exhibition catalogue, Arts Council of Great Britain), pp. 39-40.
[3] Biographical information concerning Elisabeth Cary Eason is extracted from an account supplied by her son.
[4] DS MacColl, 'Steer', Artwork, no 17, Spring 1929, p. 21. 
[5] See Aileen Ribeiro, Clothing Art. The Visual Culture of Fashion 1600–1914, New Haven & London, 2016, p.442.