Skip to main content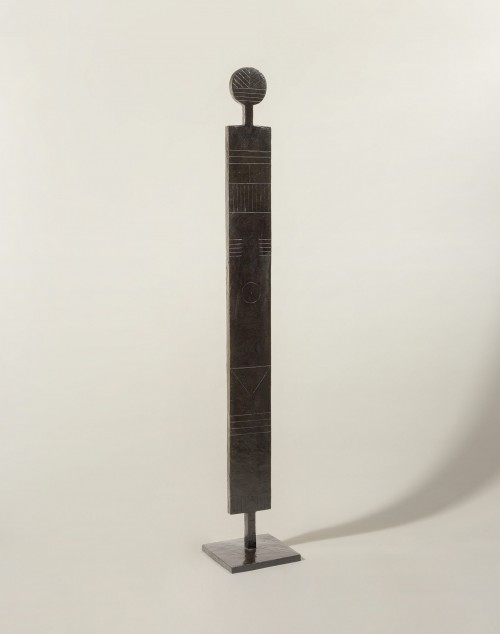 William Turnbull Female figure
Bronze: 72.5(h) x 11.5(w) in / 184.2(h) x 29.2(w) cm
Stamped with monogram, numbered and dated on the side of the base: 2/6 / 89
This artwork is for sale.
Please contact us on: +44 (0)20 7493 3939.
Email us
BZ 166
WILLIAM TURNBULL
Dundee 1922 - 2012 London
Female figure
Stamped with monogram, numbered and dated on the side of the base: 2/6 / 89
Bronze with an integral base: 72 ½ x 11 ½ x 10 7/8 in / 184.2 x 29.2 x 27.6 cm
Conceived in 1989 and cast in February 1991 in a numbered edition of 6
Provenance:
Dr Simatos, Paris, circa 2005, then by descent
Literature:
Amanda A Davidson, The Sculpture of William Turnbull, The Henry Moore Foundation in association with Lund Humphries, Aldershot, 2005, no.266, p.176 (another cast illus.)
In Turnbull's later archetypal figures, the artist combines his earlier idols with the rectilinear forms and streamlined surfaces of his minimalist steel sculptures of the 1960s and 70s. Turnbull stated, 'These sculptures had quite a big influence on the bronzes that came: they are very thin, and flat, and have a certain similar configuration.'[1] They also share with Turnbull's earlier work, such as Idol 4, 1956 (Tate), the idea of frontality and its immediate perception, which the artist recalled 'was not very current at the time. The prevailing view – I think mainly because of Moore's way of working – was that sculpture had to be what they call multi-faceted. You went round, and it kept changing all the time. I remember someone telling me that I wasn't making proper sculpture because mine had front, back and sides. That of course is typical of what is normally called archaic sculpture. It's certainly not so of classical, baroque or rococo sculpture.'[2] Writing on the artist's work for the Serpentine Gallery retrospective in 1995, Patrick Elliott commented, 'Turnbull, like Giacometti, was more concerned with establishing an arresting, frontal image…one which tends to dominate space and radiate out into it.'[3] Turnbull met Alberto Giacometti (1901-66) several times while living in Paris between 1948-50, at a time when 'Giacometti had begun making his later sequence of elongated figures. Although Giacometti's figurative work was seen at the time by some of the Surrealists in Paris as a backward step away from Surrealism, Turnbull was excited by these pieces.'[4]
Despite its plane angular shape, the circular top and slender, life-size form of the present work suggests a tall, dignified figure, its integral base allowing it to stand directly on the floor close to the viewer. The fine marks and patterns inscribed onto the variegated surface, also suggest a female figure rather than a completely abstract form. Simple, geometric signs indicate stylised physical features on the front of the sculpture, such as a dot within a circle suggesting the navel beneath the horizontal lines of an abstracted ribcage. The divided triangle below evoking female fertility could also be read as a design based on the artist's initials W and T.[5] As well as parallel vertical, horizontal and diagonal lines of various depths inscribed across the elegant Female figure, a series of dots puncture the surface on the reverse in a straight line from top to bottom, like buttons on the back of a dress. Amanda Davidson explains, 'The marks often come from the personal vocabulary of symbols that Turnbull has been exploring throughout his career. There are no predetermined public meanings and there is no secret code for the initiated. Some of the marks can be interpreted as indicating faces, hair, limbs and genitals but there can be many interpretations of these marks and the viewer is free to come to their own readings.'[6]
Turnbull's sculptures frequently refer to both ancient and contemporary sources, invoking everyday objects as well as sacred statues, such as vending machines, pendulums and grandfather clocks (see Screwhead, 1957), allowing him to explore 'ideas of change and metamorphosis and the relationship between the past, present and future.'[7] His treatment of the sculpture's surface in terms of texture and colour echo this simultaneous or ambiguous sense of age and modernity. Initially built up in plaster, the texture once cast in bronze has a remarkable vitality in contrast to the stasis of the sculpture, as if the smooth surface has been weathered over time. The beautifully mottled patina, transforming from warm brown to green to grey across the surface and signs, was executed by the artist himself at the foundry.
[1] The artist in conversation with Colin Renfrew in William Turnbull Sculpture and Paintings, Waddington Galleries, London, 1998, p.12.
[2] Amanda Davidson, ibid., p.12. Davidson reveals that despite the artist's desire to establish his own independent art, Moore and Turnbull got on well. 'Moore once visited Turnbull to buy one of his sculptures for the British Council and then invited Turnbull to Much Hadham.' p.23.
[3] Patrick Elliott, 'A consistent way of thinking', in William Turnbull: Sculpture and Paintings, exh. cat. Serpentine Gallery, 1995, p.34. Cited in Amanda A Davidson, op.cit., p.36.
[4] Amanda Davidson, op. cit., p.16.
[5] Roger Bevan, Introduction, William Turnbull, Waddington Galleries, London, 1987, pp.6-9 (8).
[6] Amanda A Davidson, The Sculpture of William Turnbull, op. cit., pp.65-66.
[7] Ibid., p.63.