Skip to main content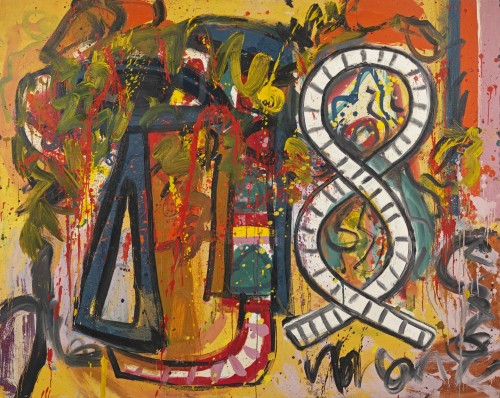 Alan Davie Jumpin' at the Woodside
Oil on canvas: 48(h) x 60(w) in / 121.9(h) x 152.4(w) cm
Signed, dated and inscribed on the reverse: JUMPIN' AT / THE WOODSIDE / Alan Davie / Nov 1965
This artwork is for sale.
Please contact us on: +44 (0)20 7493 3939.
Email us
BH 64
ALAN DAVIE CBE RA
Grangemouth, Scotland 1920 – 2014 Hertfordshire
Jumpin' at the Woodside
Signed, dated and inscribed on the reverse: JUMPIN' AT / THE WOODSIDE / Alan Davie / Nov 1965
Oil on canvas: 48 x 60 in / 121.9 x 152.4 cm
Frame size: 50 x 62 in / 127 x 157.5
Provenance:
Theo Waddington Fine Arts, Montreal
Sotheby's London, 25th May 1989, lot 316
Christie's London, 25th November 1993, lot 106
Robert Devereux Collection, sold to support The African Arts Trust
Jumpin' at the Woodside was a song written in 1938 by the American jazz pianist, William 'Count' Basie (1904 – 1984), while rehearsing in the basement of the Woodside Hotel, New York.  Several of Davie's paintings from the 1960s, such as Cure for the blues (1964), Portrait of Sonny Rollins (1964-6) and Jazz by moonlight (1966) refer to jazz in their titles.  As Michael Tucker explained in his article 'Music Man's Dream', 'Jazz has been one of the major transforming loves of Davie's life. His whole way of working might be compared to the manner in which a great jazz musician will take a theme and develop its melodic, harmonic and rhythmic potential with a personal voice and a striking sense of time... Improvisation and intuition, which are central to the jazz aesthetic, have always been crucial to Davie.
Davie had a promising career as a professional jazz saxophonist with the Tommy Sampson Big Band in the late 1940s, before deciding to devote himself fully to painting...The rhythmic power and intuitive command of the exploratory form, texture and highly-keyed colour which distinguish so many of Davie's paintings of the 1950s and 1960s are redolent of nothing so much as the imagination of such modern jazz masters as John Coltrane and Sonny Rollins.  Like the best of their solos, Davie's free-flowing drawing with paint thickens and twists, advances and recedes, in a syncopated, polyrhythic dance of hypnotic intensity' (Alan Davie, Lund Humphries, London, 1992, pp.71-88).
Egyptian Triptych, 1965, Dallas Museum of Arts ALAN DAVIE RA CBE
Grangemouth, Scotland 1920 – 2014 Hertfordshire
Alan Davie was born on 28th September 1920 at Grangemouth, Scotland, to a pianist mother and artist father. Davie studied at the Edinburgh College of Art from 1937 and was awarded the Andrew Grant Scholarship in 1938 and 1941. From 1941–46, Davie carried out his military service with the Royal Artillery, during which he received the Guthrie Award for best painting at the Royal Scottish Academy summer show of 1942. He also discovered a passion for writing and reading poetry, in particular the work of Walt Whitman. In 1945 the artist was impressed by exhibitions on Picasso and Klee which he visited while on leave in London. Demobilised from the army, Davie held his first one-man exhibition in a bookshop in Edinburgh in 1946. On a visit to London that same year, an exhibition of African sculpture inspired a profound interest in primitive art. The following year he married Janet (Bili) Gaul, an artist/potter, and became a full-time jazz musician, playing tenor saxophone with Tommy Sampson's Orchestra. He also began making and selling silver jewellery (in 1951, jewellery designed by Davie was worn by Vivian Leigh in Anthony and Cleopatra). Davie took up his deferred scholarship and travelled throughout Europe in the late 1940s through France, Switzerland, Spain and Italy, holding exhibitions in Florence and Venice, where he met and sold a painting to Peggy Guggenheim in 1948. Guggenheim also showed Davie her important collection of modern art, which may have been his first glimpse of American Abstract Expressionism. In 1950 he held his first solo show at Gimpel Fils, London and exhibited there every two years after that. Davie bought a cottage in Landsend, also in 1950, which he visited during the following summers. In 1954 the artist converted stables at Gamels, Hertfordshire into a home and studio.
Davie's first American exhibition was held at the Catherine Viviano Gallery, New York in 1956, which he attended, meeting Abstract Expressionists Willem de Kooning, Franz Kline, Robert Motherwell, Jackson Pollock and Mark Rothko. The Museum of Modern Art (MOMA) and Albright Art Gallery, Buffalo, purchased paintings from the exhibition.  The artist's interest in Zen Buddhism, inspired by Eugen Herrigel's book Zen in the Art of Archery, developed from the mid-1950s along with the Jungian idea of the collective unconscious, animating his intuitive, improvisatory approach to painting. Davie taught at the Central School of Art from 1953-56 and from 1956–59 at Leeds College of Art, having been awarded the Gregory Fellowship at Leeds University. Two retrospectives of Davie's work were held in 1958, at the Whitechapel Art Gallery, London (which made an impact on David Hockney) and Wakefield Art Gallery. Retrospectives were also subsequently held in 1993 at the Barbican Gallery, London and in 2003 at Tate St Ives. During the 1960s, he took up gliding and experimented with lithography. He also produced the first of several records by the Alan Davie Music Workshop. In 1963, Davie exhibited in the British section of the Bienal at São Paulo, Brazil, winning the award for best foreign painter. Alan Bowness published his monograph of the artist with Lund Humphries in 1967. Davie was awarded a CBE in 1972 and was commissioned the same year by the architect Peter Haupt to paint the Berlin School Murals. He also produced tapestry and mosaic designs, the latter for his home town, Grangemouth, for which he was awarded the Saltire Award in 1977. From the late 1970s, Davie began spending winters in St Lucia. He was elected a Senior Royal Academician in 2012 and was the subject of a BP Spotlight display at Tate Britain in 2014, featuring the eight oil paintings by Davie in their collection.