Skip to main content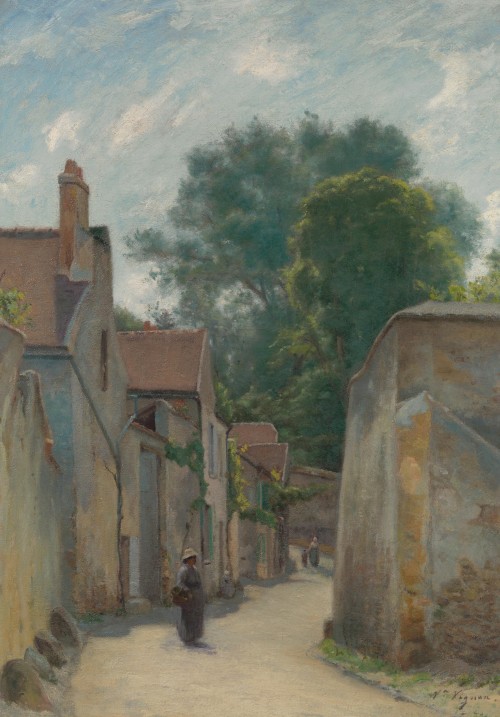 Victor Vignon L'Hameaux
Oil on canvas: 21.7(h) x 15(w) in / 55.2(h) x 38.1(w) cm
Signed
This artwork is for sale.
Please contact us on: +44 (0)20 7493 3939.
Email us
BK 243
VICTOR VIGNON
Villers-Cottêrets 1847 – Meulan 1909
L'hameaux
Signed lower right: V. Vignon
Oil on canvas: 21 ¾ x 15 in / 55.2 x 38.1 cm
Frame size: 27 x 20 in / 68.6 x 50.8 cm
Provenance:
Private collection, UK
Victor Vignon was the son of Rémy Vignon, a prosperous merchant from Villers-Cottêrets, Picardie, and the sculptress Marie-Noémi Cadiot, who worked under the name of Claude Vignon. Her house was decorated by Puvis de Chavannes in the 1850s. Vignon studied with Jean-Baptiste-Camille Corot and Adolphe-Félix Cals. He worked in the Val d'Oise, Clamart, Bougival and La Celle-Saint-Cloud. In the 1870s Vignon was associated with the circle round Camille Pissarro in Auvers-sur-Oise.
In 1880 he moved to Nesles-la-Vallée and later to L'Isle-Adam, where he became friendly with Vincent van Gogh. Van Gogh's patron Dr Gachet bought several of his works. Vignon exhibited in the fifth, seventh and eighth Impressionist exhibitions. Through the offices of the collector Dr Georges Viau, he took part in the 1900 Exposition Universelle. In 1903 the dealer Paul Durand-Ruel and Julie Manet-Rouart, the daughter of Berthe Morisot, organized a benefit auction for Vignon. He died in Meulan in 1909.
The work of Victor Vignon is represented in the Musée d'Orsay, Paris; the Musée de Pontoise; the Musée Bonnat-Helleu, Bayonne; the Kunsthalle, Bremen and Baltimore Museum of Art.