Skip to main content
Mary Fedden: Summer idyll
Mary Fedden's joyous still lifes brighten the Richard Green Gallery in the forthcoming exhibition, 'Summer Idyll'. Eight works spanning three decades can be found at 33 New Bond Street and online from 1st August.
For Fedden, being an artist was not just a profession, it was a creed. Painting was a form of self-maintenance. But it was also the way she expressed how she saw the world, something she called 'the Painter's Eye', finding the particular in the massive, incidental beauty spots, the birth marks of our world, making insignificant things significant. This 'curious search' dictated how she lived, how she painted and affects her audience too. She draws us irresistibly into her world and her way of seeing it.
Fedden wanted to be an artist from early childhood. Born in Bristol in 1915, she was desperate to escape provincial, traditional schooling and moved to London and the Slade School of Fine Art at the age of 17. She described this migration as, 'like going from Hell into Heaven.' Studying under the Russian Theatre designer, Vladimir Polunin, a friend of Picasso's, she drew inspiration from French and Russian Modernists. Her flattened perspective in 'Two pots of flowers' and blocky planes of colour in 'David's lilies', or her attention to decorative patterns, reveal the fingerprints of Matisse, Braque and Picasso.
There was another influence, however. On a visit to her Uncle Romilly, a watercolourist living in a rural town on the Seine, Mary observed his lavish, decadent lifestyle of grand lunches and wine, a mainstay rather than the special occasion it was in Bristol. Unsurprisingly, Mary thought if that was the way a Bohemian painter lived, then she was going to do exactly that. Ironically, this was perhaps the beginning of her attraction to still lifes; the potential of an unopened wine bottle, a sliced pear itching to be eaten, or perched impossibly on the table's edge, as in 'The white umbrella'.
The beauty of Fedden's still lifes lies in their simplicity; the rhythmic crescent strokes that mimic the leaves of a lily plant, the careful choreography of her compositions, a daring chromatic key which she manages to make harmonious. By simplifying forms, her still lifes begin to draw our attention away from its individual parts outwards towards the harmonious whole, its inner beauties detached from their symbolic ends.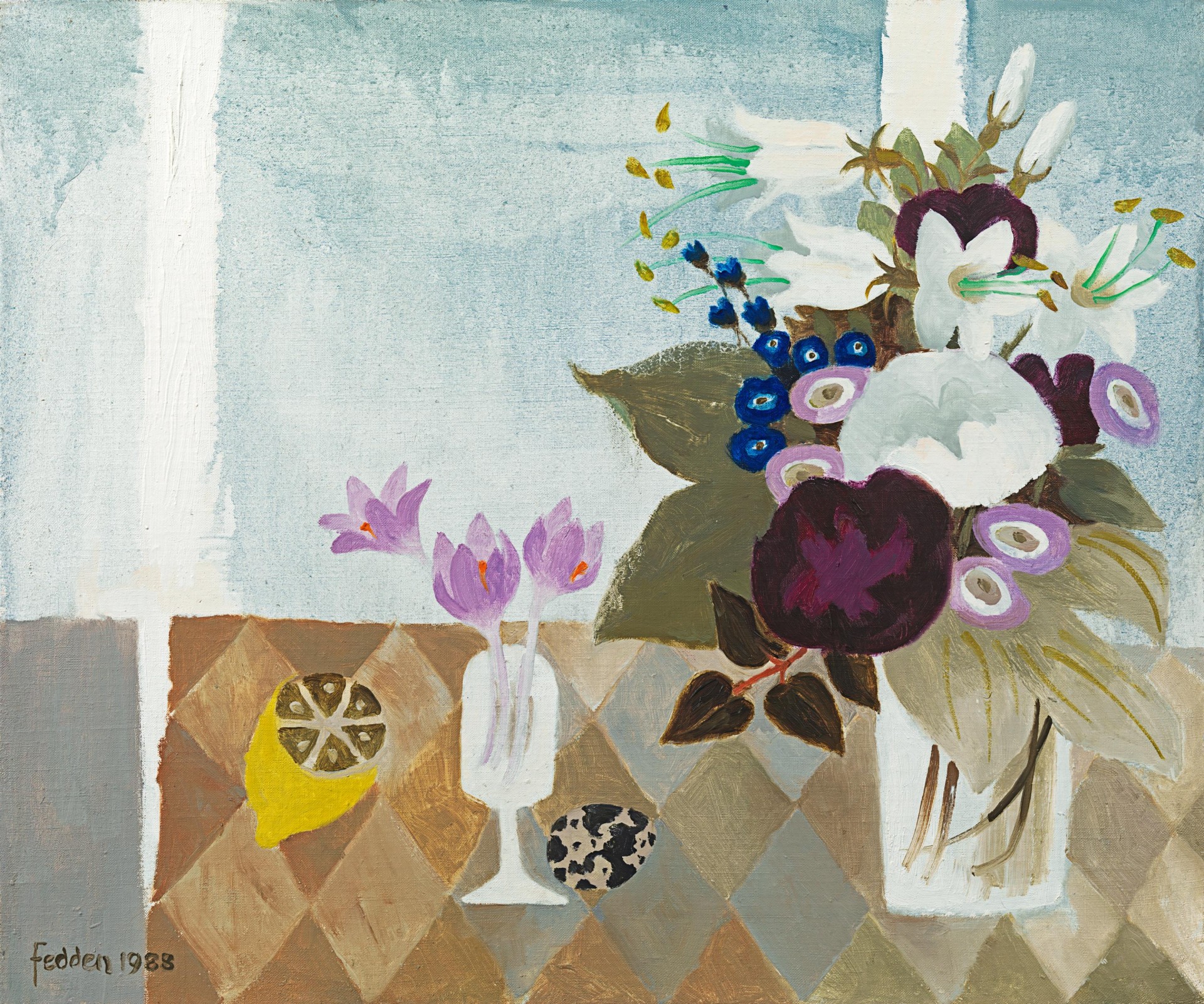 On view at 33 New Bond Street, London W1S 2RS from 1st August 2023