Skip to main content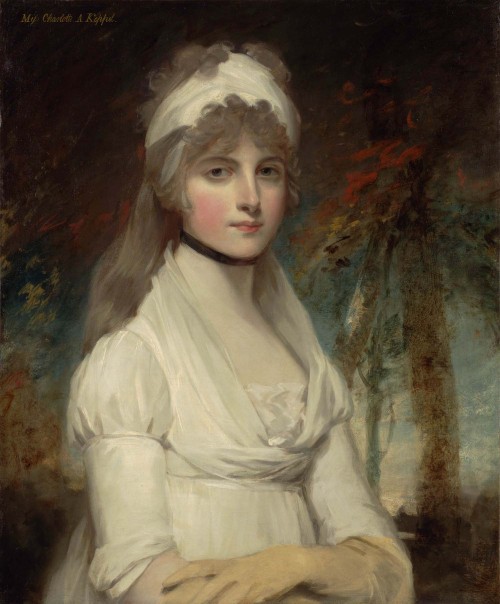 John Hoppner Portrait of Charlotte Augusta Keppel (1771-1852)
Oil on canvas: 30 x 25 (in) / 76.2 x 63.5 (cm)
Inscribed upper left: Miss Charlotte A. Keppel
This artwork is for sale.
Please contact us on: +44 (0)20 7493 3939.
Email us
JOHN HOPPNER
1758 – London - 1810
Ref: CL 3699
Portrait of Charlotte Augusta Keppel (1771-1852)
Inscribed upper left: Miss Charlotte A. Keppel
Oil on canvas: 30 x 25 in / 76.2 x 63.5 cm
Frame size: 39 x 33 in / 99.1 x 83.8 cm
Painted circa 1800
Provenance:
Private collection, UK
Richard Green, London, 2007;
private collection, USA
Literature:
W McKay and W Roberts, John Hoppner, RA, London 1914, p.29
This glamorous portrait of a well-connected young woman displays the bravura brushwork and rich colouring for which John Hoppner was celebrated and seen as a worthy successor to Reynolds in the 1790s and first decade of the nineteenth century. Hoppner makes lavish use of the creamy whites of Charlotte Keppel's fashionably neoclassical dress and the butter-yellow of her elegant gloves. The vibrant, rapidly sketched landscape adds to the air of freshness and youth.
The son of a Bavarian surgeon who came to England to serve George II, Hoppner was a creature of the Court, handsome, witty and always at ease with his aristocratic sitters. Charlotte Keppel was related to a number of prominent families and was a great-great granddaughter of Charles II through his liaison with Louise de Keroualle, Duchess of Portsmouth. She was the third daughter of the Rt. Rev. the Hon. Frederick Keppel, DD (1729-1777), son of William, 2nd Earl of Albemarle (1702-1754) and his wife Lady Anne Lennox (1703-1789), daughter of the 1st Duke of Richmond, Louise's son by Charles II.
Frederick Keppel followed a distinguished career in the Church, becoming Bishop of Exeter in 1762 and subsequently Dean of Windsor and Registrar to the Most Noble Order of the Garter. In 1758 he married Louisa, natural daughter of Sir Edward Walpole (1706-1784) (son of the Prime Minister Sir Robert Walpole, and brother of Horace) and Dorothy Clement, daughter of Hammond Clement, postmaster at Darlington. According to Lady Mary Wortley Montagu, Dorothy was discovered sitting on a dustcart by Catherine, wife of the clergyman Thomas Secker, who declared that 'she never saw a more lovely creature' [1]. She caught the eye of Edward Walpole when apprenticed to a milliner in Covent Garden.
Edward Walpole never married his mistress, but his son and three beautiful daughters were treated by his family as if they were legitimate and grew up in the highest society. Charlotte Keppel's aunt Maria, a celebrated beauty, married James, 2nd Earl Waldegrave, and after his death in 1763 fell in love with Prince William Henry, 1st Duke of Gloucester (1743-1805), the favourite brother of George III. The pair was secretly married in 1766; the King was furious when he found out, but Maria became Duchess of Gloucester.
Charlotte Augusta Keppel's first names were no doubt chosen in homage to the Hanoverian dynasty which her father served. On 24th December 1802 she married Robert Foote of Charlton Place, near Canterbury, Kent. He was High Sheriff of Kent and a Gentleman of the King's Privy Chamber. Robert Foote remodelled his Tudor house, giving it a new façade and a west wing with a ballroom. There Charlotte and Robert Foote entertained the Prince of Wales (later George IV) and his mistress the Marchioness of Conygham, who lived at nearby Bifrons. Robert's uncle was Rear-Admiral Sir Edward Foote (1767-1833), Captain of several Royal Yachts. Another visitor to Charlton Place was probably Jane Austen, whose strong Kent connections included a brother who inherited nearby Godmersham Park. She was also a friend of Robert's cousins, the children of the banker John Foote.
The Keppel family fortunes were founded by the Dutch nobleman and soldier Arnold van Keppel (1670-1718), who accompanied William III to England during the Glorious Revolution and was created 1st Earl of Albemarle in 1697. The Keppel connection with the Royal Family has endured down the centuries: our current Queen Camilla is a Keppel descendent and great-great granddaughter of Alice Keppel (1868-1947), confidante of Edward VII.
JOHN HOPPNER, RA
1758 – London – 1810
John Hoppner was one of the finest portrait painters of the second half of the eighteenth century, seen as a successor to Sir Joshua Reynolds (1723-1792). He was the son of John Hoppner, a Bavarian surgeon at the court of George II. John Jnr sang in the Chapel Royal choir and was recommended as a 'Lad of Genius' to George III, who gave him an allowance. There is probably no truth in the rumour that Hoppner was an illegitimate son of George III, though it suited the handsome and urbane artist, always at ease at Court, never to deny it.
Hoppner studied at the Royal Academy Schools from 1775 to 1781, the year that he won a gold medal for history painting and married Phoebe Wright (1761-1827), daughter of the wax sculptor Patience Wright (1725-1786), thereby losing his royal allowance. Hoppner exhibited portraits at the Royal Academy from 1780 to 1809. In 1785 he exhibited three portraits of the youngest daughters of George III. Hoppner had many sitters from among the nobility: he was noted for catching an excellent likeness, for vibrant colouring and bravura brushwork influenced by Titian and van Dyck. In 1793 he succeeded Reynolds as portrait painter to the Prince of Wales and was made an ARA; he became RA in 1795. Hoppner made large sums of money in the 1790s and as much as £3,000 in 1801, but suffered competition from the brilliant young Thomas Lawrence (1769-1830).
In 1802, during the Peace of Amiens, Hoppner travelled to Paris and was much impressed by the Old Masters in the Louvre, many looted by Napoleon from Italy. Among his finest portraits from the first decade of the nineteenth century is Horatio, 1st Viscount Nelson (Royal Collection, St James's Palace). Hoppner wrote art criticism from 1785 and in 1805 published a book of his collected poems, Oriental Tales. He built up a fine collection of paintings, including Gainsborough's Jonathan Buttall ('The Blue Boy'). Hoppner died in London on 23rd January 1810. His son Lascelles Hoppner took over his studio and another son, the diplomat Richard Belgrave Hoppner (1786-1872), exhibited at the Royal Academy.
[1]  Horace Walpole, Correspondence, vol. 43, p.111.