Skip to main content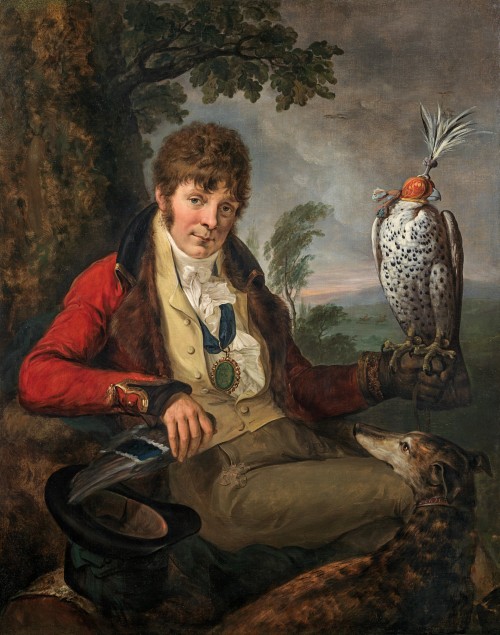 Philip Reinagle Portrait of Colonel Thomas Thornton, Marquis du Pont, hunting with his greyhound 'Major' and a hooded falcon
Oil on canvas: 50(h) x 40(w) in / 127(h) x 101.6(w) cm

This artwork is for sale.
Please contact us on: +44 (0)20 7493 3939.
Email us
BX 109
PHILIP REINAGLE, RA
Edinburgh 1749 – 1833 London
Portrait of Colonel Thomas Thornton (1751/2-1823) with his greyhound Major and a gyrfalcon
Oil on canvas: 50 x 40 in / 127 x 101.6 cm
Frame size: 60 x 50 x 3 in / 152.4 x 127 x 7.6 cm
Painted circa 1800
Provenance:
Commissioned from Reinagle by Thornton, at Thornville Royal, Yorkshire
Probably London, St James Gallery, June 1819
Rt. Hon. Viscount Ullswater, GCB;
his sale Sotheby's London, 23rd April 1941, lot 151 (bt. Backhouse)
Winston Frederick Churchill Guest, London and New York, circa 1945;
by descent
Literature:
Arthur C Credland, 'Colonel Thornton's gift to Napoleon Bonaparte and further notes on his career', Arms and Armour, vol. 6, no.1, 2009, p.62.
Colonel Thomas Thornton was one of the most successful, dedicated and eccentric sportsmen in an era which produced many remarkable sporting figures. His interests encompassed horseracing, hunting, shooting, fishing, cockfighting, athletics, long distance walking and greyhound coursing, but he is especially remembered for helping to revive the ancient and noble art of falconry in Britain. The Gentleman's Magazine called him 'the finest sportsman of his day in point of science, and one of the most convivial companions of the festive board that ever drained a bowl to Bacchus'[1]. Thornton himself wrote: 'As the race of man is of but short duration, I am still solicitous to skim the cream of the existence, and leave the blue milk for such as may happen to prefer it'[2].
Thornton was the son of William Thornton (1713-1769) of Thornville, Yorkshire, MP for York, and his wife Mary. He was educated at Charterhouse School and at Glasgow University from 1766 to 1771. Coming of age the following year, he inherited the Thornville estates and a large fortune, which he lost no time in spending. From 1772 to 1781 Thornton was the manager of the Confederate Hawks of Great Britain, a falconry club co-founded with the equally extravagant George Walpole, 3rd Earl of Orford (1730-1791) and based in Cambridgeshire. Subscribers to the club included the Duke of Rutland, the Earl of Leicester and the Marquis of Granby[3].
In 1778 Thornton won a match as an amateur jockey. In 1804 his mistress Alicia Meynell (billed as 'Mrs Thornton') rode his horse Vinigrillo in a match with Captain Flint at York races for a bet of £1,000. She lost; Thornton reneged on the debt and was later publicly horsewhipped by Flint. The following year Alicia won a match for 2,000 guineas against the leading jockey Frank Buckle, becoming the first woman listed in the Jockey Club records as having won a flat race against a member of the opposite sex.
Thornton sold his family estate and in 1789 bought Allerton Mauleverer near Harrogate from the Duke of York for £110,000, renaming it Thornville Royal. He also acquired Boythorpe Hall, twelve miles from Scarborough, dubbing it Falconer's Hall. A programme for a week's sport in 1803 promised: 'Monday, Stag hunting followed by Coursing. Tuesday, Wolf, Stag and Fox hunting and Beagling. Wednesday, Stag hunting, Beagling and Coursing, to meet every day at Falconer's Hall, where there will be a sportsman's breakfast provided for all the Company'[4].
Philip Reinagle's portrait depicts Thornton as a surprisingly delicate-featured dandy, his military-style jacket luxuriously lined with fur. Thornton was Colonel of the West York Militia, founded by his father to help quell the 1745 Jacobite Rebellion. Characteristically, he was court-martialled in 1794 for allowing his soldiers to draw him into camp in a triumphal carriage, and forced to resign his commission. The medallion on Thornton's breast reads The Triumph of Truth, a version of his motto Veritas Prevalebit Tentavimus (We strive that truth will prevail). It refers to his sense of injustice at the court martial, which may have been caused by the malice of the Duke of York, who had cheated Thornton over the price of Thornville Royal and been humiliated by him in consequence[5].
Thornton holds a lure in the form of a mallard's wing and a magnificent, hooded female gyrfalcon[6] rests on his left hand; his greyhound Major looks on adoringly. In the background, huntsmen gallop across a romantic, hilly landscape. Gyrfalcons, the largest of the falcons and the 'noblest kind of hawk'[7], hunt the tundra of the Arctic circle, in Norway, Greenland, Iceland and Canada. Unlike peregrines or 'slight falcons', which breed in Britain, their rarity made them expensive: Thornton paid £22 at King's Lynn for a gyrfalcon in 1786[8]. They were hard to capture, 'very violent and stubborn, making them difficult to train'[9] and a challenge to keep alive, but provided splendid sport, with flights of several miles pursued by the mounted falconry field, swooping upon their prey at 200 miles an hour. In the eighteenth and early nineteenth centuries, gyrfalcons were used for the 'great flight' at kites or herons, deemed the pinnacle of the sport. Thornton, in his Sporting Tour Through the Northern Parts of England and Great Parts of the Highlands of Scotland (1804) made fun of a bourgeois gentleman who thought falconry should only be used for catching prey edible for humans, such as hares.
Major, the dog in the painting, was considered to 'have been the most perfect greyhound ever produced'[10]. 'The celebrated Lord Orford was the father of modern coursing and his example was warmly imitated by Colonel Thornton and Major Topham'[11]. Sired by Orford's prizewinning Claret out of a favourite bitch of Major Topham's, Major won four cups and more than thirty matches at Malton and on the Yorkshire Wolds.
Two London houses, one cheekily named The Boudoir, for Thornton's pursuits were not confined to animals, estates in Yorkshire and lavish hospitality took their toll on his fortune. In 1805 he sold Thornville Royal to Lord Stourton for £226,000. Three years later he left Falconer's Hall for Spye Park, Wiltshire. Increasing enclosure of fields to grow wheat was harming falconry in the East Riding, while the open, rolling plains of Wiltshire were still ideal for the sport. The Hull Advertiser noted Thornton's grand departure from Yorkshire in November 1808, with a 'boat waggon covered with skins of stags….otter spears, fishing rods and guns….a dog cart with milk white terriers [and]….a hundred staghounds[12].
The fruit of Thornton's 1802 tour to France during the Peace of Amiens, a brief interlude in the French Revolutionary Wars, was A Sporting Tour Through Various Parts of France (1806). A Whig and a Francophile, Thornton had already earned government censure in 1796 for inviting two French commissioners to London. In Paris he met the First Consul, Napoleon Bonaparte, wearing his Triumph of Truth medal, which the pair discussed. Thornton gave Napoleon a splendid pair of inlaid pistols made by the famous gunsmith Durs Egg (1748-1831)[13].
Thornton's debts caught up with him once more and around 1817 he moved permanently to France, acquiring a château at Pont-sur-Seine, south-east of Paris, styling himself Marquis de Pont and Prince de Chambourd. His art collection was sold in London in 1819 and 1820. In Paris, Thornton revived the Falconer's Club as a weekly dining club. It was said that he had ordered out his hounds and his horse was waiting at the door when he died in the city on 10th March 1823.
Thornton's Collections
As well as remarkable guns, such as the pistols given to Napoleon and the twelve-barrelled gun portrayed in the portrait by Philip Reinagle and Sawrey Gilpin, Thomas Thornton had a considerable art collection, including works by Rubens and van Dyck. He was a major patron of Reinagle, Gilpin and George Garrard, who accompanied him on his 1786 Northern tour, as well as owning several paintings by George Stubbs. A silver-gilt epergne by John Wakelin and William Taylor, 1782, was presented to Thornton by Sir John Ramsden and Sir Harry Featherstone in fulfilment of a bet made in 1780 by Thornton that a Hambleton fox would run twenty miles. The Yorkshire fox ran without a check for two hours and thirty-eight minutes, covering at least twenty-eight miles, exhausting all but eight of a field of seventy. In 1781 Thornton was presented with a silver-gilt tea urn with falconry motifs when he retired as manager of the Confederate Hawks of Great Britain. Today this holds pride of place among the Colonel Thornton memorabilia at The Archives of Falconry, Boise, Idaho.
Philip Reinagle and Sawrey Gilpin, Portrait of Colonel Thornton of Thornville Royal, Yorkshire, roebuck shooting in the forest of Glenmore with a twelve-barrelled gun, 1786.
Oil on canvas: 82 x 59 in / 208.2 x 149.8 cm.
Private collection, USA, acquired from Richard Green in 1984. 
Philip Reinagle and John Russell, Portrait of Colonel Thornton, 1792.                                                                                                          
Oil on canvas: 24 x 18 in / 60.9 x 45.7 cm.
Private collection.
PHILIP REINAGLE, RA
1749 – London - 1833
Philip Reinagle entered the Royal Academy Schools in London in 1769, before becoming a pupil of Allan Ramsay. Among his tasks was working on endless replicas of Ramsay's official portraits of George III and Queen Charlotte, which were used as diplomatic gifts. Reinagle married Jane Austin in 1771. He first exhibited at the Royal Academy in 1773 and showed mainly portraits until 1785, after which he specialised in animal painting. From circa 1805 he chiefly sent in landscapes. Reinagle was elected ARA in 1787 and RA in 1812; his Diploma picture was An eagle and a vulture disputing with a hyaena. He also exhibited at the British Institution.
Reinagle contributed several plates to Robert John Thornton's Temple of Flora (1798-1807), including the Blue Passion Flower and Night Blowing Cereus. He provided drawings of dogs for William Taplin's Sportsman's Cabinet (1803), which were engraved by John Scott.
Reinagle had a pleasing, painterly style and was an excellent copyist of Dutch Old Master painters such as Paulus Potter, Meindert Hobbema and Jacob van Ruisdael, a talent not lost on the more dubious art dealers of his day, though there is no suggestion that Reinagle painted to deceive. He spawned a dynasty of artists: his sons the landscape and animal painters PA Reinagle (fl. 1804-11) and Ramsay Richard Reinagle (1775-1862); his daughters Charlotte (fl. 1798-1808) and Fanny (fl. 1799-1820). Ramsay Richard's son George Philip Reinagle (1802-1835) became a marine painter.  
[1] Vol. 93, Part 1, June 1823, p.567.
[2] Quoted in Michael Brander, Soho for the Colonel, Letchworth 1961, p.16.
[3] Gordon T Mellor, 'Falconry in Great Britain between 1750 and 127: the survival, organisation and development of the sport', Ph.D, De Montfort University, 2006, p.111.
[4] Brander, op. cit., p.16.
[5] See Arthur G Credland, 'Colonel Thornton's gift to Napoleon Bonaparte and further notes on his career', Arms and Armour, vol. 6, no.1, 2009, p.62.
[6] Female gyrfalcons are a third bigger than the males, heavier and fiercer. This bird wears a Dutch hood of leather, with a panel of decorated cloth over the eyes and a plume of heron feathers. On its legs it has jesses (leather straps to allow the falconer to keep hold of the bird) and bells to locate it in the field. The glove is always worn on the falconer's left hand, to keep his (usually more dexterous) right hand free. I am very grateful to Peter Upton and Mark Upton of the British Falconers' Club for sharing their expertise.
[7] Harding Cox [Coursing] and the Hon. Gerald Lascelles [Falconry], Coursing and Falconry, London 1892, p.292.
[8] Mellor, op. cit., p.vii.
[9] Lascelles, op. cit., p.293.
[10] Ed. Jonathan Duncan, The Guernsey and Jersey Magazine, vol. I, 1836, p.223.
[11] Ed. Duncan, op. cit., p.223.
[12] Quoted in Iris M Middleton, 'Thornton, Thomas (1751/2-1823)', Oxford Dictionary of National Biography, London 2004.
[13] Credland, op.cit., pp.62-78.