Skip to main content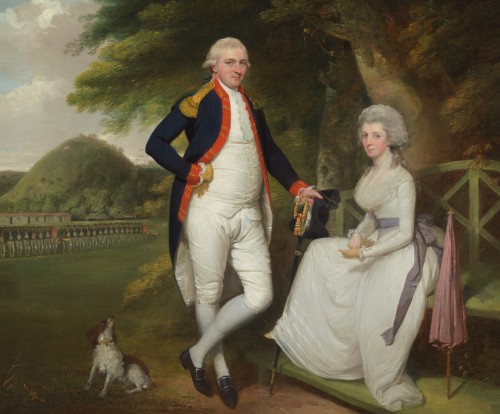 Robert Home Portrait of Lieutenant-Colonel William Sydenham (1752-1801) and his wife Amelia, with St Thomas's Mount, Madras in the background
Oil on canvas: 30.5 x 36.3 (in) / 77.5 x 92.1 (cm)

This artwork is for sale.
Please contact us on: +44 (0)20 7493 3939.
Email us
ROBERT HOME
Hull 1752 - 1834 Cawnpore
Ref: AS 16
Portrait of Lieutenant-Colonel William Sydenham (1752-1801) and his wife Amelia, with St Thomas's Mount, Madras in the background
Oil on canvas: 30 ½ x 36 ¼ in / 77.47 x 92.08 cm
Frame size: 38 x 44 ½ in / 96.5 x 113 cm
Painted circa 1791
AS 16
ROBERT HOME
Hull 1752 – 1834 Cawnpore
Lieutenant-Colonel William Sydenham (1752-1801) and his wife Amelia, with St Thomas's Mount, Madras in the background
Oil on canvas: 30 1/2 x 36 1/4 in / 77.5 x 92 cm
Frame size: 38 x 44 ½ in / 96.5 x 113 cm
In a period carved and gilded swept frame
Painted circa 1791
Provenance:
Arthur Tooth, London, 1946-7 (advertisement in The Connoisseur, March 1946)
Private collection, UK
Literature:
Mildred Archer, India and British Portraiture 1770-1825, London 1979, pp.306-8, pl.212
William Sydenham (1752-1801), the son of Samuel Sydenham and Alice (née Chapman) of Minehead, came from a distinguished Devonshire family. Sydenham joined the East India Company's Madras Artillery as a Cadet in 1768. In 1776 he married Amelia Prime, niece of General Horne, who had also served with the Artillery in India.
In 1786, at the time of the war with Tipu Sultan of Mysore, Sydenham was promoted to Lieutenant-Colonel in command of the First Battalion at St Thomas's Mount near Fort St George, Madras, which can be seen in the background of this painting. Home was a fine landscape painter and detailed landscape backgrounds give extra vividness to his portraits. William Sydenham was promoted to Major-General, Commandant of Artillery and Auditor-General of Fort St George in January 1801, but died in June of that year.
The Sydenhams had two sons, Benjamin and Thomas, and a daughter, Mary Ann, who married a Major Orr. Benjamin became Secretary to Marquis Wellesley (the future Duke of Wellington's brother) when he was Governor-General of India; Home painted Wellesley on several occasions. Benjamin served in the Madras Engineers from 1794 to 1808 and was a fine amateur artist. George Sydenham became Ambassador to the Court of the Nizam of Hyderabad; both boys were portrayed by John Russell.
ROBERT HOME
Hull 1752 – 1834 Cawnpore
Robert Home was an important recorder of British India in the late eighteenth and early nineteenth century, making portraits, history paintings, landscapes and scenes of native life. Born in Hull in 1752, the son of an army surgeon, he was destined for a medical career but at the age of thirteen stowed away on a whaler bound for Newfoundland. Hardships in the Arctic disabled his left arm, but on his return to London he made anatomical drawings for his brother-in-law, the famous anatomist Dr John Hunter. Home studied with Angelica Kauffmann and between 1773 and 1778 worked in Italy; by 1783 he was living in Dublin, scratching a living painting portraits. Home had exhibited twenty paintings at the Royal Academy between 1770 and 1789, the year that he returned to London. His wife died in 1790, leaving him with five children who were brought up with friends in Ireland and Scotland.
In 1791 Home arrived to seek his fortune in Madras, just as General Cornwallis was setting off with the Grand Army for the Third Mysore War against Tipu Sultan. Home accompanied the campaign, making sketches of the forts and engagements; he later produced prints of Select Views in Mysore (1794) and paintings of Lord Cornwallis receiving the sons of Tipu Sultan as hostages and The death of Colonel Moorhouse (both c.1793-4; National Army Museum, London). Influenced by Thomas and William Daniell, who visited Madras in 1792, Home produced a number of landscapes which show exquisite attention to architecture and Indian life.
In 1795 Home moved to Calcutta; he made a happy second marriage and his children joined him in India, all four sons becoming members of the East India Company's army. Home, a punctual, amiable and hardworking man, became the chief portrait painter in Calcutta. He painted the Governor-General of India, Marquis Wellesley, and his brother Major-General the Hon. Sir Arthur Wellesley (the future Duke of Wellington), as well as other generals and judges. He made a short visit to Dacca in 1799 to paint the Nawab Nasrat Jang.
Home's successful portrait practice was threatened by competition from Thomas Hickey, who arrived in Calcutta in 1807, and by the dashing and eccentric George Chinnery, who arrived in 1811. In 1814 Home took up the post of Court Painter to the Nawab of Oudh at Lucknow. He worked for the Anglophile Nawab Ghazi-ud-din Haidar for thirteen years, painting portraits and court life, and designing Ghazi's crown when he was made King of Oudh in 1819, as well as carriages, boats, furniture, even an elephant goad. Home retired to a 'handsome establishment' at Cawnpore after Ghazi-ud-din's death in 1827, dispensing 'extensive hospitality to the residents of the station' until his own death at the age of eighty-two in 1834.
The work of Robert Home is represented in the National Army Museum, London; the Victoria and Albert Museum, London; the National Portrait Gallery, London; Apsley House, London and the Victoria Memorial, Calcutta.