Skip to main content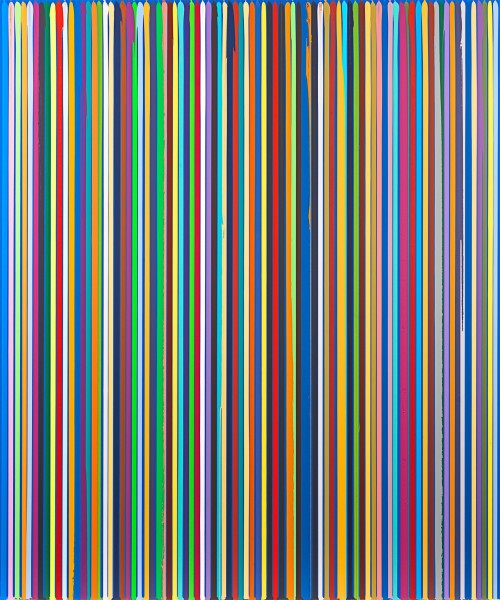 Ian Davenport Poured Lines: Dark Cobalt Study
Acrylic on aluminium: 70.9(h) x 59.1(w) in / 180(h) x 150.2(w) cm
Signed, inscribed and dated 2007 on reverse
This artwork is for sale.
Please contact us on: +44 (0)20 7493 3939.
Email us
BZ 109
IAN DAVENPORT
Born Sidcup 1966
Poured lines: dark cobalt study
Signed, dated and inscribed on the reverse: Poured Lines: / Dark Cobalt Study / I. Davenport / 2007
Acrylic on aluminium: 70 7/8 x 59 1/8 in / 180 x 150.2 cm
Frame size: 71 ½ x 59 ¾ in / 181.6 x 151.8 cm
Provenance:
Waddington Custot Galleries, London;
Private collection, acquired from the above
'Paint, like chocolate, says Davenport, 'is gorgeous and seductive stuff.''[1]
A bold and vivacious artwork in kaleidoscopic hues, Ian Davenport's Poured lines: dark cobalt study
reveals the artist's technical mastery of the medium and 'deep and abiding love of paint.'[2] In this celebrated series of works, in which 'the how to paint became the what to paint,'[3] Davenport pours ready-mixed, liquid paint on to an aluminium panel using hypodermic syringes, forming narrow stripes or vertical lines across the surface. This rigorously controlled and precise process initially presents the illusion of perfection, but the artist revels in the unexpected and spontaneous 'meandering' effects of running wet paint into wet paint, producing flickering edges, drips and splashes. Emerald green blurs into pale pink, brilliant blue bleeds into burnt orange, lines expand, overlap and contract, before they feather and pool at the base of the panel in a delectably viscous way.
An audacious colourist inspired by the work of Josef Albers, Davenport's strident palette sings against the dark cobalt ground. Writing in his recent monograph on the artist's work, Martin Filler explains, 'the subtle relations of colour values, both complimentary and contrasting, that were the underlying premise of Alber's hallmark Homage to the Square series of 1950-76 provided the British painter with a veritable crash course in ideas about chromatics and their optical interrelationships, a new line of enquiry he had been independently considering.'[4] For Sarah Whitfield, 'Finding infinite variety within the limits of a set of rules is what makes Davenport one of the most 'classical' artists working today. His admiration for two fifteenth century Florentine painters, Fra Angelico and Piero della Francesca is indicative of his natural preference for an art that balances austerity with a delight in the visual world.'[5]
Damien Hirst, the artist's friend, fellow Goldsmith student and YBA, writes: 'Ian Davenport relentlessly paints joyous, meaningful and unforgettable images. It's hard to make strong important paintings today as there are so many options and angles and ways of looking at the world, but Ian makes it look easy and has done for 25 years.'[6]
Ian Davenport, Poured lines: light orange, blue, yellow, dark green and orange, 1995
Arts Council Collection, Southbank Centre
IAN DAVENPORT
Born Sidcup 1966
British abstract painter and Turner Prize nominee, Ian Davenport is celebrated for his intricate colour compositions which explore the process of painting through a balance of control and chance. From the beginning of his career, Davenport has experimented with ordinary objects to apply and manipulate paint, including watering cans and electric fans, and is renowned for using hypodermic syringes to pour liquid household paint onto his surfaces.[7]
Davenport studied at Northwich College of Art and Design, Cheshire from 1984-85 and then at Goldsmiths College of Art, London from 1985-88, where he was taught by Michael Craig-Martin. On graduating, he participated in the Damien Hirst-curated exhibition Freeze at London Docklands in 1988, which started the careers of several Goldsmith students who would later become known as the YBAs (Young British Artists). He held his first one-man exhibition at the Waddington Galleries in 1990 and was included in The British Art Show, which toured to Leeds City Art Gallery and the Hayward Gallery, London in the same year. In 1991 the artist was nominated for the Turner Prize (alongside Anish Kapoor, Fiona Rae and Rachel Whiteread). He was a prize-winner at the John Moores Exhibition 21, Liverpool in 1999. Amongst other public commissions, Davenport produced Poured lines: Southwark Street in 2006, a 48-metre-long painting. In the spring of 2010, he was artist in residence at The Josef and Anni Albers Foundation in Bethany, Connecticut. Davenport was invited to design a pavilion for the 57th Venice Biennale in 2017, for which he painted Giardini Colourfall, a large-scale installation. A monograph on Davenport's work was published by Thames & Hudson in 2014.
Ian Davenport's work is represented in the following public collections: Arts Council Collection, Hayward Gallery, London; Birmingham City Art Gallery; British Council; British Museum, London; Contemporary Art Society; The Government Art Collection (Department for Culture Media and Sport); Grosvenor Museum, Cheshire; Jerwood Space, London; National Museum of Wales, Cardiff; Nuffield College, Oxford University; Paintings in Hospitals; Plymouth City Museum and Art Gallery; Southampton City Art Gallery; Tate, London; Unilever, London; University of Kent, Canterbury; Whitworth Art Gallery, Manchester; Centre Pompidou, Paris;
FNAC Fonds National d'art contemporain; Museum of Modern Art, La Spezia, Italy; Museum Voorlinden, Netherlands; Von der Heydt Museum, Wuppertal, Germany; Weltkunst Collection, Zurich; Borusan Art Gallery, Istanbul; Dallas Museum of Art, Texas; Museum of Modern Art, New York; Rose Art Museum, Brandeis University, United States.
[1] The artist cited in Sarah Whitfield, 'Beyond the Limits of the Line', Ian Davenport: Poured Lines, exh cat, Waddington Galleries, 2008, p.5.
[2] The artist cited in Martin Filler, Ian Davenport, Thames & Hudson, London, 2014, p.12.
[3] The artist cited in, ibid., p.15.
[4] Martin Filler, ibid., p.56.
[5] Sarah Whitfield, op. cit., p.8.
[6] Ibid., p.7.
[7] 'it is incredibly accurate at putting a specific amount of liquid where you want it to go.' The artist cited in ibid., p.6.