Skip to main content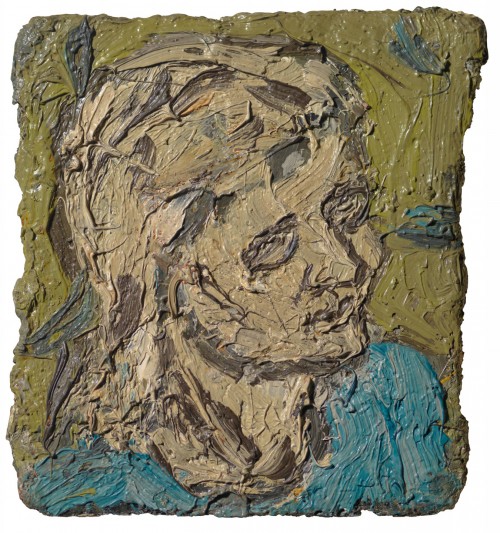 Leon Kossoff Small head of Rosalind II
Oil on board: 9.5(h) x 8.7(w) in / 24.1(h) x 22.2(w) cm

This artwork is for sale.
Please contact us on: +44 (0)20 7493 3939.
Email us
SP 5410
LEON KOSSOFF
1926 - London – 2019
Small head of Rosalind II
Oil on board: 9 ½ x 8 ¾ in / 24.1 x 22.2 cm
Frame size: 17 x 15 ⅛ in / 43.2 x 38.4 cm
In a canvas and cushion modern frame
Painted in 1981
Provenance:
Private collection
Bernard Jacobson Gallery, London
May Gruber, acquired from the above in 1989, then by descent
Exhibited:
London, Fischer Fine Art, Leon Kossoff. Recent Work, March–April 1984, illus. p.11;
this exhibition then travelled to California, LA Louver Gallery, November–December 1984
London, Bernard Jacobson Gallery, The Battle for Realism, 11th September–1st October 2001
This painting will be included in the forthcoming publication Leon Kossoff: Catalogue Raisonné of the Oil Paintings edited by Andrea Rose, with research by Andrew Dempsey and Stephanie Farmer, to be published by Modern Art Press
Small head of Rosalind II is an intimate, introspective portrait of the artist's wife, her eyes closed in a posture of melancholic repose seemingly at odds with the restless urgency of Kossoff's instinctive execution. Recording the dynamic encounter of artist and sitter, artist and medium, Head of Rosalind accentuates the importance of the figure and the primacy of paint in Kossoff's work, as well as documenting the relentless reconstruction or excavation of the image which renders the mass of pigment a palimpsest. Evoking an early Renaissance Madonna, Rosalind's representation emerges from the movement and flow of paint, her contoured features defined with dark incised lines dividing densely impasted areas of muted blue, green and cream.
Kossoff began producing portrait and nude studies of his wife Rosalind in the 1950s. Removed from the heavy charcoal depictions central to his practice, the present work demonstrates a departure from the tenebrous tonality of Kossoff 's earlier works, showcasing a lighter, more varied palette. Rosalind's profile is constructed through thick and enlivened layers of pale flesh paint that add to the exaggerated curve of her cheek, the strong line of her neck. As Paul Moorhouse observes, Kossoff 's distinctive portrait studies reveal unguarded moments, that
vividly recreate an acute and unidealised physical sense of another's presence: 'they transmit a sense of dignity … combining an honest warmth of feeling with excitement in the act of creation.'[1]
Leon Kossoff, Head of Rosalind, 1981
Oil on board: 51.5 x 46.5 cm
British Council Collection
LEON KOSSOFF
Born London 1926
Leon Kossoff was born in London and has lived there all his life, growing up in Islington, Shoreditch, Bethnal Green and Hackney, and devoting his career to painting the city he knows so well. Building sites, railway lines, underground stations, Churches and swimming pools feature amongst his densely painted depictions of the city of London, as well as intimate portraits of his immediate family and friends. While attending Hackney Downs (Grocers) School in 1939, Kossoff was evacuated to King's Lynn, Norfolk for three years, during which time his interest in art was encouraged. Back in London, Kossoff went to life class at Toynbee Hall, Commercial Street in 1943 before attending commercial art classes at St Martin's School of Art. The artist's studies were interrupted by Military Service with the Royal Fusiliers in 1945. Attached to the 2nd Battalion Jewish Brigade, he served in Italy, Holland, Belgium and Germany.
Kossoff returned to London again in 1948 and the following year enrolled on a fine art course at St Martins, where he met and befriended Frank Auerbach who encouraged him to attend David Bomberg's evening classes at Borough Polytechnic from 1950-2. During the 1950s, Kossoff frequently travelled to Auerbach's studio and the artists would model for each other. He went on to study at the Royal College of Art, London from 1953-56. In 1953 Kossoff left his Mornington Crescent studio for Bethnal Green Road and married Rosalind (often referred to as Peggy in his paintings). Two years later their son David was born. Helen Lessore invited the artist to exhibit at the Beaux Arts Gallery in 1956, where he held his first one-man show the following year and continued to exhibit until it closed in 1965. Kossoff taught during the 1960s at the Regent Street Polytechnic, Chelsea School of Art and St Martin's School of Art, London.
In 1976 Kossoff's work featured in the seminal exhibition, The Human Clay, organised by R.B. Kitaj with the Arts Council of Great Britain in which he defined a School of London that included Michael Andrews, Frank Auerbach, Francis Bacon, Lucian Freud, Kitaj and Kossoff. Kossoff was chosen to represent the United Kingdom at the Venice Biennale in 1995 with a solo show in the British Pavilion.
In 1966 Kossoff moved his studio to Willesden Green, where it remains. He continues to live and work in London. 
The work of Leon Kossoff is represented in the following UK public collections: Scottish National Gallery of Modern Art, National Galleries of Scotland, Edinburgh; National Museum Wales, Cardiff; National Portrait Gallery, London; Tate, London; Arts Council Collection, Southbank Centre; British Council Collection; Government Art Collection; Royal College of Art, London; Birmingham Museums Trust; Leeds Art Gallery; Rugby Art Gallery and Museum; New Walk Museum & Art Gallery, Leicester Arts and Museums Service; Ferens Art Gallery, Kingston upon Hull; Swindon Art Gallery; University of Reading Art Collection; Alfred East Art Gallery, Kettering.
[1] Paul Moorhouse, Leon Kossoff, Tate Gallery Publishing, 1996, p.33.