Skip to main content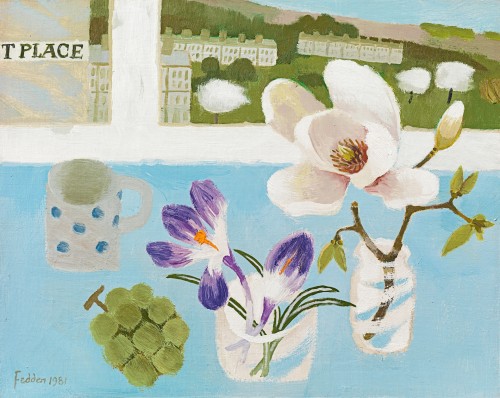 Mary Fedden Spring in Bath
Oil on canvas: 16(h) x 20(w) in / 40.6(h) x 50.8(w) cm
Signed and dated lower left: Fedden 1981; signed and inscribed on a label attached to the reverse: Spring in Bath / Mary Fedden
This artwork is for sale.
Please contact us on: +44 (0)20 7493 3939.
Email us
MARY FEDDEN OBE RA PPRWA
Bristol 1915 - 2012 London
Ref: BZ 246
Spring in Bath
Signed and dated lower left: Fedden 1981; signed and inscribed on a label attached to the reverse: Spring in Bath / Mary Fedden
Oil on canvas: 16 x 20 in / 40.6 x 50.8 cm
Frame size: 21 ½ x 25 in / 54.6 x 63.5 cm
Provenance:
Private collection, UK, acquired directly from the artist
Exhibited:
Bath, Victoria Art Gallery, Mary Fedden - Simple Pleasures, 9th July-16th October 2022, illus in colour p.22
In this beautifully bright springtime composition, Mary Fedden places a white-spotted mug above a bunch of green grapes. To their right, two deep purple crocuses with silver-striped leaves and
a blooming white magnolia flower and bud, both in transparent glass jars against a joyous sky-blue ground. Above the bold and brilliant still life elements, the architecture of Bath and the rolling hills beyond, with wistful cotton-ball trees in blossom, add to the fresh, natural palette.
In an interview in The Artist in 1995, Fedden acknowledged 'I really float from influence to influence...I found the early Ben Nicholson's fascinating as were the paintings of his wife Winifred. I also admire the Scottish artist Anne Redpath and the French painter Henri Hayden.' Fedden often composed her still lifes before a window or landscape, a device frequently used by Ben and Winifred Nicholson, as well as other members of the Seven and Five Society in the 1920s and 30s.
Still life was a vehicle through which the artist could play with conventions, using a collection of much-loved curiosities, talismanic objects that became revisited subjects in her practice including teapots and jugs, lamps, bottles, fruits and plants to celebrate their familiarity. It is in the joyful symphony of colour and pattern orchestrated in this abundant arrangement that Fedden's love for the genre is realised: 'I come back from holiday with sketchbooks full of landscapes…and then I'm back to still life. It's my real love.'[1]
[1] The artist cited in Christopher Andreae, Mary Fedden: Enigmas and Variations, Lund Humphries, Aldershot, 2007, p.118.