Skip to main content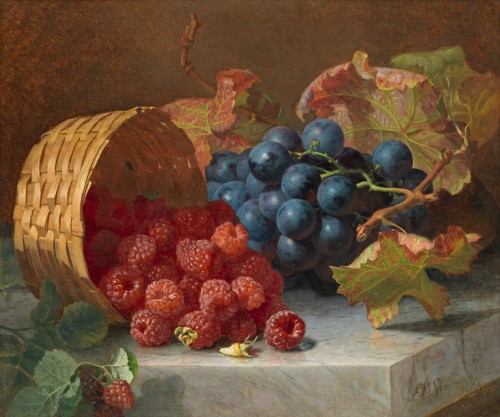 Eloise Harriet Stannard Still life with grapes and raspberries
Oil on canvas: 11(h) x 13(w) in / 27.9(h) x 33(w) cm
Signed and dated lower right: EH. Stannard / 1882
This artwork is for sale.
Please contact us on: +44 (0)20 7493 3939.
Email us
BX 178                                                                       
ELOISE HARRIET STANNARD
1829 - Norwich – 1915
Still life with grapes and raspberries
Signed and dated lower right: EH. Stannard / 1882
Oil on canvas: 11 x 13 in / 27.9 x 33 cm
Frames size: 16 ⅜ x 18 ½ in / 41.6 x 47 cm
Provenance:
Private collection, UK
Christie's London, 8th June 1995, lot 152;
private collection, London, acquired from the above
On a cool, grey marble surface an upturned basket of raspberries and a large bunch of blue, black grapes vie for our attention. Painted directly from nature, these luscious fruits are exquisitely rendered, their vibrant colour, form and surface texture depicted with exceptional accuracy, from the veined, gently curling leaves, to the delicate, glossy red beads of each berry and the mottled, matt sheen of each grape, to the polished marble surface offering subtle reflections of the fruit. A superb technician, it is thought that Stannard's remarkable grapes were 'under-painted with crimson-lake, which is often allowed to come through their blue glaze, giving greater transparency.' [1]
Stannard, the daughter of artist Alfred Stannard (1806-1889) and an important member of the Norwich School of artists in her own right, specialised in still life subjects and was renowned for her highly detailed, exquisitely textured flower and fruit pieces. Writing in his survey of East Anglian Painters, Harold Day declared, 'Whilst Eloise admired Van Huysum [Jan] and drew inspiration from him, such was her individual and fluent interpretation of Nature that it may be said she rivalled her great predecessor in the creation of beautiful and natural effects…When one considers the work of E.H. Stannard the outstanding feature is her extraordinary good taste; this, combined with her sensitive technique and genius, places her in the very top rank of British 19th century still life painters.'[2]
EH Stannard, Overturned basket with                                EH Stannard, Still life with grapes and raspberries
raspberries, white currants and roses, 1882                            spilling out of a basket, 1878
Oil on canvas: 23 x 28 cm                                            Oil on canvas: 39.5 x 35.5 cm
Norfolk Museums                                                       National Trust, Greenway (near Brixham)
ELOISE HARRIET STANNARD
1829 - Norwich – 1915
Eloise Stannard, the daughter of the landscape painter Alfred Stannard, was an important member of the Norwich School of artists, specializing in still life. She was renowned for highly detailed and exquisitely textured flower and fruit pieces, achieved with the skilful use of glazes. East Anglia shared physical characteristics and trading ties with Holland and, like so many Norwich artists, Stannard was influenced by the seventeenth century Dutch masters. Her combination of a rich variety of fruit with luxurious pieces of silver reflected her admiration for the still lifes of Jan Davidsz. de Heem and Jan van Huysum.
A member of the Norwich School of painting, Eloise Harriet Stannard was one of fourteen children of the landscapist Alfred Stannard. From an early age she suffered from a delicate constitution and weak heart, which necessitated a quiet life and no doubt contributed to her career as a still life painter. Seventeenth century Dutch painters such as Jan Davidsz. de Heem and Jan van Huysum influenced her early works. She soon evolved her own style however, painting outside in direct sunlight which gave her fruit and flower pieces an increased luminosity. This effect was emphasised further by the skilful use of glazes. It was only in her last works that she renounced this method in favour of a broader method of painting.
Stannard always insisted that she painted her fruit and flowers directly from nature. When she was asked how she remained occupied during the winter, she explained that she painted in the gold objects onto the half-finished canvases for background and contrast effects. For this purpose, she was occasionally lent pieces from the Norwich Corporation Plate. She exhibited at the Royal Academy from 1856-1893 and the British Institution from 1852-1867. Many of her works were loaned to the regular Norwich exhibitions. She was also a member of the Society of Lady Artists. The work of Eloise Harriet Stannard is represented in the collections of Norfolk Museums, Norwich Castle Museum and Art Gallery and Greenway, National Trust.
[1] Harold Day, East Anglian Painters, vol.III, Eastbourne Fine Art, 1969, p. 211.
[2] Harold Day, ibid.