Skip to main content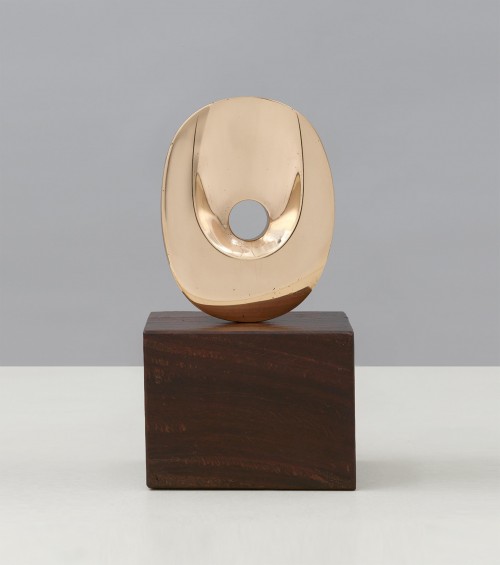 Dame Barbara Hepworth Upright solitary form (Amulet)
Bronze: 3.5(h) x 1(w) in / 8.9(h) x 2.6(w) cm
Numbered on the base: 2/10
This artwork is for sale.
Please contact us on: +44 (0)20 7493 3939.
Email us
BR 54
DAME BARBARA HEPWORTH
Wakefield 1903 - 1975 St. Ives
Upright solitary form (Amulet)
Numbered on the base: 2/10
Polished bronze: 3 ½ x 1 x 2 ¾ in / 8.9 x 2.5 x 7 cm
On a wooden base: 2 ⅜ x 2 x 3 ⅛ in / 6 x 5.1 x 7.9 cm
Conceived and cast in 1961 in a numbered edition of 10 + 0
BH 308
Provenance:
Presented to Stanmer County Secondary School, Brighton by the artist, May 1964
Private collection, acquired from Falmer High School in 1993–4
Exhibited:
London, Whitechapel Art Gallery, Barbara Hepworth: An Exhibition of Sculpture from 1952–1962, May–June 1962, cat. 67, cast 8
London, Tate Gallery, Barbara Hepworth, April–May 1968, cat. 118, illustrated. p. 36, cast 0
London, Gimpel Fils, Barbara Hepworth, October– November 1972, cat. 18, cast 3
London, Gimpel Fils, Barbara Hepworth: 50 Sculptures from 1935 to 1970, October–November 1975, cat. 33, illustrated, cast 3
New York, Gimpel & Weitzenhoffer Ltd., Barbara Hepworth, March–April 1977, cat. 7, illustrated, cast 3
East Winterslow (near Salisbury), New Art Centre Sculpture Park and Gallery, Barbara Hepworth: Polished Bronzes, December 2001 – February 2002, cast 4
Literature:
Alan Bowness (ed.), The Complete Sculpture of Barbara Hepworth 1960–69, Lund Humphries, London, 1971, cat. no.308 p.32, illus. pl.49, another cast
Matthew Gale and Chris Stephens, Barbara Hepworth: Works in the Tate Gallery Collection and the Barbara Hepworth Museum St Ives, London, 1999, referred to p.226
Hepworth by the Sea: sculptures and paintings 1935–1962, De La Warr Pavilion, Bexhill on Sea, 2001, referred to p.11
This work will be included as BH 308 in the forthcoming catalogue raisonné of Barbara Hepworth's sculptures being revised by Dr Sophie Bowness.
Hepworth applied the subtitle amulet, meaning a small object or charm imbued with magical, protective powers, to several works in the early 1960s including the alabaster, Small Form (Amulet), 1960, and the bronze maquette, Pierced Form (Amulet), 1962, which Hepworth translated into the marble, Pierced Form, 1963–4 (Tate). In 1968, Hepworth declared that she wanted her work to be 'a totem, a talisman, a kind of touchstone for all that is of lasting value…something that would be valid at any time or that would have been valid 2,000 or even 20,000 years ago.'[1] Titles such as Totem, Talisman and Touchstone, appeared in sculptures from the 1950s, referencing sacred symbols expressive of fundamental truths. Writing of Touchstone, 1969 (Tate), Chris Stephens underlines the centrality of this idea in the artist's work: 'The elevation of the abstract art object as the embodiment of resistance to the materialism of the modern world had been a mainstay of Hepworth's theory since the 1930s, when its currency amongst a variety of artists was exemplified in projects such as Circle (1937). As the artist told Alan Bowness in 1970, 'I
called that marvellous piece of Irish black marble "Touchstone" and that is what sculpture
is all about. It's something you experience through your senses, but it's also a life-giving
purposeful force.''[2]
Though the amulet works share a piercing set within a wider depression, in contrast to the later works, Upright Solitary Form (Amulet) and the closely related bronze, Reclining Solitary Form (Amulet), 1961, possess a highly polished, unpatinated surface and brillant shine. For Sophie Bowness, Hepworth's small polished bronzes are 'characterised by a sensuous, golden finish. They illustrate a new richness in her later work.' Their reflective surfaces, 'akin to the high finish achieved on some of her contemporary marble and slate carvings… have a light of their own as well as being highly reflective'.[3] 'The importance of light in relation to form will always interest me', Hepworth wrote, 'Light gives full play to our tactile perceptions through the experience of our eyes'. Bowness concludes, 'With their brilliant surfaces and combination of sensuousness and elegance, the polished bronzes have a distinctive place within Hepworth's singularly various later work.'[4]
Hepworth enjoyed working on these small-scale or table-size pieces, observing in 1970: 'It's refreshing, like painting or drawing.'[5] Highlighting the extensive range and scale possible with bronze, Hepworth also began work on the monumental Single Form (1961– 64) at this time, commissioned for the United Nations building in New York as a memorial to the Secretary General, Dag Hammarskjöld, which confirmed her international standing. 1961 also saw the publication of JP Hodin's monograph, Barbara Hepworth: Life and Work, with a catalogue of sculptures compiled by her son-in-law, Alan Bowness, as well as a BBC film on the artist directed by John Read.
DAME BARBARA HEPWORTH
Wakefield 1903 – 1975 St. Ives
Barbara Hepworth was born in Wakefield, Yorkshire in 1903, the first of four children of Herbert Hepworth (a civil engineer) and his wife Gertrude Johnson. She was educated at Wakefield Girls' High School before studying at Leeds School of Art from 1920, where she met the sculptor Henry Moore. After taking the two-year course in a single year, she moved to The Royal College of Art, London in 1921. Following a post-graduate year there, Hepworth was short-listed for the Prix de Rome and was awarded a year's travel scholarship. She moved to Florence in 1924 where she married fellow student and winner of the Prix de Rome, John Skeaping in May 1925. They later moved to Rome where Hepworth received a thorough training in carving and began working with stone. In November 1926 they returned to London, moving in 1928 to 7 The Mall Studios in Hampstead. Hepworth and Skeaping held joint exhibitions at the Beaux Arts Gallery in 1928 and at Arthur Tooth & Son in 1930. Their son, Paul was born in August 1929, but their marriage had already begun to deteriorate when Hepworth met Ben Nicholson in 1931. Hepworth and Skeaping divorced in 1933. Nicholson moved into Hepworth's studio in 1932 and they held a joint exhibition of their work at Tooth's Gallery that same year and again at the Lefevre Gallery in 1933.
A member of the Seven & Five Society, Unit One and Abstraction-Création during the 1930s, Hepworth began making entirely abstract sculpture in 1934. She also gave birth to triplets Simon, Rachel and Sarah that year. Nicholson and Hepworth were married in 1938, moving to Cornwall a year later, at first staying in the house of their friend, the author Adrian Stokes and his wife Margaret Mellis. Hepworth would remain in St Ives until her death in 1975. During the first three years of the war, Hepworth was unable to carve, though she drew at night after the domestic demands of the day. Her working conditions became easier after the family moved into a larger house in Chy-an-Kerris, Carbis Bay in 1942 and Hepworth secured a studio. The first retrospective exhibition of Hepworth's work was held at Temple Newsam, Leeds in 1943. She represented British sculpture at the Venice Biennale in 1950 and was commissioned by the Arts Council to produce two sculptures for the Festival of Britain in 1951. Two further retrospectives in Wakefield in 1951 and at The Whitechapel Art Gallery, London in 1954 helped to confirm her Post-War reputation.
Hepworth bought Trewyn Studio, St Ives in 1949 and lived there permanently from 1950 following her separation from Nicholson and their divorce in 1951. In 1953 her first child, Paul Skeaping, was killed in an air crash. Hepworth travelled to Greece in 1954 in an effort to recover from his sudden death. Large public commissions such as Single Form, erected outside the United Nations Building, New York in 1964 helped to confirm Hepworth's international standing, as did the award of the Grand Prix at the 1959 São Paulo Biennial. She was awarded a CBE in 1958 and appointed DBE in 1965, the same year in which she was elected a Trustee of the Tate Gallery. Along with her friend the potter Bernard Leach, Hepworth was awarded the Freedom of St Ives in 1968 in acknowledgement of her importance to the town. Hepworth died in 1975 as a result of a fire in her studio. According to her wishes, Trewyn studio was opened to the public as the Barbara Hepworth Museum in 1976 and is now part of the Tate Gallery.
[1] The artist in an interview with Susan Puddefoot, The Times, 3rd April 1968, p.13 cited in Matthew Gale and Chris
Stephens, op. cit., p.257
[2] Matthew Gale and Chris Stephens, op.cit, p.257. Susan Puddefoot, 'A Totem, a Talisman, a Kind of Touchstone', The Times, 2nd April 1968, p.13.
[3] Sophie Bowness, Barbara Hepworth, Polished Bronzes, exh. cat., New Art Centre Sculpture Park and Gallery, 2001, unpag.
[4] Sophie Bowness, ibid.
[5] The artist cited in Sophie Bowness, ibid.