Skip to main content
Richard Green is delighted to return to Masterpiece London with an important exhibition dedicated to the work of British Modernist Ivon Hitchens (1893–1979).
From the bold swathes of pure colour that map out his distinctly British landscapes to the semi-abstract linearity of his busy decorative interiors, this group of ten paintings, dating from the early 1940s to 1973, reveals the depth and breadth of Hitchens' practice - a modern master renowned for his unique exploration of colour and form.
This intimate selection of paintings features eye-catching examples of Hitchens's unmistakable panoramic landscapes and compositionally rich interiors, interspersed with bravuristic flowerpieces, including Flowers red & gold (early 1940s), recently loaned to the Garden Museum's 2019 Ivon Hitchens: The Painter in the Woods exhibition. This display presents a rich blend of subject matter, replicating the formula applied to many of the solo exhibitions held during the artist's lifetime, reflecting the central importance of landscape painting to his oeuvre, as observed in works such as Arched trees - upward and inward movement (c.1954) a classic example of Hitchens' middle-period woodscapes and Conservatory (c.1954), which uniquely marries Hitchens' interior and exterior realms of exploration. Whereas the artist's late, highly abstract style is articulated in the recently acquired Monument in a forest (1973), a sweeping panoramic vista that gives immediate delight through its joyful use of colour: deep, pungent purples, lush stains of mustard and a densely packed rush of extravagantly rich blue.
In his 1944 work Piano player, recently featured in Pallant House's 2019 retrospective on the artist, Ivon Hitchens: Space through Colour, Hitchens considers the challenges that domestic interiors and still life painting presented him, both subjects serving as stimuli through which the artist could explore the nuances of subtle design and unusual viewpoints.
Celebrating Ivon Hitchens' illustrious career, this exceptional group illustrates the joy Hitchens found in experimenting with complex, uninhibited expressions of colour and transposing landscapes such as the British countryside into colourful, light-filled symphonies.
Richard Green Gallery will also be presenting a selection of works that celebrate British Modernism and Post-War British art, from George Leslie Hunter's brilliant evocation of the Côte d'Azur, to John Piper's interwar exploration into abstraction and LS Lowry's iconic industrial scene; our 2020 Masterpiece presentation enlivens the imagination, and revisits our much beloved and missed landscapes.
A classic iteration of L.S. Lowry's industrial subject matter and style, The cross-roads, 1952, opens wide an environment framed by factories, allowing for the ebb and flow of animated figures, leading the eye through the composition with touches of vermillion, ochre and black. This painting was exhibited at the Royal Academy of 1954 and represents a superb example of Lowry's iconic, post-war urban landscapes.
Painted at the height of his maturity, George Leslie Hunter's Villefranche, circa 1928, brilliantly captures the warmth, light and landscape of the Provencal/Alpes-Maritime region. His glorious townscape looks inland to the dramatic, surrounding hills of Villefranche and with bold delineation and strong areas of rich colour, Hunter skilfully combines nature and architecture in this confident and sophisticated design.
Representing an exceptional example of twentieth century British abstract art, John Piper's Forms on white ground, 1935, is a homage to Mondrian, the leading exponent of international modernism at the time. Piper visited Paris in 1934 to see the latest developments in contemporary art and on his return immediately began making abstract reliefs and by January 1935, was painting abstracts that upheld the ideals of rigour and purity which he observed in Paris. Forms on White Ground, retains elements of relief; the canvas has been laid on board with areas cut away by razor and the opened spaces coloured, adding richness, depth and complexity. Piper deliberately limited his palette to a strong colour chord of red, citrus yellow, brown, olive green, grey and black which concentrates attention on the play of forms and subtle shifts of direction.
Sir John Lavery's atmospheric portrayal of the wedding of Princess Marina of Greece and Denmark and Prince George, Duke of Kent in November 1934, expertly portrays the colourful Greek and Danish flags and Union Jacks hanging from the lampposts and from the top of the Wellington Arch, which broke through the fog as the Royal carriage and procession passed Hyde Park Corner. While there were moments of drizzle, there was no dampening of jubilation as the glamorous couple returned to Buckingham Palace from Westminster Abbey, having 'enshrined themselves in the hearts of millions.' Lavery exhibited this dashing record of the Royal wedding at the Royal Academy of 1935. As well as being captured on film by Moveitone and Pathe, the marriage of the Duke and Duchess of Kent was the first to be broadcast on the wireless, ensuring that the entire nation participated in the service.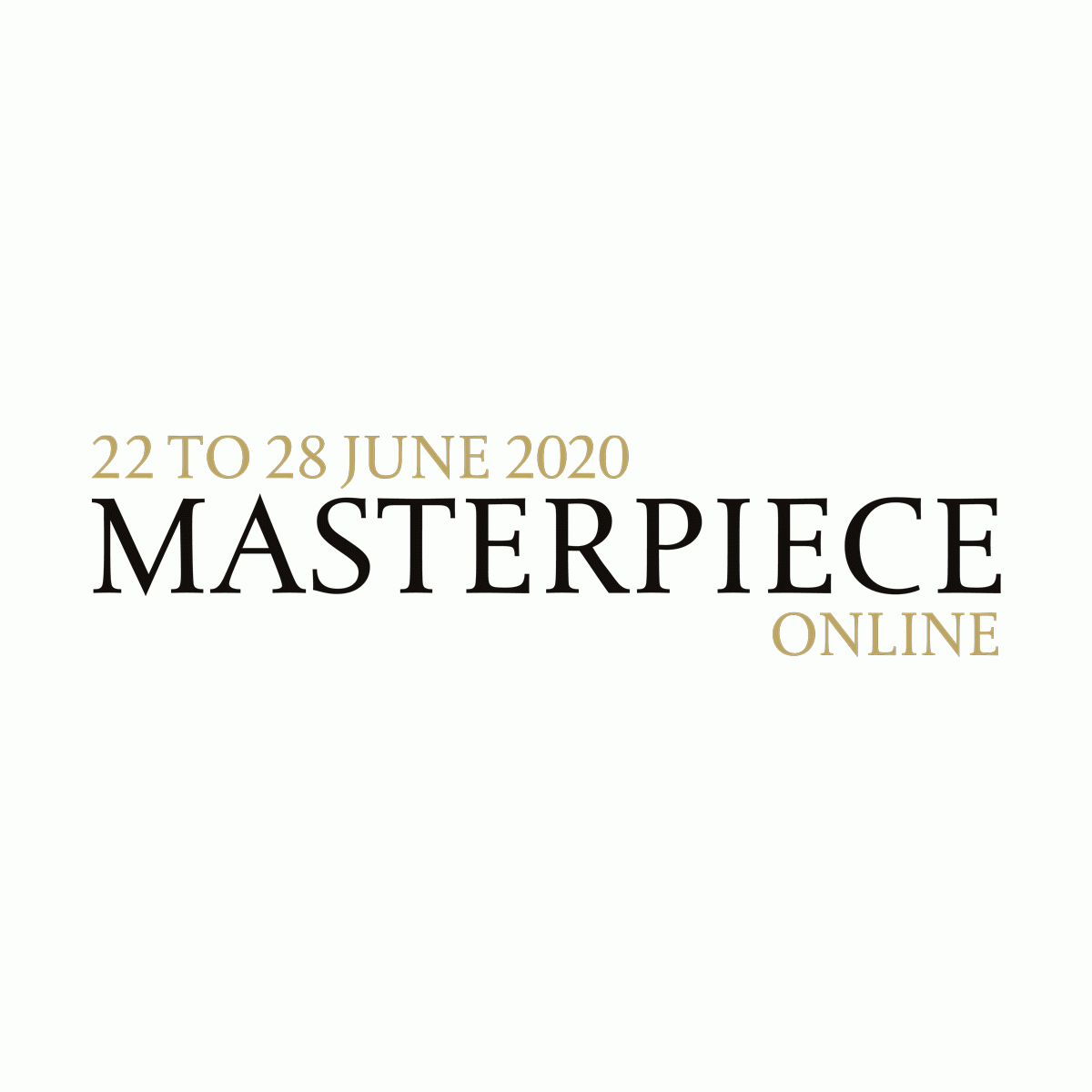 33 New Bond Street, London W1S 2RS