Skip to main content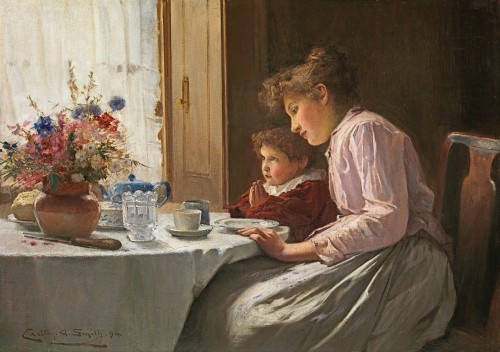 Carlton Alfred Smith Saying grace
Oil on panel: 10 x 14 (in) / 25.4 x 35.6 (cm)
Signed and dated lower left: Carlton. A. Smith. 94
This artwork is for sale.
Please contact us on: +44 (0)20 7493 3939.
Email us
CARLTON ALFRED SMITH RBA, RI, ROI
1853 – London - 1946
Ref: BZ 234
Saying grace
Signed and dated lower left: Carlton.A.Smith.94
Oil on panel: 10 x 14 in / 25.4 x 35.6 cm
Frame size:
Provenance:
Private collection, UK
Carlton Alfred Smith was educated in France and studied at the Slade School of Fine Art, where he won gold and silver medals. He specialized in genre scenes which present a gentle, idealized version of rural life, often featuring mothers with children or lovelorn maidens. His cottage interiors have affinities with the work of the Newlyn School painters.
Saying grace demonstrates Smith's subtlety in the handling of light. Sunlight filtering through muslin curtains plays upon the beautiful profiles of the mother and child and the masterly still life on the table set for tea. Wildflowers, painted with bravura, provide a burst of colour echoed in the child's rich red clothing and the blue teapot.
Carlton Smith was born in Camden Town in 1853, the son of the steel engraver Alfred Smith. After the Slade, he worked as a lithographer before turning to painting. He exhibited at the Royal Society of British Artists (being elected a member in 1879) and also at the Royal Institute of Painters in Water Colours, where he was a member from 1889, and the Royal Institute of Oil Painters (ROI 1890). He showed at the RA from 1879 to 1904. Smith married Martha King, a painter of coastal scenes. In the 1890s, when this painting was made, they were living at 72 Park Road, Hampstead, later moving to Witley in Surrey and then to Chiswick. From 1916 to 1923 Smith made visits to India, painting portraits and street scenes. He died in London in 1946.
The work of Carlton Alfred Smith is represented in Sunderland Museum; the Williamson Art Gallery, Birkenhead; Bury Art Museum; the Russell-Cotes Art Gallery, Bournemouth and the National Museum of Wales, Cardiff.