Skip to main content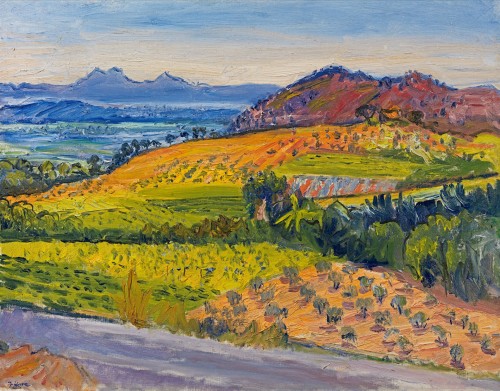 Frederick Gore Landscape near Merindol with distant Alpilles, during the Mistral
Oil on canvas: 28(h) x 35.5(w) in / 71.1(h) x 90.2(w) cm
Signed lower left: F. Gore; signed, dated and inscribed twice on the stretcher: 1972 FREDERICK GORE R.A. / LANDSCAPE NEAR MERINDOL/ with DISTANT ALPILLES, / DURING THE MISTRAL
This artwork is for sale.
Please contact us on: +44 (0)20 7493 3939.
Email us
BZ 129
FREDERICK GORE CBE RA
Richmond 1913-2009
Landscape near Mérindol with distant Alpilles, during the Mistral
Signed lower left: F. Gore; signed, dated and inscribed twice on the stretcher: 1972 FREDERICK GORE R.A. / LANDSCAPE NEAR MERINDOL/ with DISTANT ALPILLES, / DURING THE MISTRAL
Oil on canvas: 28 x 35 ½ in / 71.1 x 90.2 cm
Frame size: 47 x 39 in / 119.4 x 99.1 cm
Provenance:
Mrs Henry Ford II, Turville Grange, near Henley-on-Thames
Frederick Gore's passion for colour and light is powerfully displayed in his vibrant Mediterranean vistas. A glorious blaze of colour, this dramatic mountain landscape is almost abstract, its strong compositional structure of dark diagonals forming a bold patchwork of lush fields and verdant trees in vivid orange, green, purple, yellow and blue, beyond which the cool, distant mountains rise towards the top of the canvas. Gore refers to Mérindol in the title of his painting, a village south of the Luberon mountain range in the region of Provence, south-eastern France, as well as the Alpilles, which form a silvery chain of low, limestone mountains between the Durance and Rhône rivers, designated as the Parc Naturel Régional des Alpilles in 2007. Decorated with wheatfields, cypress, wild almond and olive trees, this beautiful province was also depicted by Vincent van Gogh towards the end of his life, the jagged Alpilles seen in contrast to the fertile foreground from Saint-Remy-de-Provence. With relevance to the present work, Tim Hilton writes, 'A plein-air artist by nature, Gore liked to carry his easel and painting materials to remote mountain sites in the south of France. When he found a place in which he sensed both solitude and danger, he knew he had found his subject.'[1]
Frederick Gore, Landscape in Provence, Frederick Gore, Near Soller, Majorca, c.1960
Oil on canvas: 70.5 x 50.5 cm                             Oil on canvas: 71.8 x 91.8 cm
Government Art Collection                                Royal Academy of Arts, London
FREDERICK GORE CBE RA
Richmond 1913-2009
Frederick John Pym Gore, the son of dancer, Mary Joanna (Molly) Kerr and the artist Spencer Gore (1878-1914), a founder member of the Camden Town Group, was born in Richmond, Surrey in 1913. Sadly, Frederick never knew his father, who died of pneumonia a few months after his birth, but celebrated his memory and reputation. Gore attended Lancing College, West Sussex, where he was head boy and an impressive athlete.
In 1932 he won a scholarship to Oxford where he read classics at Trinity College, while studying painting at the Ruskin School of Art under Albert Rutherston (1881-1953), his father's best friend. Rutherston guided him towards further studies during the 1930s at the Westminster School of Art, where he was influenced by Mark Gertler and Bernard Meninsky, and the Slade School of Art. At the age of 24 he held his first one-man exhibition at the Redfern Gallery, London, which led to an invitation to paint in Greece in 1938. An exhibition of his Greek paintings was held in Paris at the Galerie Borghese during the same year with an introduction by the art critic Louis Vauxcelles, who coined the expression 'Fauves'.
After army service during the Second World War (1940-1946), he travelled to Greece and France before returning to London to teach at the St Martin's School of Art, where he was head of painting from 1951 until 1979, and at the Epsom and Chelsea Schools of Art between 1946-1979. Gore wrote several books, Abstract Art (1956), Painting some basic principles (1965), Piero della Francesca's The Baptism (1969) and an unpublished translation of poems by Baudelaire. He was elected an associate member in 1964 and a full Royal Academician in 1973, as well as Chairman of the Royal Academy's Exhibition Committee from 1976-1987. He organised the Royal Academy's jubilee exhibition, British Painting 1952-77 and they held a major retrospective of his work in 1989. He was also a prominent member of the Balalaika dance group for more than 30 years. Gore was awarded the CBE in 1988. 
The work of Frederick Gore is represented in the public collections of Southampton City Art Gallery; Plymouth Art Gallery; Leicester County Council; Doncaster Museum & Art Gallery; the Contemporary Art Society; Reading Museum; London Transport Museum; the Royal Academy of Arts; The Scottish National Gallery of Modern Art, Edinburgh; The Government Art Collection; Arts Council of Great Britain; Manchester Art Gallery; the Jerwood Collection; Williamson Art Gallery & Museum, Wirral: Russell Cotes Art Gallery & Museum, Bournemouth and Tate Britain, London.
[1] Tim Hilton, 'Frederick Gore', The Guardian, 2nd September 2009.