Skip to main content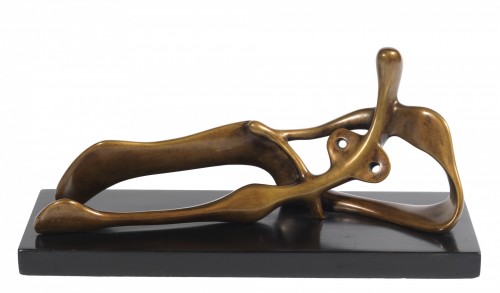 Henry Moore Reclining figure: Snake
Inscribed and numbered underneath: Susse Fondeur Paris / AT / 1/8
Bronze: 4.8 x 11.3 x 2.99 (in) / 12.1 x 28.6 x 7.6 (cm)

On a Wooden base: 0.75 x 12.01 x 4.25 (in) / 1.9 x 30.5 x 10.8 (cm)
This artwork is for sale.
Please contact us on: +44 (0)20 7493 3939.
Email us
HENRY MOORE OM CH
Castleford 1898 - 1986 Much Hadham
Ref: BR 44
Reclining figure: Snake
Inscribed and numbered underneath:
Susse Fondeur Paris  / AT / 1/8
Bronze: 4 ¾ x 11 ¼ x 3 in / 12.1 x 28.6 x 7.6 cm
On a wooden base: ¾ x 12 x 4 ¼ in / 1.9 x 30.5 x 10.8 cm
Conceived in lead circa 1939-40 and cast at Susse Fondeur, Paris in 1959 in a numbered edition of 8 plus one artist's copy
LH208a
Provenance:
Stephen Mazoh, New York;
Curtis and Margaret Marshall, acquired from the above in 1968, then by descent
Literature:
Franco Russoli and David Mitchinson, Henry Moore Sculpture, London, 1981, no. 151 (another cast illus p. 86)
Alan Bowness (ed.), Henry Moore Complete Sculpture 1980-86, Vol. 6, Lund Humphries, London, 1988 (reprinted 1999), Addenda to Volume 1 1921-48, p.30, no. 208a (another cast illus. p.31)
Susan Compton, Henry Moore, Royal Academy of Arts, London, 1988, exh cat., no.39, p.189 (another cast illus. p.80)
A fascinating balance of mass and space, organic and mechanical form, abstraction and surrealism, Reclining figure: Snake


Inscribed and numbered underneath: Susse Fondeur Paris / AT / 1/8
Medium: Small
0.75 x 12.01 x 2.99 (in) / 1.9 x 30.5 x 7.6 (cm)
On a Wooden base: 0.75 x 12.01 x 4.25 (in) / 1.9 x 30.5 x 10.8 (cm)
Reclining figure: Snake, is a captivating example of Moore's distinctive and experimental work of the late 1930s. The undulating, attenuated limbs articulating the abstracted figure, flow like a golden ribbon around the open space, suggesting, in contrast to the posture of repose, continual movement. Writing on a cast of the present work at the Henry Moore Foundation, Susan Compton writes, though it is likely that the subtitle Snake was devised years after its creation, 'the female form has here been drawn out in such convoluted curves that such an analogy is not unreasonable, and the upstanding head resembles that of a snake. However, it is less likely to have been invoked by the serpent which tempted Eve in the Garden of Eden, than by the inspiration of heads on tiny Egyptian fertility figures to be found in the collections of the British Museum. Such terracotta figurines also have prominent breasts, which in Moore's figure seem almost to double as the wings on a key for a clockwork motor. On a more serious note, the surrounding ring-like structure owes its origin to bone formations which already fascinated the artist as early as 1932, when he drew a sheet of studies of
Transformation of Bones
[HMF 941]. Although on such a small scale, the sculpture anticipates Moore's fascination for internal and external forms that reached an apogee in 1951.'[1]
Moore's enthusiasm for the reclining figure continued amidst a sequence of new themes throughout his career, allowing him to pursue unexpected formal possibilities: 'I want to be quite free of having to find a 'reason' for doing the Reclining Figures, and freer still of having to find a 'meaning' for them. The vital thing for an artist is to have a subject that allows to try out all kinds of formal ideas – things that he doesn't yet know about for certain but wants to experiment with, as Cézanne did in his 'Bathers' series. In my case the reclining figure provides chances of that sort. The subject-matter is given. It's settled for you, and you know it and like it, so that within it, within the subject that you've done a dozen times before, you are free to invent a completely new form-idea.'[2]
The seventh child of Raymond Spencer and Mary Moore, Henry was born in Castleford, Yorkshire in 1898. His paternal great-grandfather was of Irish origin, but his father and grandfather were born in Yorkshire where, for two or three generations, they worked the land or went down the mines. At the age of twelve Moore obtained a grant to study at the Grammar School in Castleford where he was inspired by his art teacher to pursue a career in the arts. In 1916 he began to teach, but by February 1917 he had joined the army and left to fight in France. After being wounded in action in November 1917 at the battle of Cambrai, Moore was excused from active service. He returned to England, where he became a physical education instructor in the army. At the end of the war, Moore received a veteran's grant to study at Leeds School of Art and in 1921 he joined a course at the Royal College of Art in London. A further grant enabled him to travel extensively from 1925, visiting Rome, Florence, Venice, Ravenna and Paris, where he met Picasso, Giacometti, Ernst, Eluard and Breton among others. On returning from his travels Moore was appointed Professor of Sculpture at the Royal College of Art where he worked two days a week until 1931, as well as teaching at the Chelsea School of Art until 1939. He was appointed an Official War Artist during the Second World War from 1940–1942 for which he made a series of drawings of people sheltering in the London Underground, as well as studies of miners at the coal face. In these pictures he frequently used
watercolour over wax crayon.
After the war Moore enjoyed a great deal of success, with his works receiving critical acclaim all around the world. He executed many major commissions for museums, public institutions, private collectors and municipal buildings and as a result he became one of the most famous British artists of the twentieth century. At the beginning of the 1970s Moore created a foundation, the aim of which was to promote public awareness of sculpture and to protect his own work for the future. Located in his home village of Much Hadham, Hertfordshire, the foundation houses a library, archives and a collection of drawings, prints, maquettes and sculptures by the artist. Heavily influenced by the work of Michelangelo, Moore created monumental works in marble, stone and bronze and was enthralled by the theme of the family, and in particular the mother and child. His unique oeuvre draws inspiration from prehistoric, archaic, Egyptian, African, Mexican and Roman sculpture. Throughout his career he was noted for his output of graphic art – drawings, watercolours, etchings and lithographs which were not necessarily related to individual sculptures.
[1] Susan Compton, Henry Moore, exh. cat., Royal Academy of Arts, London, 1988, no.39, p.189.
[2] The artist cited in John Russell, Henry Moore, Allen Lane, The Penguin Press, London 1968, p.28.