Skip to main content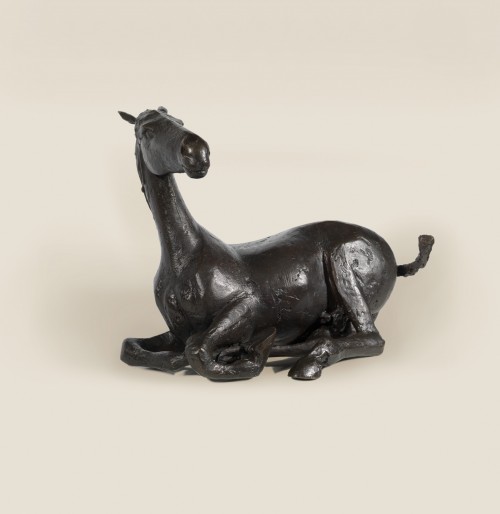 Dame Elisabeth Frink Large rolling over horse
Bronze: 15(h) x 20.5(w) in / 38.1(h) x 52.1(w) cm
Signed and numbered underneath: Frink 4/6
This artwork is for sale.
Please contact us on: +44 (0)20 7493 3939.
Email us
DAME ELISABETH FRINK
Thurlow, Suffolk 1930 - 1993 Woolland, Dorset
Ref: BH 193
Large rolling over horse
Signed and numbered underneath: Frink 4/6
Bronze with a dark brown patina:
15 x 20 ½ x 12 in / 38.1 x 52.1 x 30.5 cm
Conceived in 1975 and cast in a numbered edition of 6
Provenance:
William Darby, purchased directly from the artist
Private collection, UK
Literature:
Terrence Mullaly, 'Bronze Heads Dominate Frink Show', The Daily Telegraph, 8th December 1976, p.13
Jill Wilder (ed.), Elisabeth Frink Sculpture, Catalogue Raisonné, Harpvale, London, 1984, no.218, pp. 184-5 (another cast illus.)
Annette Downing, Elisabeth Frink: Sculptures, Graphic Works, Textiles, exh. cat., Salisbury Festival and Wiltshire County Council, 1997
Annette Ratuszniak (ed.), Elisabeth Frink, Catalogue Raisonné of Sculpture 1947-93, Lund Humphries in association with the Frink Estate and Beaux Arts, London, 2013, FCR246, p.129 (another cast illus.)
Throughout her career Elisabeth Frink 'searched for what it feels like to be, fully, both a human and an animal being, and asked herself repeatedly and unflinchingly about the true nature of life in the face of death.'[1] Frink's affinity with nature as a subject and passion for horses in particular stemmed from a rural childhood during which she learnt to ride from a young age and continued into her later years. She rode every other day in the fields around her Dorset home, Woolland,
experiencing the physicality of horses immersed in the English countryside. For Frink, horses represented 'a multiplicity of meanings – masculine and feminine sexuality, wildness, unusual sensitivity and freedom from mental and physical constraint.'[2] The artist's biographer, Stephen Gardiner, suggests the sight of Verrocchio's equestrian statue of Colleoni and the Roman horses of St Mark's on a post-war trip to Italy, set Frink on her chosen path.[3] While for Edward Lucie-Smith, the semi-wild horses of the Camargue, 'whose resemblance to those in the cave paintings at Lascaux has often been remarked, made an indelible imprint on her imagination.'[4]
Frink developed her own personal style of bronze patination over a number of years and created her large body of work without the aid of assistants: 'This enabled me to have the last word, which was very important to me'.[5] Frink would use a skeletal framework of chicken wire and metal rods as a base over which she would model with plaster of Paris, liquid or soaked strips of cloth, bulked with card or small pieces of wood. The mass would then be chiselled and shaped quickly after drying before the plaster set; a direct and tactile method in harmony with her intuitive development of ideas. When the plaster was finished, the sculpture would be cast in bronze 'at the same time preserving the surface details and texture made by hand and or tool'.[6]
Dame Elizabeth Frink, Horse Rolling Over, c.1986
Plaster and steel: 24 x 49.2 x 25.5 cm
Tate
[1] Annette Ratuszniak (ed.), Elisabeth Frink Catalogue Raisonné of Sculpture 1947–93, Lund Humphries, Farnham, 2013, p.9.
[2] Sarah Kent, 'A Bestiary for our time: The sculpture of Elisabeth Frink', in Jill Wilder (ed.), Elisabeth Frink Sculpture Catalogue Raisonné, Harpvale Limited, Salisbury, 1984, p.67.
[3] Stephen Gardiner, Frink: The Official Biography of Elizabeth Frink, Harper Collins, London, 1998, p.20.
[4] Edward Lucie-Smith, Elizabeth Frink Sculpture Since 1984 and Drawings, Art Books International, London, 1994, p.40.
[5] The artist cited in Kenneth Clark, Sculpture in the Open Air, exh. cat., Holland Park, London City Council, 1954.
[6] Sarah Kent, op. cit., p.53.