Skip to main content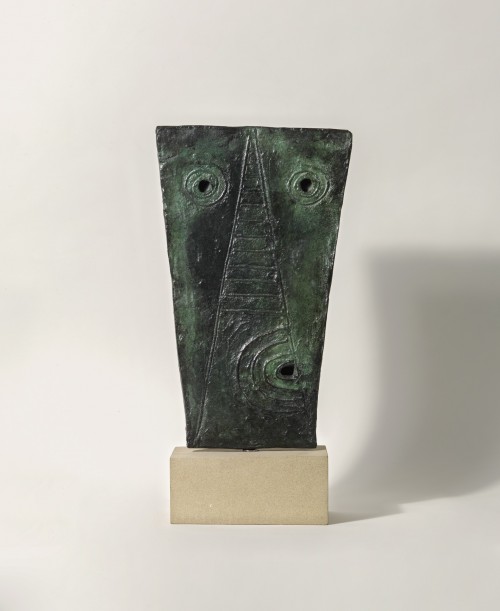 William Turnbull Mask
Bronze with a green patina: 15.5(h) x 9.3(w) in / 39.4(h) x 23.5(w) cm
Stamped with monogram, numbered and dated on the reverse: 3/4 46
This artwork is for sale.
Please contact us on: +44 (0)20 7493 3939.
Email us
WILLIAM TURNBULL
Dundee 1922 - 2012 London
Ref: BZ 218
Mask
Stamped with monogram, numbered & dated on the reverse: 3/4 46
Bronze with green patina: 15 ½ x 9 ¼ x ⅝ in / 39.4 x 23.5 x 1.6 cm
On a York stone base: 3 ⅛ x 7 ⅜ x 4 ⅛ in / 7.9 x 18.7 x 10.5 cm
Conceived in cement in 1946 and cast by AB Fine Art Foundry circa 2007 in a numbered edition of 4 plus one artist's cast
Provenance:
Gerard Valkier, Paris
Literature:
Richard Morphet, William Turnbull: sculpture and painting, exh. cat., The Tate Gallery, London, 1973, p.22, fig.2 (another cast illus.)
Ann Elliot, Sculpture at Goodwood 1, exh. cat., The Hat Hill Sculpture Foundation, 1995, p.64
Amanda A Davidson, The Sculpture of William Turnbull, The Henry Moore Foundation in association with Lund Humphries, Aldershot, 2005, pp.12, 79, cat. no.3, another cast illus.
Jon Wood (ed.), William Turnbull: International Modern Artist, Lund Humphries in association with Turnbull Studio, London, 2022, p.309, another cast illus. p.24
This extraordinary work is one of the first recorded sculptures created by William Turnbull in 1946. A tall, elongated trapezium, the flat, frontal Mask is divided into three tapering triangles; the outer forms bearing deep circular recessions at the centre of raised spirals, suggesting eyes. The third, central triangle is articulated with horizontal lines above a third, semi-circular hollow to the right, with four lines echoing its arc to the left, evoking a mouth or flared nostril. With its textured surface and variegated patina resembling an ancient artefact, Mask, a common theme in non-western traditions, became a recurrent motif in Turnbull's art. Inspired by the simple forms of archaeological and anthropological objects, as well as pre-classical forms of art, in particular African and Greek theatrical masks, Turnbull created further solid pieces during the 1950s, accentuating their surfaces. The artist declared, 'the mask is a marvellous example of the attempt to fix that which is maybe most continuously fleeting and mobile – the expression on a face.'[1]
As well as a human head, Amanda Davidson suggests, Mask, 1946 'also appears to represent a horse's head, but again is flat and frontal, using the conventions of masks to present a three-dimensional impression in a two-dimensional manner in sculpture.'[2] Turnbull created a sculpture entitled Horse at the same time as Mask, 1946, 'exploring cubist ideas of simplifying subjects to elemental shapes in sculptural form.'[3] The equine subject was inspired by the marble Horse of Selene, dated c.438-2BC, from the frieze on the east pediment of the Parthenon, on display at the British Museum, 'a work that Turnbull saw while studying at the Slade and deeply admired. As he explores the theme of the horse and the horse's head throughout his career, he draws upon his memory of this ancient piece to inspire his entire series of Horses.'[4]
Having served in the RAF during the Second World War, where he was stationed in Canada, Ceylon (Sri Lanka) and India, Turnbull was demobbed in 1946 and briefly attended the Slade School of Art in London, initially in the painting department. Surprised by the institution's academic teaching and limited view of art, he quickly transferred to the sculpture department, run by Professor A.H. Gerrard, 'which had a more enjoyable workshop atmosphere.'[5] Here he met and befriended fellow Scottish artist, Eduardo Paolozzi (1924-2005), who shared his interest in modern European art. While there, Davidson relates, 'both developed radically direct methods of production that they used as well as the traditional clay modelling promoted by the Slade, depending on what type of surface they wanted…these more direct ways of working lent themselves to new ways of thinking about art. For Turnbull, plaster high-lighted the necessary mediation of the artist in the art process. He 'was very suspicious about beautiful materials, but there was something about this bag of dust, because the plaster had to be all of you; you making it out of nothing and that defined the thing.'[6] Using a similar working method to combine powder and liquid, Mask, 1946, was originally executed in cement, its surface articulated with designs in string and later cast in bronze.[7]
[1] The artist cited in Amanda A Davidson, The Sculpture of William Turnbull, op. cit., p.28.
[2] Amanda A Davidson, op. cit., p.12.
[3] Ibid., p.12.
[4] Ibid., p.72. 
[5] Ibid., p.11.
[6] Ibid., p.11. The artist in 'Existentialism and post-war British art' by David Mellor, in Paris Post-War: Art & Existentialism 1945-55, ed. Francis Morris, Tate, London, 1993, p.60.
[7] The Turnbull Estate relates that the artist was not able to cast the work at the time it was conceived as it was too expensive.