Skip to main content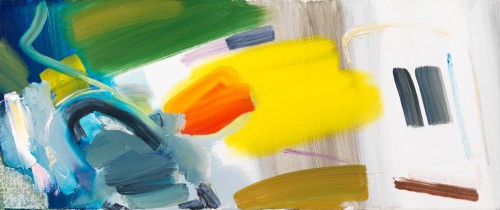 Ivon Hitchens Red splash
Oil on canvas: 16.3 x 39 (in) / 41.3 x 99.1 (cm)
Dated on the overlap: 16-6-70. Stamped by the Hitchens Estate on the reverse and inscribed: C.90 Red Splash, 1970
This artwork is for sale.
Please contact us on: +44 (0)20 7493 3939.
Email us
IVON HITCHENS CBE
London 1893 - 1979 Petworth
Ref: BZ 249
Red splash
Dated on the overlap: 16-6-70. Stamped by the Hitchens Estate on the reverse and inscribed: C.90 Red Splash, 1970
Oil on canvas: 16 ¼ x 39 in / 41.3 x 99.1 cm
Frame size: 24 x 46 ½ in / 61 x 118.1 cm
Provenance:
The Artist's Estate;
Jonathan Clark, London;
private collection, acquired from the above in 2007
Exhibited:
London, Jonathan Clark, Ivon Hitchens – The Flower Paintings, 25th April – 18th May 2007, no.21
London, Garden Museum, Ivon Hitchens: The Painter in the Woods, 8th May – 15th July 2019
Literature:
Peter Khoroche, 'Introduction', Ivon Hitchens – The Flower Paintings, exh. cat., Jonathan Clark, London, 2007, unpaginated, illus. in colour no.21
Andrew Lambirth, Ivon Hitchens: The Painter in the Woods, exh. cat., Garden Museum, London, 2019, pp.39, 64, illus. in colour p.58 (incorrectly dated 1976)
A radiant image of exceptional fluency and inventiveness, Red splash was painted at the height of Hitchen's powers, as Peter Khoroche describes, 'at a time when he felt able to take for granted all that he had learnt in the previous fifty years and dare to paint with uninhibited freedom, his design looser, more fluid, his colour vision more complex and ever further removed from the naturalistic. The paintings of his last decade are among the boldest and most exciting that he ever produced.'[1] Characterised by their intense, high-keyed colour and simplified form, Hitchens later flower paintings take on a panoramic format and more landscape theme, the increasing freedom of treatment creating an even greater sense of movement in space. Red splash vividly demonstrates the artist's development from flowerpieces in pots of the 1920s to more conventional bouquets, to flowers leading a life of their own in the 1960s, and 'finally in the 1970s', as Khoroche writes, Hitchens boldly isolates them 'in an infinite void.'[2]
Andrew Lambirth also describes Red splash as an exemplar of Hitchens late work, in which forms become flatter areas of intense colour. 'One of the chief characteristics of his work is the use of bare areas of white canvas to isolate the colour patches so that they can register all the more effectively on the viewer's nervous system, and be experienced in relation to each other in terms of shape, area, weight and meaning. The white also allows the eye to rest and helps to clarify the composition.'[3]
It is possible that a change of scenery in the 1960s effected this advance in the artist's work. In 1965, Hitchens and his wife stayed at Selsey on the Sussex coast and purchased a cottage there at the eastern most end of Selsey Bill: 'the simplicity of shape, pared down to essentials – huge sky, open sea, curving shore – could hardly have provided a greater contrast to the luxuriant complexity of Greenleaves. For some time Hitchens had been feeling his way towards a still greater freedom in composition and with it an expansion of his colour range. Here, suddenly, was the stimulus he needed. It was the beginning of a new period in his painting.'[4]
A marker of Hitchens success at this time, Red splash was painted in between two retrospectives of the artist's work in London; at the Tate Gallery in 1963, organized by the Arts Council to mark his seventieth birthday, and at the Royal Academy of Arts in 1979. The painting was recently exhibited at the Garden Museum, Ivon Hitchens: The painter in the woods, as part of their series on artist gardeners.
Ivon Hitchens, Red centre, 1972
Oil on canvas: 59.8 x 72.5 cm
Pallant House Gallery, Chichester
Sydney Ivon Hitchens was the only child of artist Alfred Hitchens and Ethel Margaret Seth-Smith, a talented amateur artist. Following his early education at Conamur School, Sandgate, Kent, Hitchens attended Bedales School, Hampshire from 1903 until acute appendicitis cut short his school days and sent him on a recuperative voyage to New Zealand. Hitchens' art education began at St John's Wood School of Art, London from 1911 and continued at the Royal Academy Schools from 1912-16. He returned to the RA Schools between 1918-19, following two years' service in hospital supply during the First World War. Still not fully recovered from his youthful illness, Hitchens was declared unfit for active service in 1916.
After graduating from the RA Schools, Hitchens moved into a studio at 169 Adelaide Road, Hampstead in 1919 and later became part of a circle of avant-garde British artists including Barbara Hepworth, Henry Moore, Paul Nash and Ben Nicholson living in Hampstead in the 1930s. In 1920 he exhibited at the first exhibition of the Seven & Five Society, becoming a member that same year. Hitchens was elected a member of the London Artists' Association in 1929, of the London Group in 1931 and of the Society of Mural Painters in 1937. The artist exhibited with the Leicester Galleries from 1940 until 1960, when he moved to the Waddington Galleries. Hitchens married Mary Cranford Coates on 27th June 1935.  He and his wife left London in 1940 with their only child, John, for a caravan at Greenleaves, Lavington Common near Petworth, Sussex, after a bomb landed next door to his Hampstead studio. For the next forty years, Hitchens' six acres of woodland near Midhurst became his home, place of study and constant source of inspiration. In 1951 the artist won a purchase prize at the Festival of Britain exhibition, 60 paintings for '51.  Hitchens completed a mural at Cecil Sharp House, Regent's Park Road in 1954, and installed another mural at the University of Sussex in 1962.  In 1956 the British Council arranged a retrospective exhibition of his work for the Venice Biennale.  In 1957 Hitchens was created CBE. A major retrospective of Hitchens' work was arranged by the Arts Council at the Tate Gallery, London in 1963. In 1979 a third retrospective exhibition was held at the RA Diploma Galleries.
[1] Peter Khoroche writing on An uprush of flowers, 1972 (BS 309), for Richard Green.
[2] Peter Khoroche, 2007, op. cit.
[3] Andrew Lambirth, op. cit. p.39.
[4] Peter Khoroche, Ivon Hitchens, Andre Deutsch, London, 1990, p.105.