Skip to main content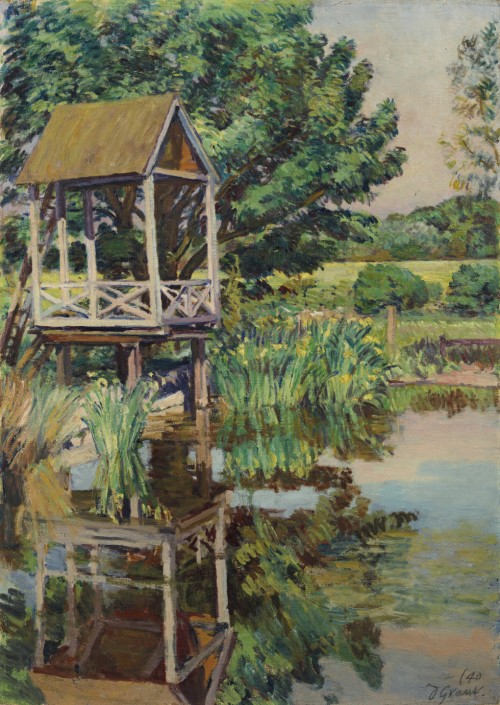 Duncan Grant The Gazebo at Charleston
Oil on canvas: 28.7 x 21 (in) / 73 x 53.3 (cm)
Signed and dated lower right: D Grant / 40
This artwork is for sale.
Please contact us on: +44 (0)20 7493 3939.
Email us
DUNCAN GRANT
Rothiemurchus, Inverness 1885 - 1978 Aldermaston, Berkshire
Ref: SP 5520
The Gazebo at Charleston
Signed and dated lower right: D Grant / 40
Oil on canvas: 28¾ x 21 in / 73 x 53.3 cm
Frame size: 35 ½ x 27 ¾ in / 90.2 x 70.5 cm
Painted in 1940
Provenance:
John Lehmann Collection
Sale, Sotheby's London, 12th November 1975, lot 112
Dr John Birch Estate
Exhibited:
East Sussex, Firle, Lewes, Charleston, 18th May- 18th October 2018, hanging in Maynard Keyne's (later Quentin Bell's) bedroom, which has a view of the garden and pond
Literature:
Virginia Woolf, Moments of Being, London, 1976, illus. on the front cover
Quentin Bell, Bloomsbury, London, 1968, p.66, illustrated
When Duncan Grant and Vanessa Bell moved to Charleston, a rented farmhouse in the Sussex Downs, a hundred years ago this year, its outdoor attractions included a spacious walled garden and a large farm pond in front of the house. As Charleston became a regular country retreat, the artists set about cultivating and ornamenting the garden. The pond was not neglected - waterlilies and irises were introduced and eventually sculpture appeared around its edge. Most of these outdoor additions were the ideas of Duncan Grant. He acquired the classical plaster-cast heads that line one of the garden's walls and he supervised two mosaic pavements. But his most ambitious project was undoubtedly the erecting on stilts of a gazebo at the edge of the pond. It is this that forms the subject of this painting, which seems to be its only visual record.
The gazebo's origins were in a hut on a platform which revolved to catch the sun and stood in the nearby orchard. Some years later, the hut was moved onto the wooden structure seen here. Finally the old hut decayed and it was then that Grant built another (seen here) which, according to Vanessa Bell's son, Quentin Bell, was 'decorated in the Chinese manner; it was adorned with brilliant colours and arresting designs. It looked very fine indeed'. The decorations were probably on canvas, tacked to the three sides of the structure. This lasted for the summer of 1940 when Grant painted this work, catching the scene before an autumn gale that year brought the whole thing down; it was not rebuilt.
The early summer of 1940 saw the rapid advance of German forces through France towards the English Channel,  as well as much bomb damage in London (including the complete destruction of Duncan Grant's and Vanessa Bell's adjoining studios in Fitzroy Street). It was a time of great anxiety for all but felt especially by those living along the south coast. Charleston was almost directly below the enemy's flight path. Virginia Woolf's diary for May 1940 in particular vividly records the strain, her house only a few miles from Charleston. It was during these despairing months that Grant, more or less confined to Charleston, painted several local landscapes which seem to celebrate the English countryside (e.g. The Hayrick, 1940, Tate). We can certainly include The Gazebo at Charleston in this group of works, with its full-leafed trees, flowering yellow flags and the sunlit view across the fields. It is in Grant's most lush, painterly style, the image given increased richness by the reflections in the water.
The previous owner of the painting was the poet, writer and editor, John Lehmann (1907-87), a visitor to Charleston in the 1930s and manager of Leonard and Virginia Woolf's publishing firm The Hogarth Press.
We are grateful to Richard Shone for writing this information sheet.
Duncan Grant, The Farm Pond, 1930
Oil on canvas: 59 x 81.5 cm
Aberdeen Art Gallery & Museums
DUNCAN GRANT
Rothiemurchus, Inverness 1885 - 1978 Aldermaston, Berkshire
The painter, designer and central figure of the Bloomsbury Group, Duncan James Corrowr Grant, was born in Rothiemurchus, Invernesshire, the only child of Bartle Grant and Ethel McNeil on the 21st January 1885. He spent his early childhood in India and Burma from 1887-1894, where his father was serving as a Major in the VIII Hussars.  After attending Hillbrow Preparatory School in Rugby from 1894-9, he was sent to St Paul's School London from 1899-1901 while living with his Aunt, Jane Strachey and family at 69 Lancaster Gate, London. Despite his families hope that he should follow his father into the army, Grant took up painting, entering the Westminster School of Art in 1902.  He travelled to Italy in the winter of 1904-5, where he was inspired by the works of Masaccio and Piero della Francesca.  From 1906-7, he trained at La Palette, under Jacques-Emile Blanche in Paris. Upon his return to England, Grant spent two terms at the Slade School of Fine Art from 1907-8 and developed friendships made through his cousins the Stracheys, in particular with Vanessa, Viriginia and Adrian Stephen, which would form his entrance into the Bloomsbury set. 
In 1910, with lifelong companion Vanessa Bell (nee Stephen), he began a series of decorative figures for a room at Webb's Court, Kings College, Cambridge (then occupied by John Maynard Keynes).  Amongst many other decorative projects, Grant designed sets and costumes for theatre productions.  He visited Greece, Turkey, Tunis and Sicily and in the summer of 1911 painted two scenes to decorate the Borough Polytechnic dining hall.  Roger Fry founded the Omega workshops in 1913, which Grant co-directed with Vanessa Bell, producing furniture, pottery and textiles before it closed in 1919. In 1916, in support of his application for recognition as a conscientious objector, Grant joined David Garnett in setting up as fruit farmers in Suffolk, shortly after which Vanessa Bell found the house Charleston, near Firle in Sussex, where Grant spent most of his life.  Angelica, Grant's daughter by Bell was born at Charleston in December 1918.  Duncan and Vanessa decorated several houses together including Charleston.  He also produced decorations for the RMS Queen Mary, Berwick Church, near Firle in 1943 and a series of panels for the Russell Chantry in Lincoln Cathedral in 1959.  He was appointed Official War Artist in 1940.
Grant exhibited at the New English Arts Club from 1909 and the Friday Club from 1910.  He was a member of the Camden Town Group in 1911 and the London Group in 1919.  His first solo show was held at the Carfax Gallery in 1920.  Grant was represented at the Venice Biennale in 1926 and 1932 and contributed to the second of Roger Fry's Post-Impressionist exhibitions of 1912. 
The work of Duncan Grant is represented in the collections of the Art Institute of Chicago, Birmingham Museums & Art Gallery, Fitzwilliam Museum at the University of Cambridge, the National Galleries of Scotland, Edinburgh, Art Gallery of New South Wales, Sydney, Ashmolean Museum at the University of Oxford, Bolton Art Gallery, Brighton Museum and Art Gallery, Charleston, East Sussex, Cleveland Museum of Art, Ohio, the Courtauld Institute of Art, London, Manchester City Art Gallery, National Museums and Galleries of Wales, National Portrait Gallery, London, Pallant House Gallery, Chichester, Princeton University Art Museum, Southampton City Art Gallery, Tate Gallery, London, The Hepworth Wakefield, Victoria & Albert Museum, Worcester City Art Gallery and Museum, the UK Government collection, the British Council.