Skip to main content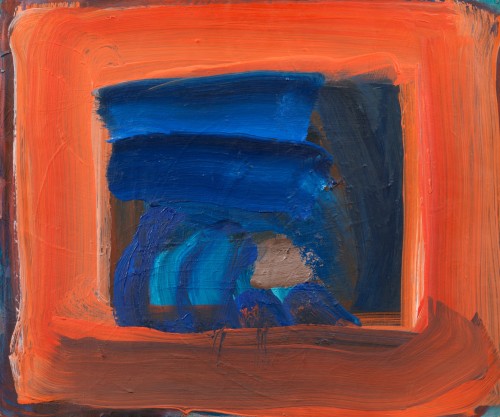 Sir Howard Hodgkin Waterfall
Oil on panel: 17.9(h) x 21.3(w) in / 45.4(h) x 54(w) cm
Signed, dated and inscribed on the reverse: Howard / Hodgkin / WATERFALL / 1991-92
This artwork is for sale.
Please contact us on: +44 (0)20 7493 3939.
Email us
SIR HOWARD HODGKIN CH CBE
1932 – London - 2017
Ref: CA 194
Waterfall
Signed, dated and inscribed on the reverse:
Howard / Hodgkin / WATERFALL / 1991-92
Oil on panel: 17 ⅞ x 21 ¼ in / 45.4 x 54 cm
Provenance:
Anthony d'Offay, London (A011363);
Rudolf & Leonore Blum, Switzerland, acquired from the above in 1993;
Christie's London, 1st July 2014, lot 49;
private collection, acquired from the above
Exhibited:
Rome, The British School in Rome, Howard Hodgkin: Seven small pictures, 31st March-1st May 1992
Jerusalem, The Israel Museum in collaboration with the British Council, Life into paint: British figurative painting of the twentieth century, 10th November 1992-9th February 1993, p.46
London, Anthony d'Offay, Howard Hodgkin: Looking at pictures, 19th October-24th November 1993; this exhibition travelled to New York, Knoedler & Company, 4th December 1993-15th January 1994, p.34, illus. in colour p.35
Literature:
Marla Price (ed.), Howard Hodgkin: The complete paintings, catalogue raisonné, Thames & Hudson, London in association with The Modern Art Museum of Fort Worth, Texas, 1995, no.262, p.197, illus. in colour p.124
Marla Price (ed.), Howard Hodgkin: The complete paintings, catalogue raisonné, Thames & Hudson, London in association with The Modern Art Museum of Fort Worth, Texas, 2006, no.262, p.269, illus. in colour
One of the most popular and critically acclaimed artists in Post-War Britain, Sir Howard Hodgkin, found international fame late in life as the British representative at the Venice Biennale in 1984, before winning the Turner Prize the following year. From the 1990s onwards, Hodgkin painted more freely and fluently, with an increasing sense of boldness and spontaneity despite the long gestation of his work, composed (directly on the surface without preparatory drawings) with continual layering of intuitive strokes and endless revisions. Though his work became increasingly non-figurative and elusive, Hodgkin remained preoccupied with remembrance throughout his career, describing himself as a 'representational painter, but not a painter of appearances. I paint representational pictures of emotional situations.'[1]
Writing of Hodgkin's masterful late work, Andrew Graham-Dixon aptly summarizes: 'Just as Turner taught us to look at sunsets, or at least taught us to pay them a different quality of attention, so too - I believe - Hodgkin has called attention to an aspect of human experience often previously overlooked. He has made us see the relationship between memory and feeling and vision in a new light. He has opened up a rather mysterious part of life and helped us to think of it afresh.'[2] Susan Sontag agreed, finding in Hodgkin's exquisite work, 'the pictures offer the most earnest, emphatic tribute to the world outside, its treasurable objects and beauties and opportunities. Indeed, the sublimity of the colour in Hodgkin's pictures can be thought of as, first of all, expressive of gratitude - for the world that resists and survives the ego and its discontents.'[3]
SIR HOWARD HODGKIN CH CBE
1932 – London - 2017
One of the most popular and critically acclaimed artists in Britain, Gordon Howard Eliot Hodgkin was born on 6th August 1932 in Hammersmith, London to Katharine, the daughter of Lord Chief Justice, Viscount Gordon Hewart, and Eliot Hodgkin, who worked for ICI, was a keen plant collector and gardener, winning a gold medal from Royal Horticultural Society. His extended family included Thomas Hodgkin (1798-1866), the physician after whom lymph node cancers were named, Luke Howard FRS (1772-1864), who named the clouds in 1802, and the artist/critic Roger Fry (1866-1934).
Hodgkin travelled with his mother and sister, Ann, to the United States before the Blitz in 1940 (staying until 1943), living on Long Island, in the house, he later said, 'where Scott Fitzgerald set The Great Gatsby.' His ambition to become an artist was established by the age of five and confirmed when, during a visit to MOMA, New York, he saw Matisse's Piano Lesson. He was sent to Eton College on his return to Britain, where the art teacher, Wilfred Blunt, introduced him to Indian art; he would go on to create a famous collection of Mughal-derived Pahari paintings from the Himalayas and regularly visited India over the years. Hodgkin ran away from school twice and was transferred to Bryanston School, Dorset, from which he also ran away.
In 1949, Hodgkin completed the first painting he believed in, Memoirs, its medium, title and subject anticipating his subsequent work. He studied at Camberwell School of Art, London from 1949-1950, followed by Bath Academy of Art, Corsham in Wiltshire from 1950-54, where teachers included William Scott and Peter Lanyon, and later taught there himself along with painters Michael Craig-Martin, Robyn Denny and Adrian Heath. Following his studies, Hodgkin taught at Charterhouse School, Surrey between 1954-1956, Bath Academy of Art between 1956-1966 and Chelsea School of Art, London between 1966-1972. He married fellow art student, Julia Lane, in 1955, with whom he had two sons[4].
Hodgkin's first solo exhibition was held at Arthur Tooth & Sons, London in 1964, the same year of his first visit to India with Robert Skelton, the Assistant Keeper of the Indian Collection in the Victoria & Albert Museum. His first solo European show was held at the Galerie Müller, Cologne, Germany in 1971 and two years later the Jill Korneblee Gallery, New York, held his first one-man show in the United States. Hodgkin's first major museum exhibition was organised by the Arts Council of Great Britain in 1976.
He became a Trustee of the Tate Gallery from 1970 to 1976 and the National Gallery, London from 1978-1985, during which time he curated The Artist's Eye: An Exhibition Selected by Howard Hodgkin from the museum collection in 1979. From 1976-1977, Hodgkin was Artist in Residence at Brasenose College, Oxford. In 1977 he was appointed CBE (Commander of the British Empire). He was awarded a Knighthood in 1992 and became Companion of Honour in 2003.
Hodgkin represented Britain at the XLI Venice Biennale in 1984, the exhibition touring London, Washington D.C., New Haven, Connecticut and Hannover. In 1985 he was awarded the Turner Prize. Andrew Graham-Dixon published the first monograph on Hodgkin's work in 1994 and the following year a major retrospective was organized by the Modern Art Museum of Fort Worth, Texas, which toured to the Metropolitan Museum of Art, New York, the Kunstverein, Düsseldorf and the Hayward Gallery, London. In 2006, the Irish Museum of Modern Art, Dublin held another major retrospective, which toured to Tate Britain, London and the Reina Sofia, Madrid. In 2017, major exhibitions of the artist's work were held at the National Portrait Gallery, London and the Hepworth Wakefield.
The work of Howard Hodgkin is represented in the public collections of the Art Gallery of Ontario, Canada, the Philadelphia Museum of Art, the Carnegie Museum of Art, Pittsburgh, the National Gallery of Art, Washington, the Albright-Know Art Gallery, Buffalo, Harvard University Art Museums, Cambridge, The Art Institute of Chicago, the Museum of Fine Arts, Houston, the Museo Nacional Centro de Arte Reina Sofia, Madrid, the Ashmolean Museum, Oxford, the Victoria Art Gallery, Bath, the Fitzwilliam Museum, Cambridge, the National Museum of Wales, Cardiff, Pallant House Gallery, Chichester, Southampton City Art Gallery, Gallery Oldham, Birmingham Museums, the Alfred East Art Gallery, Bristol Museum & Art Gallery, Swindon Museum & Art Gallery, the Scottish National Gallery of Modern Art, Edinburgh, Manchester City Art Galleries, the Arts Council Collection, Southbank Centre, the British Council Collection, the Government Art Collection, Tate, and the National Portrait Gallery, London, amongst many others.
[1] The artist cited in Andrew Graham-Dixon, Howard Hodgkin, Thames & Hudson, London, 2001, p.7.
[2] Andrew Graham-Dixon, op.cit, p.205.
[3] Susan Sontag, 'About Hodgkin', in Michael Auping, John Elderfield, Susan Sontag and Marla Price, Howard Hodgkin Paintings, Thames & Hudson in association with The Modern Museum of Fort Worth, Texas, 1995, p.109.
[4] They separated in 1975, Hodgkin acknowledging his homosexuality.