Skip to main content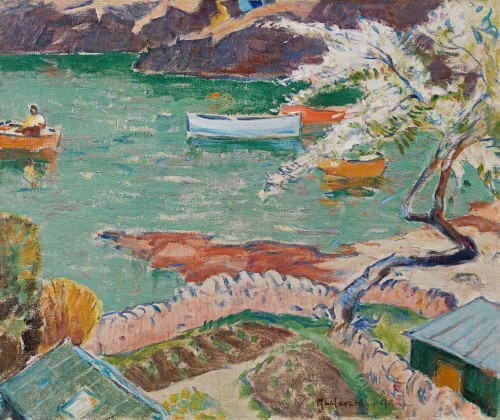 John Maclauchlan Milne Cherry blossom, Corrie
Oil on canvas: 20 x 23.7 (in) / 50.8 x 60.3 (cm)
Signed lower right: MacLauchlan Milne; inscribed with the title on a label attached to the stretcher
This artwork is for sale.
Please contact us on: +44 (0)20 7493 3939.
Email us
JOHN MACLAUCHLAN MILNE RSA
Edinburgh 1885 – 1957 Glasgow
Ref: CB 124
Cherry blossom, Corrie
Signed lower right: MacLauchlan Milne; inscribed with the title on a label attached to the stretcher
Oil on canvas: 20 x 23 ¾ in / 50.8 x 60.3 cm
Frame size: 26 ½ x 30 ½ in / 67.3 x 77.5 cm
Provenance:
T & R Annan & Sons, Glasgow
Private collection
Ewan Mundy, Glasgow
Private collection
John Maclauchlan Milne was a Scottish landscapist; he came form a well-known family of artists and both his father Joseph Milne and his uncle William Watt Milne were painters of coastal scenes. Born in Edinburgh, Milne trained under his father and during his early twenties he emigrated to Canada. By the 1900s he had returned to Scotland and settled in Kingoodie, a village near Dundee. During this period, Milne painted many views of Fife and the Tay, which in their restricted tonal colouring and atmospheric style show the influence of the Dutch painters of the nineteenth century.
The end of the First World War marked a change in Milne's style, bringing a brightness of colour and vibrancy to his works. From the 1920s up until 1932, he spent part of every year in the South of France, often in the company of Peploe, Cadell and Duncan Grant. As his obituary commented, 'Like Peploe, he saw Cézanne and was immediately conquered…there in the Midi, Milne found himself, and the impact of this new experience stamped all his subsequent work'.
By the outbreak of the Second World War, Milne had moved permanently to the West Highlands and settled on the Isle of Arran, where he set up house at the hamlet of High Corrie, a subject he was to paint on many occasions from 1940 onwards.
Milne exhibited at the Royal Scottish Academy from 1912 to 1954, the Royal Glasgow Institute of Fine Arts and at the New York World's Fair in 1939. He became a Royal Scottish Academician in 1937.
John Maclauchlan Milne, High Corrie, c.1948                     John Maclauchlan Milne, High Corrie, Arran
Oil on canvas: 56.5 x 61 cm                                                Oil on canvas: 53.3 x 63.5 cm
McLean Museum and Art Gallery, Greenock                    Perth Art Gallery