Skip to main content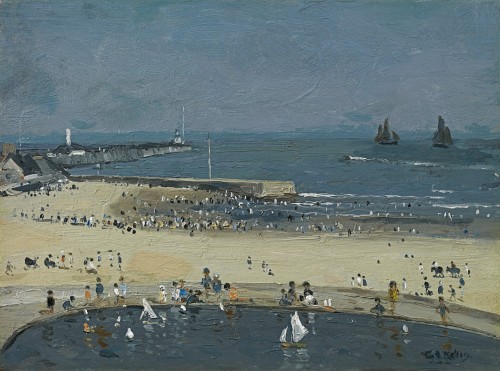 Campbell A. Mellon The yacht pond, Gorleston
Oil on board: 9 x 12 (in) / 22.9 x 30.5 (cm)
Signed lower right: C A Mellon; inscribed on the reverse: The Yacht Pond / Gorleston
This artwork is for sale.
Please contact us on: +44 (0)20 7493 3939.
Email us
CAMPBELL A MELLON RBA ROI
Sandhurst 1876 - 1955 Gorleston-on-Sea
Ref: CA 211
The yacht pond, Gorleston
Signed lower right: C A Mellon; inscribed on the reverse:
The Yacht Pond / Gorleston
Oil on board: 9 x 12 in / 22.9 x 30.5 cm
Frame size: 13 ¾ x 16 ¾ in / 34.9 x 42.5 cm
Provenance:
Leveton & Sons, Norwich
Private collection
In this charming coastal view, Campbell Mellon documents the delights to be found at the seaside, including donkey riding, swimming and sailing. Depicting Gorleston Beach, with the lighthouse and NCI watchtower on the south Pier to the left and the yacht pond in the foreground, Mellon captures with impressionistic verve the contrast between pale yellow sand and dark blue/grey water, enlivened with dashes of orange, yellow, black and white. The artist moved to Gorleston-on-Sea in 1918 and depicted the beautiful village on the Norfolk coast many times throughout his career.
Campbell Archibald Mellon was an oil painter of landscapes and beach scenes. Born at Sandhurst in Berkshire on the 16th June 1876, Mellon's family settled in Nottingham in 1903. He studied art under Carl Brenner, a nephew of B.W. Leader. In 1918 he moved to Gorleston in Norfolk where he studied under Sir John Arnesby Brown for three years and devoted the rest of his life to painting. In 1924 he first exhibited at the Royal Academy, showing a total of fifty works there over the years. He also exhibited at the Royal Society of British Artists and at the Walker Art Gallery, Liverpool, among others. He was elected a member of the Royal Institute of Painters in Oil in 1938 as well as a member of the Royal Society of British Artists. Campbell Mellon remained a resident of Gorleston-on-Sea until his death on the 28th August 1955.