Skip to main content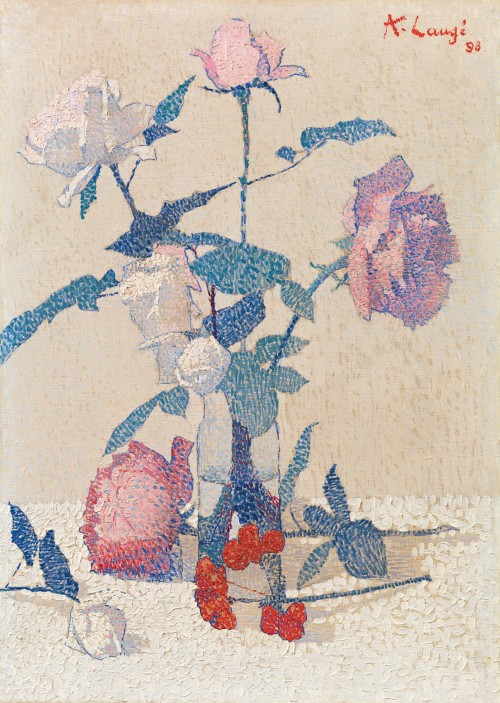 Achille Laugé Roses dans un verre d'eau, une fleur de géranium
Oil on canvas: 17.8(h) x 12.6(w) in / 45.1(h) x 32.1(w) cm
Signed and dated upper right: A. Laugé / 93
This artwork is for sale.
Please contact us on: +44 (0)20 7493 3939.
Email us
BX 194                                                                       
ACHILLE LAUGÉ
Arzens 1861 – 1944 Cailhau
Roses dans un verre d'eau, une fleur de geranium
Signed and dated upper right: A. Laugé / 93
Oil on canvas: 17 ¾ x 12 5/8 in / 45.1 x 32.1 cm
Frame size: 24 ½ x 19 ½ in / 62.2 x 49.5 cm
In a Louis XV style pastel frame
Provenance:
Dr Victor Gaujon, Carcassonne, France
then by descent to his nephew and heir, Dr Paul Bertrou
Exhibited
Narbonne, Salle de l'Arsenal, Société des Beaux-Arts de Narbonne, première exposition artistique, September-October 1893, no.320, as Roses
Toulouse, Musée des Augustins, Achille Laugé et ses amis Bourdelle and Maillol, 30th May-5th October 1961, no.16, as Les roses
Douai, Musée de la Chartreuse, Achille Laugé, le point, la ligne, la lumière, 26th February-6th June 2010, no.65
Literature:
Nicole Tamburini, Achille Laugé, le point, la ligne, la lumière, exh. cat., Silvana Editoriale, 2009, no.65, illus. in colour p.93
To be included in the forthcoming catalogue raisonné of the work of Achille Laugé being prepared by Nicole Tamburini
Laugé's delightful roses, presented in elegant profile, are rigorously observed and defined in various stages of development; from tight, sculptural white buds to billowing, highly detailed blooms of candyfloss pink, they lead the eye from the cut, reclining roses in the foreground, to the top, near vertical bud, connected and cut across by horizontal and oblique stems and foliage. Cropped to the left and asymmetrically arranged, the flattened space of Laugé's Roses dans un verre d'eau, recalls, as does Branche d'amandier en fleur, the influence of Japanese art. The eye is also drawn to the bright scarlet geranium at the base of the vase, the intensity of its hue (echoed in the signature), juxtaposing minute strokes of orange, red and mauve, a revelation.
Laugé came to Divisionism, or Neo-Impressionism, several years after having discovered it in Paris in the work of Georges Seurat (1859-1891). Disappointed by his academic studies and having completed his military service, Laugé returned to his native soil in the Audois and independently followed an empirical approach to the movement, composing his pictures with a modified Pointillist technique from 1888 to the mid-1890s. From 1892, Nicole Tamburini records, he painted according to the essential rules defined by Seurat and published by Paul Signac in 1899; using pure, balanced and optically mixing shades, methodically juxtaposing individual touches of colour whose hues would combine with greater vitality in the eye of the beholder, so that 'colour takes on a vibration comparable to the reverberation of light on forms.'[1]
Achille Laugé, Petit bouquet champêtre, 1892–93               Achille Laugé, Autoportrait au béret blanc, 1895–96
Oil on canvas: 15 ¾ × 8 5/8 in / 40 × 22 cm               Oil on canvas: 15 3/8 × 19 ¼ in / 39 × 49 cm
© Musée Fabre de Montpellier Méditerranée                The Robert Bachmann Collection, Lisbon
Métropole / photograph Frédéric Jaulmes     
ACHILLE LAUGÉ
Arzens 1861 – 1944 Cailhau
Achille Guillaume Laugé was born in Arzens in the Aude region of southern France, at the foot of the Pyrenees. Achille was the third child of Pierre and Catherine (née Gazel), prosperous farmers who settled in the village of Cailhau near Carcassonne, where the artist spent most of his life. Laugé attended the municipal school at Cailhau, where he began to paint, followed by the Lycée de Carcassonne, where he studied drawing under Jean Jalabert (1815-1900). At his parents' request, Laugé undertook internships at pharmacies in Limoux and Carcassonne in 1877, before being apprenticed in 1878 to a pharmacist in Toulouse. While there, he attended classes at the Ecole des Beaux-Arts, where he met Antoine Bourdelle (1861-1929), Henri Marre (1858-1927) and Henri Martin (1860-1943). The four friends decided to study at the Ecole de Beaux-Arts in Paris. Laugé arrived in the capital at the end of 1881 and registered as a pupil of Alexandre Cabanel (1823-1889) at the Ecole des Beaux-Arts the following year. Here Bourdelle introduced him to Aristide Maillol (1861-1944), with whom he studied under Jean-Paul Laurens (1838-1921) from 1883, and the three remained close friends, often sharing rooms and studios in Paris to combine their scarce resources.
Laugé carried out his military service in the Infantry from 1885 to 1888, permitted to continue his art education in Paris provided that he return to the Babylone barracks, near Les Invalides, every evening. Though dissatisfied with the teaching at the Ecole des Beaux-Arts, Laugé and his friends were perfectly placed to witness avant-garde developments at the centre of the art world, in particular the second exhibition of the Salon des Artistes Indépendents of 1886, featuring George Seurat's controversial Un dimanche après-midi à l'île de la Grande Jatte, as a result of which the anarchist art critic, Félix Fénéon, devised the term 'neo-impressionist'. 
In 1888, Laugé returned to Carcassonne, and seven years later settled in Cailhau, where he remained for the rest of his life surrounded by a small circle of friends who supported and encouraged him throughout his career. The rolling, sun-soaked landscape of Cailhau, with the snow-capped peaks of the Pyrenees rising in the distance, was the inspiration for Laugé's finest landscapes. In 1891, Laugé married Marie-Agnes Boyer, with whom he had four children, later building a family house known as l'Alouette on land inherited from his father. Laugé kept his Parisian contacts and exhibited at the Salon des Indépendents in 1894 and at an exhibition in Toulouse the same year in the company of the Nabis and Toulouse-Lautrec. He also had several one-man shows in Paris from 1907 to 1930. 
In his earlier works, Laugé is clearly influenced by Seurat. From 1888 until about 1896, he composed his pictures with small points of colour. However, he appears never entirely to have accepted Seurat's scientific approach to painting, choosing instead to concentrate on the primacy of colour rather than a strictly Pointillist approach. By the end of the nineteenth century Laugé had abandoned dots and dabs and painted his landscapes, portraits and still lifes with thin, systematically placed strokes resembling crosshatching. After 1905, Laugé applied his pigments more freely, with enlarged strokes and thick impasto that brought him closer to a traditional Impressionist technique whilst maintaining his ability to paint the translucence of southern light. Laugé was, at heart, a plein air painter, travelling around in his roulotte-atelier, a glass-sided studio on wheels, which allowed him to paint in all weathers and at all seasons. The countryside of the Languedoc was the inspiration for most of his work.
In 1916, Laugé moved into a studio in the former Palais de Justice at Alet-les-Bains, about fifteen miles from his house at Cailhau. He used floral motifs in his designs for tapestries for the Gobelins factory, notably in the elaborate borders to a set of tapestries of the Four Seasons, executed by Laugé 1915-19[2]. In 1919 Laugé was commissioned by M. Castel, Mayor of Lézignan and Député of Aude, to decorate his Château de Gailhadet, near Mirepoix. From 1926, Laugé rented a fisherman's cottage in Collioure every summer, frequently meeting Henri Martin, with whom he remained friends. During the Occupation in 1940, he retired to the University campus of Toulouse.
The work of Achille Laugé is represented in the Musée d'Orsay, Paris; the Musée Bourdelle, Paris; Musée Petiet, Limoux; the Musée des Beaux-Arts, Carcassonne; Musée Fabre, Montpellier; the Musée d'Art et d'Histoire, Narbonne; the Musée de Grenoble; the Petit-Palais, Geneva and the National Gallery, Washington.
[1] Nicole Tamburini, op.cit., p.17: 'La couleur prend alors une vibration comparable à réverbération de la lumière sur les formes.'
[2] See Nicole Tamburini, op. cit., pp.114-5, no.79-82, illus. in colour.