Skip to main content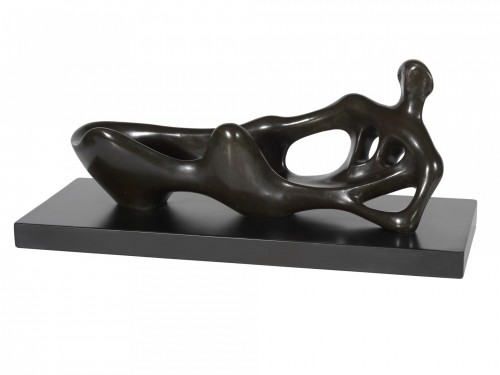 Henry Moore Reclining figure

Bronze with a black patina: 7.1 x 17.8 x 5.24 (in) / 18.1 x 45.1 x 13.3 (cm)

On a Slate base: 1.26 x 19.76 x 7.99 (in) / 3.2 x 50.2 x 20.3 (cm)
This artwork is for sale.
Please contact us on: +44 (0)20 7493 3939.
Email us
HENRY MOORE
Castleford 1898 - 1986 Much Hadham
Ref: BR 24
Reclining figure
Bronze with a black patina: 7 1/8 x 17 ¾ x 5 ¼ in /
18.1 x 45.1 x 13.3 cm
On a slate base: 1 ¼ x 19 ¾ x 8 in / 3.2 x 50.2 x 20.3 cm
Conceived in terracotta in 1945 and cast in an unnumbered edition of 7
LH 257
Provenance:
Marlborough Fine Art, London, 1960
David Astor, acquired from the above, then by descent
Richard Green, London
Exhibited:
Ohio, Columbus Museum of Art, Henry Moore, the reclining figure, 14th October-2nd December 1984, no.25 and 25a, illus. p.53 (another cast); this exhibition travelled to Austin, Archer M Huntington Art Gallery, University of Texas, 13th January-17th February 1985; Salt Lake City, Utah Museum of Art, 10th March-12th May; Oregon, Portland Art Museum, 11th June-21st July and San Francisco Museum of Modern Art, 22nd August-13th October 1985
London, Royal Academy of Arts, Henry Moore, September–December 1988, catalogue no.105, p.223, also illus. p.85 (another cast)
Literature:
Herbert Read, Henry Moore, A study of his life and work, Thames & Hudson, London, 1965, no.143, p.274, p.165 (another cast illus.)
Ionel Jianou, Henry Moore, Paris, Arted, Editions d'Art, Paris, 1968, no. 241, p.75, pl.88 (another cast illus.)
Robert Melville, Henry Moore, Sculpture and Drawings 1921–1969, Thames & Hudson, London, 1970, no.350 (another cast illus.)
David Sylvester (ed.), Henry Moore Complete Sculpture 1921–48, Vol. I, Lund Humphries, London, 1990, p.16, no.257, p.160 (another cast illus.)
The compositional and spatial freedom Moore experienced in the creation of the reclining figures is nowhere more apparent than in the present work. The flowing, asymmetric contours of this polished black bronze appear to undulate in the light as if in motion. Its curved apertures are revealed unexpectedly like eroded cavities in a sea-worn rock formation, juxtaposed with soft patches of light on the sculpture's dark surface resembling pools of water. Moore's early
interest in the anthropomorphic qualities of natural forms such as pebbles, rocks and shells certainly influenced the organic development of this self-contained figure.
The sculpture also calls to mind the body of a shelterer swathed in a blanket to pass the night on a platform floor. Referring to another cast of this work in the collection of the Museum of Modern Art, San Francisco, Susan Compton has suggested that the artist's 'direct experience of the reclining figure had been enriched by observation in the London Underground...This had led to drawings
of draped figures which perhaps inspired the sensuous fluidity of the perimeter line in this sculpture. Although schematised, the figure compels response to its delicate idea of containment; its shell-like
form evokes an analogy with a womb rather than with the more aggressive and bone-like formations of pre-war Reclining Figures' (cited in Henry Moore, exh cat, Royal Academy of Arts,
London, 1988, p. 223).
HENRY MOORE OM, CH
Castleford, Yorkshire 1898 - 1986 Much Hadham, Herts
The seventh child of Raymond Spencer and Mary Moore, Henry was born in Castleford, Yorkshire in 1898. His paternal great-grandfather was of Irish origin, but his father and grandfather were born in Yorkshire where, for two or three generations, they worked the land or went down the mines. At the age of twelve Moore obtained a grant to study at the Grammar School in Castleford where he was inspired by his art teacher to pursue a career in the arts. In 1916 he began to teach, but by February 1917 he had joined the army and left to fight in
France.
After being wounded in action in November 1917 at the battle of Cambrai, Moore was excused from active service. He returned to England, where he became a physical education instructor in the army. At the end of the war, Moore received a veteran's grant to study at Leeds School of Art and in 1921 he joined a course at the Royal College of Art in London. A further grant enabled him to travel extensively from 1925, visiting Rome, Florence, Venice, Ravenna and Paris, where he met Picasso, Giacometti, Ernst, Eluard and Breton among others.
On returning from his travels Moore was appointed Professor of Sculpture at the Royal College of Art where he worked two days a week until 1931, as well as teaching at the Chelsea School of Art until 1939. He was appointed an Official War Artist during the Second World War from 1940–1942 for which he made a series of drawings of people sheltering in the London Underground, as well as studies of miners at the coal face. In these pictures he frequently used
watercolour over wax crayon.
After the war Moore enjoyed a great deal of success, with his works receiving critical acclaim all around the world. He executed many major commissions for museums, public institutions, private collectors and municipal buildings and as a result he became one of the most famous British artists of the twentieth century.
At the beginning of the 1970s Moore created a foundation, the aim of which was to promote public awareness of sculpture and to protect his own work for the future. Located in his home village of Much Hadham, Hertfordshire, the foundation houses a library, archives and a collection of drawings, prints, maquettes and sculptures by the artist. Heavily influenced by the work of Michelangelo, Moore created monumental works in marble, stone and bronze and was enthralled by the theme of the family, and in particular the mother and child. His unique oeuvre draws inspiration from prehistoric, archaic, Egyptian, African, Mexican and Roman sculpture. Throughout his career he was noted for his output of graphic art – drawings, watercolours, etchings and lithographs which were not necessarily related to individual sculptures.
Reclining figure
Medium: Medium
1.26 x 19.76 x 5.24 (in) / 3.2 x 50.2 x 13.3 (cm)
On a Slate base: 1.26 x 19.76 x 7.99 (in) / 3.2 x 50.2 x 20.3 (cm)