Skip to main content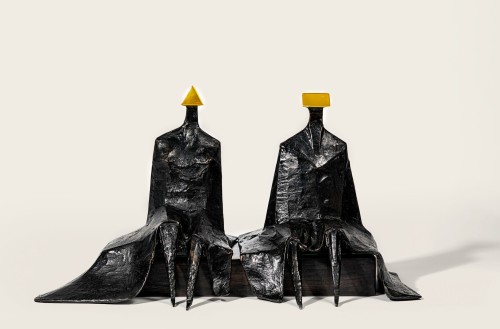 Lynn Chadwick Sitting figures in robes I
Bronze with black patina and polished faces: 10.2(h) x 17.8(w) in / 26(h) x 45.1(w) cm
Stamped with monogram and numbered underneath the female figure's robe: 787S 2/9; stamped with monogram and numbered underneath the male figure's robe: 787 2/9
This artwork is for sale.
Please contact us on: +44 (0)20 7493 3939.
Email us
LYNN CHADWICK CBE RA
London 1914 - 2003 Lypiatt Park, Gloucestershire
Ref: CA 186
Sitting figures in robes I
Stamped with monogram and numbered underneath the female figure's robe: 787S 2/9; stamped with monogram and numbered underneath the male figure's robe: 787 2/9
Bronze with black patina and polished faces:
Female figure: 10 ¼ x 9 ½ x 11 ½ in / 26 x 24.1 x 29.2 cm
Male figure: 10 x 8 ½ x 11 in / 25.4 x 21.6 x 27.9 cm
On a bronze base: 1 ⅞ x 12 ¾ x 8 ⅜ in / 4.8 x 32.4 x 21.3 cm
Overall width: 17 ¾ in / 45 cm
Conceived in 1980 and cast by Pangolin Editions in 1985 in a numbered edition of 9
Provenance:
Osbourne Samuel, London;
private collection, acquired from the above;
private collection, South Africa
Literature:
Dennis Farr & Éva Chadwick, Lynn Chadwick, sculptor, with a complete illustrated catalogue 1947-1996, Lypiatt Studio, Stroud, 1997, p.326, no.787S
Dennis Farr & Éva Chadwick, Lynn Chadwick, sculptor, with a complete illustrated catalogue 1947-2005, Lund Humphries, Aldershot, 2006, p.334, no. 787S
Dennis Farr & Éva Chadwick, Lynn Chadwick, sculptor, with a complete illustrated catalogue 1947-2003, Lund Humphries, Farnham, 2014, p.341, no.787S
Lynn Chadwick began to expand his repertoire of majestic figures in the 1970s to include couples whose stately poise is exemplified by Sitting figures in robes I. Chadwick produced a small sitting couple in 1971 and frequently returned to the motif to explore physical intimacy. When asked about the works, Chadwick later stated, 'we're all looking for companionship, everybody…I suppose we can have periods when we are obliged to be alone and concentrate on something ourselves, that's all right, too. But generally speaking, most people feel a need…that's why the two figures, you see, you need to have two.'[1] The seated figures' dramatic cloaks simultaneously conceal and reveal the bodies beneath, extending their forms and changing their shape from different viewpoints. Chadwick wrote that the flowing cloaks or robes provided 'the opportunity to get curves into my work…I made the outline of the cloak into a curved or multi-curved surface, or line rather, and joined them up so that I got interior volumes, sort of hollows which had a shaped outline.'[2] Another striking feature of the paired figures is their gendered, geometric heads; the male rectangular, the female pyramidal. Chadwick burnished the surfaces of the heads to a golden sheen in stark contrast to the matt, black patina of their bodies. For Bird, this selective burnishing evokes 'ambivalent armour…the reflective bronze both invites and rebuts the viewer's gaze, like mirror shades.'[3] The sexes are further distinguished by the sharp angular folds at the front of the male in contrast to the softer, more naturalistic contours of the female.
Trained as a draughtsman in an architect's office, Chadwick came late to sculpture after serving in the Fleet Air Arm of the Royal Navy during the Second World War, but quickly came to international attention as part of the new generation of British sculptors shown at the Venice Biennale in 1952. The following year, Chadwick was one of twelve semi-finalists for The Unknown Political Prisoner International Sculpture Competition organised by the ICA. Back in Venice in 1956, Chadwick caused a sensation by beating Alberto Giacometti to the International Prize for Sculpture. From mobiles to stabiles in the early 1950s, animal to more figurative forms, Chadwick maintained his practice of constructing rather than carving sculpture using a technique of welding in iron, before casting sculptures in bronze.
[1] The artist cited in Michael Bird (ed.), Lynn Chadwick, A sculptor on the international stage, Scheidegger & Spiess, 2019, p.154.
[2] The artist cited in Nico Koster and Paul Levine, Lynn Chadwick: The sculptor and his world, Lieden, 1988 p.93.
[3] Michael Bird, Lynn Chadwick, Lund Humphries, Farnham, 2014, p.143.